Doc Johnson Sasha Grey signature plug medium - Butt plug from Doc Johnson

Sasha Grey signature plug medium videos
Product Details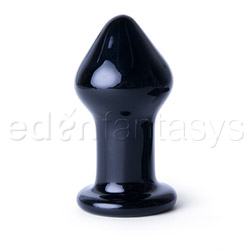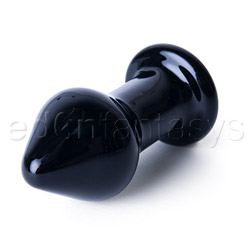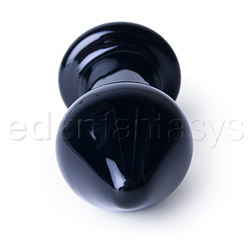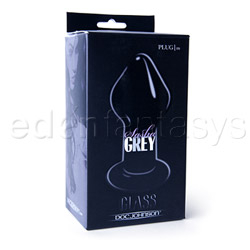 Summary:
Overall this is a very nice plug that because of its diameter will not be suitable for beginners. If you feel you can handle the diameter then go for it. This a very comfortable plug once inserted and is very well designed.
Pros:
Very comfortable once inserted, smooth glass, base allows sitting.
Cons:
Not really a con but make sure to check the size.
Best use:
The Sasha Grey signature plug medium is a butt plug and as such is designed to be used anally. Due to its large diameter, it may provide some limited stimulation vaginally but its primary use is anally. Its large diameter is definitely something that should be factored in when considering this plug especially during certain uses. For example, you may be able to get this plug in but it may be too large to be comfortable during vaginal sex. This doesn't mean the plug can't be used in this or other ways but you need to judge for yourself what you feel you are comfortable with. With that being said, this butt plug has all the normal uses you'd find in any regular butt plug (using it during masturbation, oral sex, intercourse, etc). It can also be used for warming up for anal sex or even larger toys. Because this plug is glass, it can also be used for temperature play by either heating it up or cooling it down.
Material / Texture:

This plug is made out of glossy black glass. It feels cold in the hand (unless you warm it up) and is completely smooth all the way around. It has no odor when it arrives and will not hold onto odors either. It is completely non-porous and will require even less lube and cleaning than a silicone toy. Since it's made out glass it is extremely rigid and has absolutely no give to it. This is not a toy for someone just starting out exploring anal play.

Material:

Pyrex glass

Material safety

Texture:

Smooth

Safety features:

Food-grade material / Hypo-allergenic / Latex free / Non-porous / Phthalates free

Design / Shape / Size:

This plug's design is almost identical to the Sexy spades medium (also by Doc Johnson) which also comes in a smaller size as well. While difficult to get in, this design helps aid retention and is very comfortable once inserted. The base easily sits between the butt cheeks making sitting down or walking around with the plug in a possibility. This plug has a fairly long neck which is a large part of the reason why it is so comfortable. The head has a smooth transition from small diameter to large and the only issue is the large overall diameter. While its base is actually the same size as the head, there should be no worry of this plug accidentally being sucked in as the transition in size from the neck to the base is very quick.

Color:

Black

Length:

4"

Insertable length:

3 1/2"

Circumference:

6 1/4"

Diameter:

2 1/4"

Performance:

Adequate warm-up is a must for this plug and you should be comfortable with anal toys at least 1.75" in diameter or larger and have the time to devote to getting this plug in. Once in, this plug is surprisingly comfortable for its size. It could easily be worn for long term wear. It does not provide enough stimulation on its for orgasm so other stimulation combined with this plug is your best bet if you're seeking orgasm. There really aren't any bad things about this toy only a caution on the toys size.

Care and Maintenance:

Because this plug is made out of glass, care should be taken not to drop it or throw it around. It comes with a nice foam insert and this would be a good place to store it when not in use. If you see a chip or crack on this toy you should not continue using it as this could cause serious injury. This is not a huge concern though, and shouldn't scare you off if you've never tried a glass toy since almost all are made out of Pyrex glass which is very strong and less likely to crack or chip than regular glass. If you've never used a toy made out of a hard material like glass or steel you should get a toy at least a quarter inch smaller in diameter than the largest size silicone or rubber toy you feel comfortable with.

There are no limitations on what kind of lubricant this toy can be used with and it can be sterilized either by boiling it in water or soaking it in bleach. Sterilizing is a must if you are sharing this with a partner. If you're not sharing this toy then a simple rinse with soap and water is more than adequate and with minimal care this toy should last for a long time.

Care and cleaning:

Bleachable / Boilable / Dishwasher safe

Packaging:

This plug comes packed in a thick cardboard package with a foam insert inside holding the toy in place. The packaging is definitely not discreet but the foam insert (fairly discreet) inside can be taken out and used on its own for storage. The packaging has very little information although it does serve fairly well for storage either with or without the external cardboard box.

Personal comments:

This plug looks deceptively small when you're just looking at it. It's not until you're trying to insert that you realize how big it really is.