Doc Johnson The li'l end - Butt plug from Doc Johnson

Product Details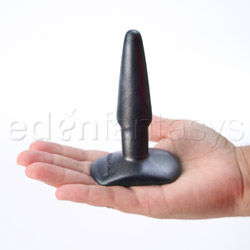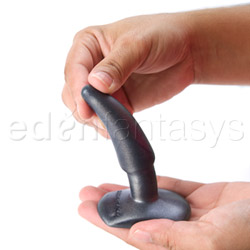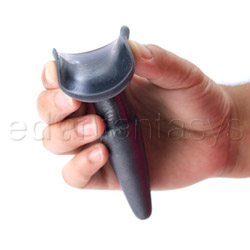 Summary:
The Platinum Li'l End is a quality silicone plug for the anal beginner or the bum-shy. While those preferring more filling plugs may be disappointed with this little guy, it is perfect for those of us who can enjoy just a finger or two comfortably. An unexpected bonus: The Li'l End has a surprising amount of suction on its base when you press it down to any hard, smooth surface!
Pros:
Hygienic silicone, great for anal beginners and those who prefer smaller anal toys.
Cons:
Difficult to keep in for long periods of time due to neck's size.
Best use:
The Platinum Li'l End is a slim, shimmery, silicone butt plug ideal for anal beginners as well as those who prefer less intense anal stimulation. The soft, somewhat floppy silicone ensures a comfortable insertion every time, given proper lubrication, while the rectangular base is a sufficient safe guard for worry-free anal play.
Material / Texture:

Like all toys featured in Doc Johnson's Platinum line, the Li'l End is made from nonporous, hypoallergenic, and phthalates-free silicone. It is completely odorless fresh out of the packaging. The silicone is quite squishy and has a bit of give to it. Due to its slim circumference, the butt plug also bends and flops easily. The rectangular base of the plug is also flexible, but not to the point where it would be unsafe for anal play.

The silicone has a matte finish all along its body except for the bottom of the base, which is smoother, perhaps due to the molding process. There is slightly more drag to the material than damp human skin. It is recommended that this butt plug be adequately lubed up in a water-based lube before use to maximize pleasure. It also happens to be a complete dust and hair magnet, so rather than trying to store it away from dust particles, it may be easier to simply rinse it off before each use.

There is no discernible texture to the Li'l End. The smooth texture should be perfect for beginners or for those who prefer minimal texture on their anal toys.

The coloration of the Li'l End is pleasing to the eye. It comes in two colors: Purple or Gray (also labeled as Charcoal). The purple Li'l End that I received is lilac in color, with swirls of shimmer worked into the material.

Material:

Silicone

Material safety

Texture:

Smooth

Safety features:

Food-grade material / Hypo-allergenic / Latex free / Non-porous / Phthalates free

Design / Shape / Size:

The Li'l End is, well, little. At 3.25" in circumference, it is narrower around than two of my fingers, placed side by side (and trust me, I have very slim fingers). At its widest, it is perhaps only a little thicker than a baby carrot. From the top of the base to the tip of the plug, the Li'l End is only barely taller than my middle finger. If you can take at least two fingers in your anus comfortably, then the Li'l End should be fine for you. Those who crave more overwhelming sensations may want to look elsewhere for their anal thrills.

As thin as it is, the Li'l End does not really have an issue with flaring "too much, too quickly". It has a narrow tip and a less narrow bottom, which then dips slightly to form an inch-long neck, and then flares out into a safe rectangular base with the "Doc Johnson" logo stamped on it. Some may find that there is not enough of a difference between the plug's widest point and the neck for the plug to stay in properly for extended wearing. A more dramatic decrease in neck size may have been more effective, but with such a slim toy, how much smaller can you go, really?

The Li'l End is shaped like a traditional butt plug. You may try as hard as you wish, but it will be difficult trying to pass this off as a coffee table conversation piece, or some piece of exotic art. What it is, is a tiny, shimmery butt plug. It won't set off any alarms at the airport security checkpoint, but it is not at all discreet.

Length:

4 1/2"

Insertable length:

3 3/4"

Circumference:

3 1/4"

Diameter:

1"

Neck diameter:

3/4"

Weight:

4 oz

Performance:

In my personal experience, the Li'l End performed well for someone who is usually bum-shy. I am comfortable with the insertion of a finger or two during intercourse, so wearing this plug for short periods of time didn't faze me. This plug is not for long-term wear, however. Getting up and walking around with it inserted was a bit difficult because it tended to slip out due to the small variation between neck and plug size.

An unexpected feature of this anal plug is that its base can actually work as suction cup. Pressed down onto a smooth, hard surface, the base will develop a moderately strong suction with the surface. Though a bit small to ride, the Li'l End stuck on the wall of the shower or planted firmly on the seat of a polished wooden chair provides interesting and fun possibilities.

Care and Maintenance:

Silicone toys are generally easy to care for. To clean, a good wash with hot water and antibacterial soap should be good enough for general use. For those who like to be more thorough, the Li'l End can also be tossed into a pot of boiling water for ten minutes or put into the top rack of a dishwasher, no soap. If you want to talk chemicals, a 10% bleach solution wipe down (and then rinse off!) will more than sufficiently clean this plug.

Water-based lubes tend to perform best with silicone toys; my favorite is Maximus. Silicone lubes may in some cases react with the silicone material of the Li'l End, so if you are dead set on using your favorite silicone lube, do yourself a favor and spot test on the bottom of the toy's base first to make sure no reactions will occur.

Care and cleaning:

Boilable / Dishwasher safe