Icon Brands Velvet plush pleaser - Butt plug from Icon Brands

Product Details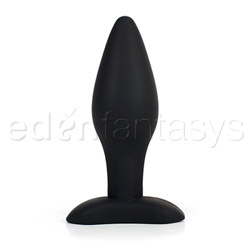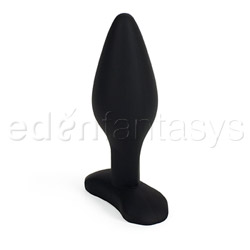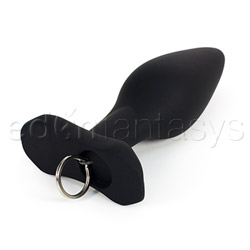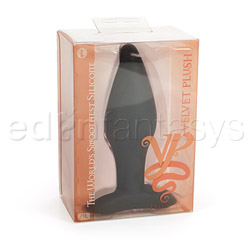 Summary:
The Velvet Plush Pleaser is a great toy for anyone looking to move up to bigger anal toys. The smooth texture feels great and makes for easier insertion, and the stainless steel pull ring makes for easier removal. The ring also allows you to accessorize, if you're into that.
Cons:
Pull ring can be a little difficult to get at
Best use:
Butt plugs are great if you're into anal play because they are multi-use. You can use them to warm yourself up for other toys, or you can just keep them in while having sex if you enjoy feeling full. The Velvet Plush Pleaser from Icon Brands is probably the best plug I have used so far. It's part of a line of three different plugs, this one being the second.
Material / Texture:

The Plush Pleaser is made from silicone. It doesn't really have much of a scent to it. The toy is a little soft on the outside, but firm on the inside so that it doesn't bend. It has a velvety smooth texture, which is my favorite thing about this toy. The smooth texture makes it easier to insert, but it also feels pretty good going in. Another great thing about this toy is that it attracts almost no lint, unlike a lot of other silicone toys. I don't know if it's because of the quality of the silicone, or just how smooth it is. After cleaning, I dried it with a towel that tends to be linty, and almost nothing was left on the toy. What little was there was very easy to pull off. There is a seam that runs along both sides of the toy, but if you run your fingers along it, you'll hardly feel that it's there. It definitely wasn't noticeable when it was inserted.

Material:

Silicone

Material safety

Texture:

Velvety

Safety features:

Food-grade material / Hypo-allergenic / Latex free / Non-porous / Phthalates free

Design / Shape / Size:

The Pleaser is designed like an average butt plug. It has a tapered tip, then gradually widens til about halfway. Then it shrinks back down about a quarter of the way, and levels off into a stem the rest of the way. It has a flared base so that it can't get lost. As you can see in the picture below, both sides of the stem have some kind of bump. I don't know what this was intended to do, as I did not notice or feel them once it was inside. The plug is 5 inches long, with 4 1/2 inches being insertable. The widest point has a circumference of 5 inches. This is best for people have some experience with anal play, as the size may be too much for beginners. This toy also features a stainless steel key chain type ring attached under the base.


Color:

Black

Length:

5"

Insertable length:

4 1/2"

Circumference:

5"

Diameter:

1 1/2"

Weight:

0.3 lb

Performance:

This toy is now one of my favorite anal toys. I've been wanting something to upgrade to so I could get myself ready to use some of my newer, bigger toys, and this was just right for the job. It takes me a bit to get it all the way in, but once it's in, it feels amazing. It fits perfectly, so there's no fear of it slipping out. I just love the full feeling that it gives me. While it doesn't stimulate my prostate like a dildo would, it does just enough to make anything else I do, like masturbating, even better. I haven't tried keeping it in during intercourse, but I can't wait to see how that feels. The ring is there for easy removal, though it can be a pain to get at it because of how deep it's set into the base. Since it's a key chain type ring, you could also attach things to it. I probably wouldn't do anything, but I'm sure there's someone out there who would want to accessorize their butt plug.

Special Features:

Ergonomically shaped
Flared base
Waterproof

Care and Maintenance:

To clean, you can wash with soap and water or a toy cleaner. You can also sanitize it in boiling water, with a 10% bleach solution, or in the top rack of a dishwasher. You can use oil or water based lubes with this toy. Since it's silicone, silicone lubes can cause it to break down. I store it in its original package, but it can also be stored in a Ziploc bag, or a pouch.

Care and cleaning:

Soap and water

Personal comments:

One thing I would suggest with this, and any butt plug, is use plenty of lube. A good amount of lube makes it easier to remove the toy, especially if you plan on leaving it in for a while.