Orion Key to your butt - Probe from Orion

Product Details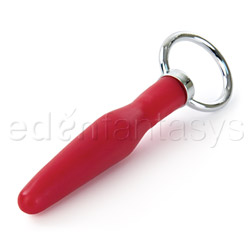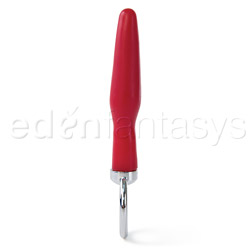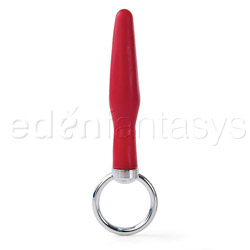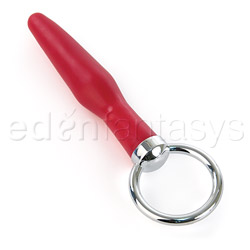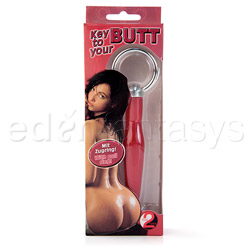 Summary:
As a narrow but medium length anal probe, the Key to your Butt will provide exciting new stimulation for the anal novice. With its rigid pull ring, the Key can be pushed, pulled, twisted and turned around in the squealing beginner's bum.
Pros:
Pull ring, good size for beginners.
Cons:
Can't be sterilized, pull ring might eventually fall off.
Best use:
The Key to your Butt by Orion is a anal probe about the length and width of a single finger. As such, it can be used for all the same things that you might use a finger for: teasing the taint, circling the anus and, obviously, for anal penetration. It also would make a great Christmas ornament. That's because it comes with a pull ring on the end which, in addition to providing a great hook for the Christmas tree, allows you to push and pull it in and out of your ass without worrying that you're about to lose your butt key to your dark cavernous suction tunnel of pleasure.

This key will best open the anal locks of beginners, as it's not very wide. With that said, it does present a fair amount of length, which allows it to reach lovely pleasurable places without placing the strain on the sphincter that long, wide plugs might. Even where this toy bulges, it doesn't do so significantly; I couldn't feel the change when I slid it over that bulge.
Material / Texture:

The Key to your butt isn't, as one might expect in a real key, made of metal. Instead, it's made of PVC, a smooth, phthalate free variety of plastic. This particular toy is somewhat squishy, falling between jelly and silicone in terms of firmness. When I breathe in deeply, the plastic has a bit of a plastic-y smell, though it wasn't anything I noticed without deliberately searching for it. There are no patterns or textures on this toy though it does bulge somewhat about halfway down the shaft.

Material:

Pvc

Material safety

Texture:

Smooth

Design / Shape / Size:

This toy is definitely designed for a beginning anal explorer. The cub scout of explorers will welcome its long and narrow design, a design which allows for gentle probing. The shiny plastic pull ring allows it to be removed or inserted easily, and means that the entire toy can be used to penetrate rather than sacrificing inches to a flared base. I was a little worried by the fact that the pull ring was made of hard plastic, attached to the shaft, as opposed to being fashioned from PVC. It seems to be securely fastened but I'll be on the look out for decay over time.

Length:

5 3/4"

Insertable length:

4"

Circumference:

2 1/2"

Diameter:

3/4"

Weight:

0.2 lb

Performance:

This toy is a great example of a simple design, done right. It wasn't designed for fancy or complicated use; it was designed to provide beginner's anal stimulation by a solidly built toy. In those simple goals, it succeeded.

Care and Maintenance:

Because the Key to your Butt is somewhat porous, it can't be fully sterilized. That means that you should either use it with only one orifice or, if you're sharing it, should always use it with a condom. To wash it, you can use warm water and soap, or a toy cleaner.

Packaging:

Orion seems to have auditioned girls and packaged this toy with a picture of the one with the roundest ass ever known to humanity. The picture alone is almost worth the price of the toy, but for what it's worth, the toy sits inside the simple box, padded by plastic packaging.