Bella Il Fiore Walnut sugar scrub - Scrub from Bella Il Fiore

Product Details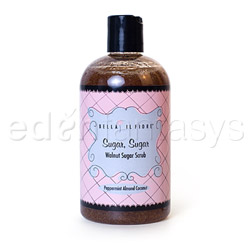 Summary:
Your skin will feel soft, smooth and clean after using this sugar scrub. If you're a big fan of peppermint and can't get enough, step this way to meet your exfoliating needs. Just don't expect to detect any whiffs of coconut or almond when using this product.
Pros:
Exfoliates well, large bottle, cleanses, great for peppermint fans, unexpected tingling
Cons:
Difficult to squeeze, difficult to smell coconut or almond, smell doesn't stay on skin
Best use:
This cleansing sugar scrub is ideal for softening your skin by removing dead and dry skin cells to reveal the glowing skin beneath. It's not a sexual item, but could certainly be used during shower foreplay with your partner.
Texture / Consistency / Thickness / Viscosity:

This scrub is a thick gel that contains tiny, scrubbing sugars which are made of ground walnut shell, as far as I can tell. With its golden brown color, it appears similar to some brown sugar concoction you may see in the kitchen. Because it's so thick, it stays in place where you put it; but, it also foams well, considering that it's a scrub and not a body wash or gel. The scrub is fairly average in terms of how long it lasts without reapplying.

The scrubbing particles are darker than the gel itself and easy to see. You may find them a little more difficult to wash off than the rest of the product and regular shower gels. It doesn't feel as silky as some shower products, but the scrubbing sugars aren't necessarily abrasive to the skin. However, they are effective at sloughing away dry and dead skin.

The texture is more granular than scrubbing face washes, but can be used on the face with a soft touch as well.

Ingredients:

Aloe barbadensis leaf extract, sodium laureth sulfate, coamidopropyl betaine, PEG-18 glyceryl oleate/cocoate, glycerin, juglans regia (walnut) shell powder, sucrose, polyethylene, acrylates/c10-30 alkyl acrylate crosspolymer, camellia sinensis (green tea) leaf extract, panax ginseng root extract, anthemis nobilis (chamomile) flower extract, calendula officinalis flower extract, echiacea angustifolia (coneflower) extract, vitis vinifera (grape) seed oil, helianthus annuus (sunflower) seed oil, tocopheryl acetate (vitamin e), sodium pca, allantoin, panthenol, mentha piperita (peppermint) oil, phenoxyethanol, ethylhexylglycerin, triethanolamine, fragrance

Color:

Brown

Taste / Aroma:

Although the scent is described as a mixture of peppermint, coconut, and almond, the peppermint obscures any of the other scents almost entirely. When smelling the peppermint in the bottle, it's difficult to detect any other smells. During use, the foaming scrub smells a little sweeter, thanks to either the almond or coconut. However, the mint is always the predominant ingredient.

While this aroma will spread through the shower or bath and bathroom, it doesn't really stick on the skin. Even moments after showering, skin doesn't retain the smell. This is surprising because the smell is so strong during use.

Fragrance:

Almond / Coconut / Peppermint

Performance:

This product works really well for creating soft and smooth skin. Even after one use, you may find your skin is noticeably smoother. If you pair this with a lotion or cream, such as Bella Il Fiore's Whipped Body Creme, you're sure to be pleased with the texture of your skin. You may even find it difficult not to touch yourself.

Packaging:

This product comes in a large plastic squeeze bottle. There's a push-top style which allows you to control how much product comes out. Because it's thick, the bottle requires a lot of squeezing, but those of you with small hands or arthritis might find this a little difficult. Another style of cap might make this easier to use.

Volume:

12 fl.oz.

Weight:

1 lb

Special Features:

The peppermint oil in this product does create a slight tingling sensation, especially when used in sensitive areas. However, this is not an advertised feature and your mileage may vary.

The list of natural ingredients includes aloe, green tea leaf extract, chamomile flower extract, grape seed oil and other oils and extracts. It does not contain the controversial triclosan or parabens, which some people find to be irritating.

Personal comments:

I was a bit disappointed because the peppermint smell was so strong. I'm not a big fan of mint and was hoping the scent would be balanced. However, it exfoliates so well and I love how my skin feels when using it. I would love if the company started making other scents.

Other

Safety features:

No Triclosan / Parabens free