Principessa Beauty Doccia me satin shower cap - Sensual bath from Principessa Beauty

Product Details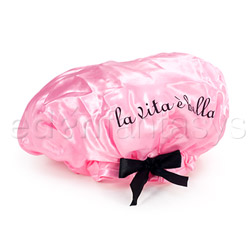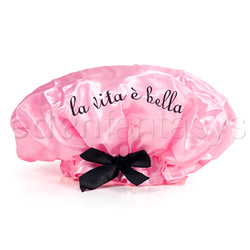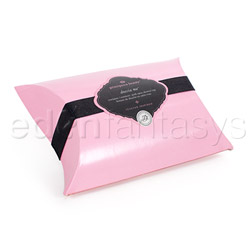 Summary:
Spoil yourself with this pretty and functional shower cap from Principessa Beauty! The Doccia Me will fit over short, medium, and very long hair, keeping it dry while you shower or soak in the bath. Whether you have just had your hair done and want to soak in sensuous bubbles or are in a hurry and don't have time for a shampoo, Doccia is perfect, functional and adorable as well.
Pros:
Pretty and waterproof, great for long hair, plastic liner.
Cons:
Strong odor when first removed from the package, hand wash is necessary.
Best use:
The Doccia Me Shower Cap is pretty as can be! With its pink satin exterior and lined plastic interior, it will keep your "do" in place, dry and ready to go. This works great for keeping your hair dry while bathing or showering after you have your hair done, a quick shower after a special session with your loved one or just soaking in a bubble bath. After all, "Life is beautiful, la vita e bella "!

Shower caps are used for many reasons. Whether you want to protect your new hairdo, don't have time for a shampoo, are soaking in a spa or having a relaxing bubble bath, protecting your ears from getting water in them or have an ear infection this cap will perform its duty and you will look cute while using it! I use mine for deep conditioning treatments and while using my spiral curlers. It also works well for using while waiting for hot rollers to set in your hair.
Texture / Consistency / Thickness / Viscosity:

The satin top material is very soft and sensuous feeling, rubbing smoothly between your fingers. The inner plastic liner is a bit crinkly and is smooth, which adds to the comfort. The ribbon decor is lightly ridged and small, not getting in the way of removal or your eyesight. The words are screened onto the satin and have lasted through the four washings I have given this cap.

The elastic band that is in between the liner and satin is very stretchy and does not pull your hair. This cap will accommodate very long, waist length hair. It will also work very well for shorter hair. It stays in place throughout your shower or bath and is very cute and comfortable.

You do need to hand wash this cap in cool water with mild detergent and let it air dry due to the plastic liner.

Taste / Aroma:

The odor of fresh, new plastic was seriously prevalent when I removed the cap from its box. After about 15 minutes of airing out, it pretty much went completely away. There was no odor whatsoever after about half an hour of airing out.

Performance:

Doccia Me Shower Cap performed very well for me. I have waist length hair and sometimes have had problems getting all of it to fit inside a cap. This one fit very well, was super comfortable and looked very pretty. I also recommend this as a pretty addition to a gift basket for friends or relatives. The packaging was exquisite and feminine making this a wonderful and pretty gift.

The satin material does get damp in the shower, but I have not had any water stains stay in the material. I do hand wash after using and store it in the original packaging on my bathroom vanity.

Packaging:

The package is a very beautiful punk box that has fold overs at the ends. You open the fold and pull your cap out. The front has a pretty and very contrasting black ribbon with a fancy decal in the center. The back of the box has a short blurb about the shower cap and manufacturer's information. There is no materials list or cleaning instructions.

The box measures 6"long, 3 3/4" wide and 1 1/4" deep. It makes a wonderful accessory in a bath gift basket or as a personal gift for a friend or relative. I plan on getting a full set of bath products as a gift for a friend for Valentine's day. This bath line is made for pampering you, being beautiful and functional. Well worth the money spent!

Other

Material:

Satin

Length:

6"

Width:

4"