Cake Beauty Milk made hydrating moisture milk - Body moisturizer from Cake Beauty

Milk made hydrating moisture milk videos
Product Details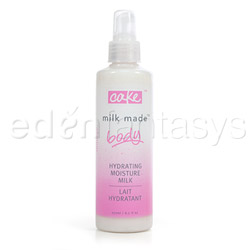 Summary:
Banish dry winter skin with this easy to apply spray on lotion. It smooths everywhere it is applied, has a nice soft raspberry vanilla scent and lasts a long time. This will become a must for your morning routine!
Pros:
Easy application, moisturizing lasts a long time, soooo smooth!
Best use:
Milk Maid Hydrating Moisture Milk is a spray on lotion that is best used right after a shower but can also be used at any time. This works great as a morning or bed time lotion that lasts for a long time. There are no product interactions for this lotion and it can even be layered with other Cake products. This could be used for massage since it sprays out and spreads so easily on the skin as well as leaving it so smooth.
Texture / Consistency / Thickness / Viscosity:

Since this is a spray on lotion, the lotion needs to be thinner. If the bottle is tipped or shaken, you can hear the lotion moving around inside. It sprays out of the bottle easily and though it is thinner than other lotions it still stays put where you spray it (unless you spray several times in one spot). The bottle does need to be held up right for it to work best. Once sprayed on, the lotion spreads and absorbs beautifully. The skin feels soft and smooth after application with no sticky or greasy residue.

Ingredients:

Water (aqua), Isopropyl Palmitate, Caprylic/Capric Trigylceride, Glycerin, Glyceryl Stearate, Polysorbate 20, Fragrance (Parfum), Butyrospermum Parkii (Shea Butter), Althaea Officinalis (Marshmallow) Extract, Milk Lipid, Inulin Lauryl Carbamate, Xanthan Gum, Phenoxyethanol, Caprylyl Glycol, Sorbic Acid, Acrylates/C10-30 Alkyl Acrylate Crosspolymer, Sodium Hydroxide, Tetrasodium EDTA

Taste / Aroma:

The smell is like a raspberry milkshake. It is sweet and fruity with a lovely thick milkshake scent. The raspberry is nice and tart. The scent is nice and subtle and has a creaminess to it. On first sniff, it reminded me of a strawberry milkshake, though I knew that wasn't quite right. The scent is soft enough that other lotions or perfumes easily cover it unless you are sniffing right at skin level.

Fragrance:

Raspberry kiss / Vanilla

Performance:

This lotion feels amazingly smooth on the skin. I love how it sprays on thin so that it is easy to spread all over and leaves a very smooth feel. In the winter I tend to get dry skin, as many people do, and this helps keep my skin moisturized for most of the day. I don't usually need to reapply after a liberal morning application.

Initially, the smell wasn't my favorite. I couldn't quite place what it was and I think that was part of it. Once I figured out that it was raspberry vanilla, I liked it much more. It really is like a creamy raspberry milkshake kissed along the skin.

Packaging:

Volume:

8.5 fl.oz.

Weight:

0.6 lb

Other

Safety features:

No Triclosan / Parabens free