Sickeningly sweet smelling
Looking for something to make you smell like marshmallows and something fake-sweet? A product that is very easy to apply but not that long lasting but will make you stink up a room for hours and hours and hours? This might be your cup of coffee. But if you are looking for something that will work all day, not smell you up too badly, you might want to pass on this.
Published:
Pros:
Spray bottle is nice, quick and easy application
Cons:
sickeningly sweet scent, doesn't seem to work well all day
I've bought a number of Cake items from EF over the past couple of years and I have to say... I just have not been impressed by them. I find them to be not very good quality, sickeningly sweet smelling, and usually not a very good feel to my body once they are applied. This all being said, the Milk Made Body Hydrating Moisture Milk by Cake falls somewhere in the middle of my general opinions of Cake products.
The scent is still nauseating, headache inducing, sickening sweet as I have come to expect of all Cake products, but the application of the Moisture Milk had me trying to think of various ideas for it's use other than just as a lotion. And the only thing that this Hydrating Moisture Milk is good for is your skin. I tried it in my hair, on my feet, hands and as a clothes spray... The only thing this stuff is good for is your skin.
But I'll get to that in a moment. Let me take you on a verbal description of the product itself.
It comes to you in a somewhat clear plastic 8.5floz spray-pump bottle with cutsie writing all over it. The hydrating milk is about a 2% to 5% milk thickness and colour. As I've mentioned, the scent is very marshmallow-yish and reminds me of a child-like sweet scent with a fake fruity undertone. Ingredients include: Water (aqua), Isopropyl Palmitate, Caprylic/Capric Trigylceride, Glycerin, Glyceryl Stearate, Polysorbate 20, Fragrance (Parfum), Butyrospermum Parkii (Shea Butter), Althaea Officinalis (Marshmallow) Extract, Milk Lipid, Inulin Lauryl Carbamate, Xanthan Gum, Phenoxyethanol, Caprylyl Glycol, Sorbic Acid, Acrylates/C10-30 Alkyl Acrylate Crosspolymer, Sodium Hydroxide, Tetrasodium EDTA.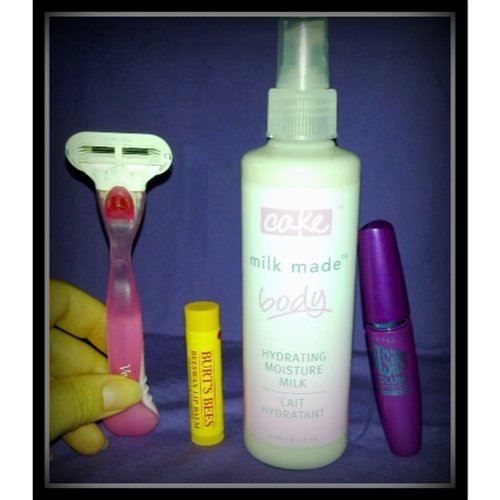 According to the instructions on the bottle, you are to use their bath and shower cream, then the sugar scrub, then spray yourself down!!!
To give you an idea of how much to use, it really depends on the person using it and how much you want. To fully cover my forearm, I need four to five sprays. I rub it in, and go about my day. I do find that my skin feels soft and feeling supple for a little while after rubbing it in with no sticky or greasy residue. BUT... I do notice that after a few hours, my skin looks dry again.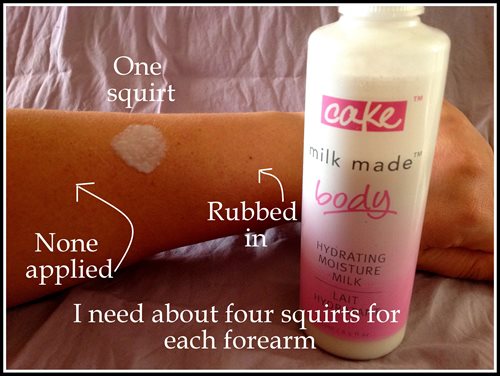 Now if you exercise, please be warned about using the Hydrating Moisture Milk. Even when my skin looks dry at the end of the day and I start to exercise, when I sweat, my sweat smells like marshmallows. And it is not a pretty smell. Not to mention that if you use a yoga mat then your sweat gets on the yoga mat... good luck trying to get the scent off!!!!
One bottle used daily should be able to last you for about one season if daily use.
Experience
As I mentioned above, I have tried to find alternative uses for this product. It made my hair appear oily and heavy. On my hands, it smelt off, but I think that had to do with the bacteria on my hands. So I would strongly suggest washing your hands after applying this. On your feet same issues. I found it just not strong enough for my hands and feet. My cuticles dried out and became painful from lack of applied moisture. I did not find this to be emollient at all.

This product is AMAZING for short term use. And for that reason alone, I am happy to give Hydrating Moisture Milk a full five star rating. But the scent. The scent. THE SCENT!!! It is painfully potent. And to me smells fake. Some people have said they smell a slight raspberry scent, others a vanilla. I find my brain cannot get past the marshmallow scent. And because of this scent, I can only give it a two star rating.

So bottom line... if you suffer from headaches caused by scents, or suffer migraines, or are sensitive to strong scents... skip it. If you have dry to oily skin, and don't mind smelling like candy, you might be interested in it.
This content is the opinion of the submitting contributor and is not endorsed by EdenFantasys.com

Thank you for viewing
Milk made hydrating moisture milk
– body moisturizer review page!