Cake Beauty Milk made nourishing body butter - Body moisturizer from Cake Beauty

Milk made nourishing body butter videos
Product Details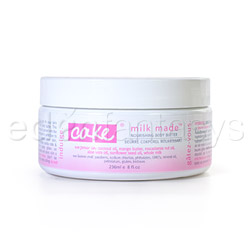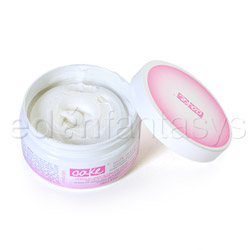 Summary:
Cake Milk Made Nourishing Body Butter smells like heaven. It's a wonderful product that goes on easily and leaves no stickiness or greasy residue behind. It finishes light and sweetly fragrant, but does not overwhelm the senses by any means. If raspberry scented products are on the top of your list, this is a must have!
Pros:
Deep moisturizers, smells like a bakery, a little goes a long way.
Cons:
May be a little too sweet for some tastes.
Best use:
Milk Made Nourishing Body Butter from Cake Beauty is a thick and luxurious cream used to moisturize all over your body. This is a deep moisturizer and is intended for moderate to severe dry skin. If you normally use a light moisturizer, this body butter is a great treat to indulge yourself in every now and then. It is best applied directly after a bath, shower or swim. To amplify the benefits of this cream, gently exfoliate your skin before application.

The formula is free of parabens, sodium chloride, phthalates, GMOs, mineral oil, petrolatum, gluten and triclosan. It is mildly perfumed and free of dyes. Those with sensitive skin should test the product on their forearm before applying the product all over the body.
Texture / Consistency / Thickness / Viscosity:

The cream arrives in a slightly congealed manner; this is due to temperature changes throughout its journey, and a quick stir with a whisk or spoon will smooth out the texture. The texture is thick like a good, stiff pudding, but not quite as thick as a tub of cream cheese. It is so thick that a spoon stands upright when placed in the center of the container. If you shake the container the product does not settle: it jiggles like a bowl of gelatin, and if you invert the container there are no worries about the product dripping out before you can turn it back over.

During application, the cream feels a little greasy but not does feel sticky. A little bit goes a long way, and it takes about thirty seconds to a minute before it feels like it has soaked in completely. After application, the skin feels soft with a barely-there powder finish. The greasy feeling subsides and the skin truly feels moisturized.

Ingredients:

Aqua/Water/Eau, Glycerin, Caprylic/Capric triglyceride, Cetyl alcohol, Stearic acid, Sunflower (Helianthus annuus) seed oil, Cocos nucifera (Coconut) oil, Macadamia integrifolia seed oil, Mangifera indica (Mango) seed butter, PEG-100 stearate, Glyceryl stearate, Ceteareth-20, Cetearyl alcohol, Isopropyl palmiate, Dimethicone, Tocopheryl acetate, Aloe barbadensis leaf juice, Hydrolyzed Milk Protein, Fragrance (Parfum), Phenoxyethanol, Caprylyl Glycol, Sorbic Acid, Carbomer, Triethanolamine, Benzophenone-3, Tetrasodium EDTA

Taste / Aroma:

Cake's Milk Made Nourishing Body Butter smells like a raspberry pastry. As delicious as it smells you should not eat this, and it does smell like it would taste incredible so keep it out of reach of children.

The first few whiffs carry hints of fresh baked cakes and pastries and finish with a very faint hint of grape, as if someone has blown and then popped a bubble while chewing grape gum. It finishes with a delicate hint of raspberries and cream.

The fragrance is neither understated nor overpowering and will pair well with other raspberry scented products, especially body sprays. The scent does not last for twenty-four hours like some products on the market these days, but it will last long enough to keep you feeling fresh for the majority of a day. It does transfer to clothing, so ladies beware when you're snuggling up to your honey - he may love the way you smell but he doesn't want to smell like you.

Performance:

This really is a great moisturizer. While the scent doesn't last for twenty-four hours, the moisturizing effects do. You know you've got a really great product when you shower the next day and you can feel a little bit of slickness between your fingers and skin when the water hits your legs and arms.

It works wonders on dry feet: just apply an hour or two before you are ready to break out the pumice stone and you'll have a much easier time. It's also really great for knees and elbows that are dry and just starting to crack, but it is not recommended for use on broken skin.

If you live in really hot climates and need to cool off, just pop it into the fridge for thirty minutes and apply as often as you desire. It would also probably feel really good on sunburns.

Packaging:

Volume:

8 fl.oz.

Weight:

0.6 lb

Personal comments:

I really love this lotion. It's thick and feels so good when you're applying it, but my husband said the fragrance is just a little too sweet for him. We both enjoy fragrances that are on the side of musk, vetiver or jasmine. Still, I can't help but want to open the jar just to smell it. It leaves my skin so soft and supple looking, and I really feel like it makes a difference and could keep skin in better condition with long term use.

Other

Safety features:

Gluten free / No GMOs / No Petrochemicals / No Phthalates / No Triclosan / Parabens free