Classic Erotica Simply sensual body butter - Body moisturizer from Classic Erotica

Product Details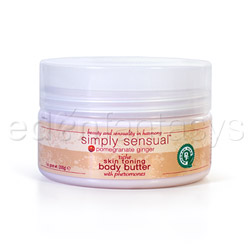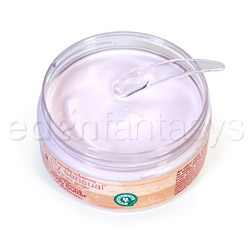 Summary:
This extremely affordable Body Butter from Simply Sensual is simply divine. It tones and firms the skin over time and improves the appearance instantly. The list of ingredients is full of lovely conditioners and moisturizers. The scent is amazing and it lasts a really long time. Stop spending twice as much for half the amount of product. This is a steal!
Pros:
Amount, price, amazing results, energizing scent, smooth feel, thick, goes a long way, caffeine.
Cons:
Jar is too big to take with everywhere!
Texture / Consistency / Thickness / Viscosity:


Being a body butter, this is much thicker than lotion and about twice as thick as a body creme. It's not liquidy. If the jar is turned up side down or shaken the body butter doesn't move and won't come out. A spoon is provided for easier application because of its thickness. The consistency is very smooth and rich with conditioning agents. It's easy to spread and rub into the skin. It doesn't feel greasy and after it dries and absorbs it gives the skin an almost perfectly powdered finish, smoothing out minor imperfections.





Ingredients:

Water (Eau), Cocos Nucifera (Coconut) Oil, Caprylic/Capric/Myristic/Stearic Triglyceride, Ethylhexyl Palmitate, Cetearyl Alcohol, Polysorbate 60, Aminomethyl Propanol, Bupleurum Falcatum (Chai Hu) Root Extract, Butylen Glycol, Butyrospermum Parkii (Shea Butter), Caffeine, Caprylyl Glycol, Carbomer, Coenzyme A, Copulandrone, Couline-alike, Ethylhexylglycerin, Helianthus Annuss (Sunflower) Seed Oil, Hydroxyehtylcellulose, Isopentyldiol, PEG-8, Reconstituted Androne, Steareth-2, Tocopherol (Vitamin E), Phenoxyehtanol, Fragrance (Parfum), Red 33 (CI 17200)

Taste / Aroma:

Infused with pheromones, the pomegranate ginger scent is incredibly intoxicating. It's a fruity scent with a hint of citrus, perhaps grapefruit. There is a faint undertone of floral. The scent is strong but not nauseating. It lingers on the skin for a few hours and mixes well with natural pheromones.

This is not for ingesting.

Fragrance:

Ginger / Pomegranate

Performance:

A little of this Body Butter goes a very long way. On the hands it can erase a day of hard work and help heal any cracks or rough spots seemingly within an instant. The amazing ingredients will restore dry skin and give it a healthy glow and subtle shine. Over time, it will improve the skin texture and appearance. This may only take a few applications. A noticeable difference can be seen even after one application. Use the body butter on your trouble spots to help reduce the appearance of cellulite. The caffeine ingredient will also help restore and keep a healthy younger look to the skin. It absorbs into the skin nicely and when it dries leaves a super soft and silky finish. The Body Butter is thick to start but the cover it gives to the skin is light and never greasy or sticky.

On any of these areas, it last for hours! The effects can be felt all day long.

Packaging:

The Body Butter comes in a generous 7 ounce jar. For the price and the performance, one might expect to pay much more than around $15 for this. Other butters that cost twice as much don't even give as much as this one does. It's a steal! The jar is made of a thick clear plastic. It's large, so it's not great for putting in a purse. The top half of the jar unscrews. There is a plastic film there that a plastic spoon rests on. The plastic spoon is small and isn't necessary to apply the body butter, but it keeps long nails from getting the body butter underneath them. It also helps dispense an even amount. The jar does not leak.

Volume:

7 fl.oz.

Weight:

0.75 lb

Personal comments:

My subjective part of the review:

This stuff is amazing! I'm shocked by the price and how quick this stuff makes a difference. On my hands, I can feel the effects all day and sometimes even the next morning. On my stomach, thighs, and butt it really does smooth things out by adding a healthy shine! I love that it has caffeine in it. My tanning lotions have enough caffeine to equal a cup of coffee and I swear it makes the skin look younger and makes it more elastic and less prone to stretchmarks and imperfections. It improves the skin tone and thus makes things look more toned in general. It makes the skin incredibly soft and never greasy or oily. I absolutely love the scent too. I can't stop smelling my hands when I use it! It's a very energizing scent.

I only have a few small gripes about it. For one, the plastic film that the spoon sits on doesn't quite fit right so it often falls into the body on one side. And my only other complaint is that the jar isn't small enough for me to easily take it everywhere with me!

Other

Safety features:

No Phthalates / No Sulfates / No Triclosan / Parabens free