Deliciously Fun!
I am very surprised to say that I really did enjoy this product in the dry winter months, I found it soothing, not too potent a scent, and just the smell was just refreshing! However; don't sweat while wearing this or it can get kind of greasy slick feeling.
Published:
Pros:
Great for dry, chapped skin in. Best used in winter.
Cons:
Greasy feeling when you sweat.
Now I am pretty nit-picky about what I use on my body and react pretty strongly to scented items. I am one of those that demand quality when a product advertises something, asks a price, I pay that price I expect it to deliver.
So let's get on with this review, because I kind of like this product and want to say some good things in a review for once.
Ingredients: Water (Eau), Cocos Nucifera (Coconut) Oil, Caprylic/Capric/Myristic/Stearic Triglyceride, Ethylhexyl Palmitate, Cetearyl Alcohol, Polysorbate 60, Aminomethyl Propanol, Bupleurum Falcatum (Chai Hu) Root Extract, Butylen Glycol, Butyrospermum Parkii (Shea Butter), Caffeine, Caprylyl Glycol, Carbomer, Coenzyme A, Copulandrone, Copuline-alike, Ethylhexylglycerin, Helianthus Annuss (Sunflower) Seed Oil, Hydroxyethylcellulose, Isopentyldiol, PEG-8, Reconstituted Androne, Steareth-2, Tocopherol (Vitamin E), Phenoxyehtanol, Fragrance (Parfum), Red 33 (CI 17200)
Size: 7oz/200g. This tub of body butter should last for a whole season of daily use.
Container type: Body butter style, wide mouth. There is a "spoon" for helping you to get the butter out of the container. This is an excellent container to reuse when making your own body butter.
Colour: The butter itself is a pinky colour so you'll need to be aware of this in case you have any red dye sensitivities. It rubs in with no obvious shine.
Scent: Pomegranate ginger. The scent is long lasting, and when you think you cannot smell it anymore... voila! There it is again! The smell does lighten with time, but it still remains present for the whole day. Be careful, when you wear this, then apply perfume? Be worried about the chemical reactions. The scent is not sickeningly sweet like Cake products, but more subtle, and long lasting. The ginger scent reminds me of the ginger in Haiwiian Ginger by Calgon.
Special features: skin toning, pheromone infused. "Enriched with caffeine to assist in reducing cellulite and stimulating skin rejuvenation." No animal testing, made in the USA. I personally did not see any difference in my skin tone, tightness or look when I used this product. Nor did I notice anyone more attracted to me than usual while wearing it. I did notice my students commenting more on the way I smelt.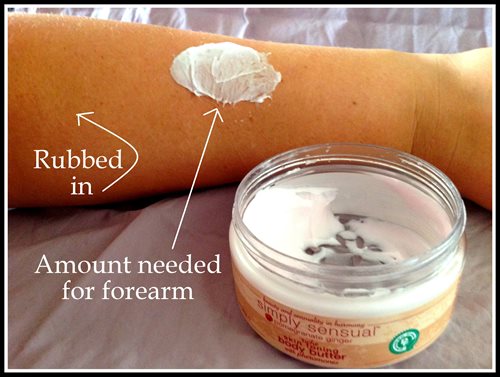 Storage: This in no way screams, "USE ME FOR SEX BABY!", I feel very comfortable leaving this anywhere.
Experience
And now on with the show of using it!!!!!

Using Simply Sensual Body Butter is actually a pretty decent product. I didn't find any really greasy feeling to my skin when using it on a day I did not work out. But on the days I do work out, I have to remember NOT to use it as then my skin gets horribly greasy and yucky feeling. But my skin does that for almost all body lotions. I especially like this as a hand, knee, foot and elbow lotion. I find it is strong and heavy enough to moisturise even the most driest of skin.

Now just to be clear, I've only really ever used this in the winter months with the above results. When I did try this in the summer time, I was horrified by the results. My sweat seemed to pool beneath the body butter causing a horrible grease like feeling, not to mention the pimples that popped up because of it. Now for me, this is a usual occurrence when I use lotions and body butters in the summer.

So all this being said, I am going to give this a five star rating. I really did like this product, and I still use it when I have none of my homemade body butters on hand. Out of all the lotiony products I have bought from EF, this is my favourite commercial brand. However; it still must be said, that I still prefer my homemade products. As I said, the few times when I have no had my products on hand, I do reach for the pink stuff.
This content is the opinion of the submitting contributor and is not endorsed by EdenFantasys.com

Thank you for viewing
Simply sensual body butter
– body moisturizer review page!