I Feel Simply Sensual!
A exquisite product for anyone in need of a little pampering. The overall quality of this product was more than I expected, as well as the added benefit of a soothing scent. Other claims of this product are yet to be seen, but as a regular body butter I couldn't ask for more!
Published:
Pros:
-Long Lasting Scent & Moisture
-Great Consistency
-Smooth & Soothed Skin
Cons:
-Nothing I can think of!
Simply Sensual makes a ton of products in the beauty line and after trying one and being thoroughly impressed, I decided to give this one a go. I'm so glad I did! It really is a great product and worth the expense! Whether you use this as an everyday body moisturizer, or for sexual encounters, it will make your skin feel cherished and even smell nice!
Scented in what they call "Pomegranate Ginger", I relate it to a citrus-like smell. Although I am not a fan of citrus, I find myself actually enjoying this scent. It's low key enough to make me feel as if I just showered in a tropical spa and although the scent starts off a normal intensity, it wears off quickly enough to a mellow scent that will follow you most of the day.
They say this is a Skin Toning Body Butter with Pheromones. So far I haven't noticed any difference because of these claims, but it DOES make you feel extra soft and sexy! I'm not even sure what they expect with those claims, but hey, perhaps after continuous use it will do something magical to my body? Here's hoping!
This comes in a typical plastic container (7oz) about 3.5" in diameter and 2" tall. The lid screws off easily and also tightens back up nicely, without any restraint or restrictions. Underneath is a removable plastic barrier in which a small plastic spoon sits. Now I personally threw those both away, as I have no need to spoon this on. The butter won't get bad as long as you actually use it within a decent frame of time. There is also enough body butter in here to last you a long time! This one is actually filled pretty much to the top, unlike some other more expensive brands.
The butter itself is very creamy. It's not as thick (like clay) as other butters I've used, but more of a consistency between regular butter and lotion. It does NOT run though, which to me makes it better than normal lotion, and better than normal butter because I don't need to rub it into my skin as long to get it to soak in.
Right when you open the lid, the smell will assault your senses, but as I said, I find it refreshing even though I've never been a fan of these more tropical scents. Just dip your fingers and pry some out. It won't run or dry, so no need to rush around like with other products. It rubs in nicely without a greasy feeling and I can actually touch something afterwards without leaving grease marks. I immediately notice a softer, calmer feeling where applied. THIS is how body butter should be!
I personally enjoy using this before bed after I put on my face moisturizer, spreading it all over my body. I especially love how soft it makes my feet and how soothing it is. The scent especially allows me to feel less stressed before I crawl into bed. For pre-sexual encounters, I would suggest rubbing this over your thighs, backside, and chest. However, I would NOT recommend putting this anywhere near openings.
This is definitely worth the money. It's about as expensive as similar products in the mid-quality range, but I believe you get more for your buck with this one. The overall smell, feel, and application of this really are exquisite. Let's not forget their claim for skin toning and pheromones, which I haven't even bothered addressing as those claims would take a long time to see any results. With excluding that, this is the best body butter I've used in a long time!
Ingredients:
Water, Cocoa Nucifera Oil, Caprylic/Capric/Myristic/Stearic Triglyceride, Ethythexyl Palmitat, Cetearly Alcohol, Polysorbate 60, Aminomethyl Propanol, Bupleurum Falcatum Root Extract, Butylene Glycol, Butyrospermum Parkil, Caffeine, Caprylyl GLycol, Carbomer Coenzyme A, Copulandrone, Copuline-alike, Ethylhexylglycerin, Hellanthus Annuus Seed Oil, Hydroxyethylcellulose, Isopentyldiol, PEG-8, Reconstituted Andronone, Steareth-2, Tocopherol, Phenoxyethanol, Fragrance, Red 33
NO ANIMAL TESTING - MADE IN THE USA - PF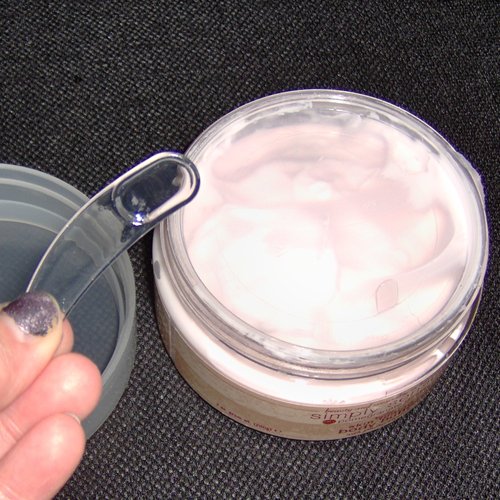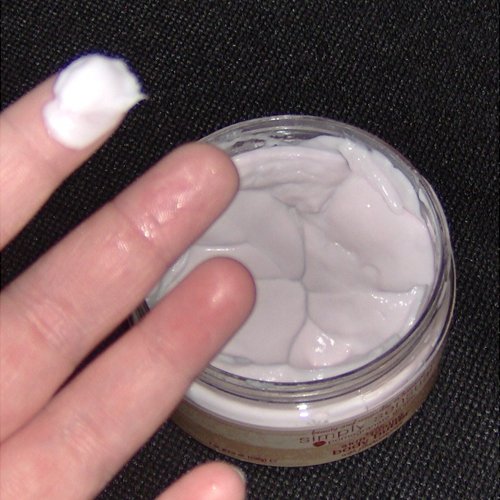 Follow-up commentary
2 months after original review
I've been using this for 2 months now and I still have a good 1/4 of the can. I love the way this item makes my skin feel, the scent, and the amazing quality. This product is well worth the price and will be in my routine for a looong time!
This content is the opinion of the submitting contributor and is not endorsed by EdenFantasys.com

Thank you for viewing
Simply sensual body butter
– body moisturizer review page!