DevineToys After Trace spray - Spray from DevineToys

Product Details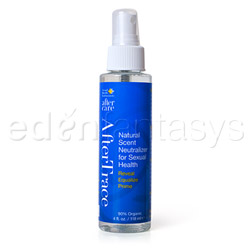 Summary:
This products gives the user more bang for their buck by not only neutralizing intimate bodily odors before sex, but also by calming them after the deed is done and restoring them to a balanced state. Containing over 90% organic ingredients packed in to a convenient travel-sized bottle and a gender neutral scent, this will appeal to a variety of users but especially to those who are mostly concerned with being extra fresh, sort of like chewing gum after brushing your teeth.
Pros:
Travel friendly, 90% organic, pleasant and light scent.
Cons:
May sting, especially if it gets on delicate female tissues.
Best use:
Sexual Health Enthusiasts presents the first sexual health body care system designed to work with the body's natural defenses for a cleaner, fresher, sexier you. AfterTrace spray is just one of four products in a holistic and mostly organic intimate bodycare line, which is to be used before sex to tame unwelcome intimate odors that can be caused by a variety of external factors such as physical activity, foods, environmental factors, and aging. It can also help to boost personal confidence by giving the user the assurance needed to know that he/she is fresh and ready to perform. Additionally, it claims that using it after a sexual encounter can help to soothe, heal, and restore (pH imbalance) those areas affected by friction.

As with any product, discontinue use if irritation occurs. Use externally only, by spritzing the product about 6 inches away from intimate areas. Allow to air dry, pat dry, or use a warm blow-dryer.
Texture / Consistency / Thickness / Viscosity:

The product is liquid and mostly transparent, save for a very slight yellowish tint. It's also free of parabens, dyes, added perfumes, and glycerin. The ingredients are 90% organic and include the following:
Water, Polysorbate 20, Comfrey*, Saccharomyces Ferment* (live enzymes to break down odors), Oat Beta Glucan *(anti-inflammatory, wound support), Organic Aloe Leaf Barbadensis Leaf Juice* (soothing), Arnica Montana Flower Extract* (anti-inflammatory), Chamomile Flower Extract* (calming/soothing), Lavender Extract* (calming/soothing), Algae Extract* (helps to restore minerals the body needs), Orange Peel Oil*, Bergamot Fruit Oil*, Rosemary Leaf Oil*, Allantoin, Caprylyl Glycol, Phenoxyehtanol Hexylene Glycol.

Base:

Water

Ingredients:

Water, Polysorbate 20, Symphytum Officinale (Comfrey) Rhizome/Root Extract, Saccharomyces Ferment, Oat Beta Glucan, Organic Aloe Barbadensis Leaf Juice, Arnica Montana Flower Extract, Amthemis Nobilis (Chamomile) Flower Extract, Lavandula Angustifolia (Lavender) Extract, Ascophyllum Nodosum (Algae) Extract, Citrus Aurantium Dulcis (Orange) Peel Oil, Citrus Aurantium Bergamia (Bergamot) Fruit Oil, Rosmarinus Officinalis (Rosemary) Leaf Oil, Allantoin, Caprylyl Glycol, Phenoxyethanol, Hexylene Glycol.

Color:

Clear

Taste / Aroma:

The most prominent scent is that of the chamomile, which could be mistaken for the smell of ginger. It's pleasant, soothing, and very natural smelling. It should be allowed to dry fully before performing oral sex on a partner. Some might find it slightly bitter at first, but this is not a lingering effect with prolonged oral activity, as the product will wash off easily.

Performance:

The product comes in a 1.7 ounce plastic bottle with a spray pump attached for easy distribution. Only 2-3 spritzes were necessary, but it doesn't dry quickly unless it's fanned or dried with a blow dryer. It performed as expected in regards to eliminating odors, not that there were any offensive ones to begin with. As far as how well it performed as a healing/restorative product, that was much harder to evaluate. Perhaps it would be more beneficial on male genitalia, as there are no exposed mucous membranes on the shaft of a penis; however for a female user, the areas the most exposed to friction are the delicate and moist tissues within the vagina, and whatever product did reach those areas produced a light tingling/stinging sensation. Fortunately, that went away when rinsed off in the shower.

Packaging:

Volume:

4 fl.oz.

Weight:

2.2 oz

Personal comments:

My partner and I were both neutral on this product. We both agreed that it's great to throw in a purse or overnight bag, especially when there could be some impromptu, spontaneous sex on the horizon. Most people, however, will probably shower before sex anyhow. This might be a nice alternative to someone who has allergies to strong perfumes and fragrances and would like to use a little something extra and more "natural" after bathing as an extra precaution. Personally, I don't think it's something I need or would buy on a regular basis.

I don't think I'd recommend giving this as a gift to someone since they might be offended. This is more one of those personal care products that an individual would seek out for themselves.

Other

Safety features:

No Phthalates / No Triclosan / Parabens free