Doc Johnson Nice nuggets male comfort lotion - Lotion from Doc Johnson

Product Details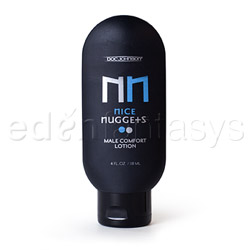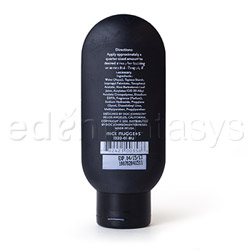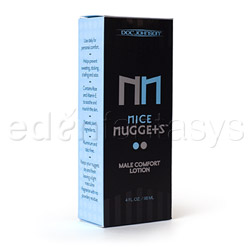 Summary:
Nice Nuggets is a very good deodorizer and leaves an excellent smell. What is even more impressive is what it does not leave, that being residue and stickiness. This deodorizing lotion lasts a long time and outlasts a good workout and keeps you dry and smelling good. The scent is not overpowering, and others may only be able to smell the nice coconut scent if they are in hugging range.
Pros:
Great deodorizer,great smell, and long lasting.
Best use:
Nice Nuggets has two primary functions, the first being a lotion to prevent sweating and chaffing. The second function is the lotion's deodorizing capabilities. To use this you use a quarter size amount and rub it into the preferred area. The 4 fl. Oz. tube will last you a long time for not a lot is needed. The scent will also last a good while before fading off, and when the scent is gone the lotion is still functioning perfectly.
Texture / Consistency / Thickness / Viscosity:

Nice Nuggets has the same thickness and consistency as your common sun block, the difference is the way this absorbs into the skin. Nice Nuggets needs very little time to absorb into the skin and leaves no residue on the skin or hands. Since there is no residue left on the hands, this prevents the hands from becoming sticky or irritated. You should still was your hands after using the lotion.

Ingredients: Water (Aqua), Tapioca Starch, Isopropyl Palmitate, Tocopheryl Acetate, Aloe Barbadensis Leaf juice, Acrylates/C10-30 Alkyl Acrylate Crosspolymer, Disodium EDTA, Fragrance (Parfum), Sodium Hydroxide, Propylene Glycol, Diazolidinyl Urea, Methylparaben, and Propylparaben.

Base:

Water

Ingredients:

water, tapioca starch, isopropyl palmitate, tocopheryl acetate (vitamin e), aloe barbadensis leaf juice, acrylates/c10-30 alkyl acrylate crosspolymer, disodium edta, fragrance, sodium hydroxide, propylene glycol, diazolidinyl urea, methylparabel, propylparaben.

Taste / Aroma:

The aroma that Nice Nuggets leaves is light and refreshing. The smell will not announce you to the room from thirty feet away, nor will it three feet away, but for those intimate encounters it will surely be recognized. It is hard to pinpoint a single scent; it does not smell like you shoved a dozen roses in your jock, or pineapple for that matter. The smell to me is a mixture of light flower and fruit scents, without going overboard. The smell is closer to coconut then anything else.

Flavor:

Unflavored

Fragrance:

Original

Performance:

As a deodorizer, this lotion lasts a long time, long enough to get washed away at your next showering/bathing. The scent is more subtle and less overbearing than any cologne, and more or less has the same function and potency as a deodorant. The lotion's functions perform very well if you are out for a jog, or if you are sitting around watching movies and playing video games.

Safety features:

L-Arginine free

Special features:

Packaging:

Nice Nuggets comes in a box that resembles the packaging on most Colognes/Perfumes. Inside is a 4 fl. Oz. tube/container of the lotion. The color scheme is mostly black and light blue with silver and light blue lettering. The ingredients that make up the lotion are clear and easy to find and are located on the back of the box. The back of the box also contains a short snippet on how to use the lotion, which includes an explanation of how much you should use. Both sides of box explain the exact functions of the lotion.

I had no issues with the design of the tube or the cap. The cap does not leak, and functions perfectly for releasing just the right amount easily.

Volume:

4 fl.oz.

Weight:

0.4 lb

Personal comments:

With a name like "Nice Nuggets", I am worried this lotion will get overlooked as a joke. There are joke products out there, but this is not one of them, and with a humorous name this may be overlooked. I have no name suggestions, but "Nice Nuggets" is a poor name. The overall presentation is great, and looks very professional, but how many guys are really going to go out and buy a product called "Nice Nuggets?" Assuming they know little about this lotion, they may just dismiss it.

You may have picked up by now that I like this lotion: it works wonderfully, and it lasts a long time. It works wonderful even if you lead a fast paced lifestyle or a couch potato sort of life. I am somewhere in between and it worked great. It kept the downtown area free from rain and fog, and kept the "schweety balls" smell and feel at bay.

I think is a great lotion, the first of its kind I have tried, so I do not have a lot to compare to, but I can say this, it functioned as promised.

If you look into the ingredients, you will see this contains parabens, be aware if you are concerned about parabens. Also note the other ingredients to see if you are allergic to any of them. Everyone is different, thankfully I did not have any allergic reactions.

Other