Not Soap Radio 12 days of Christmas lip set - Lip balm from Not Soap Radio

Product Details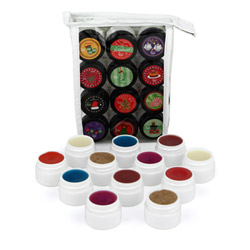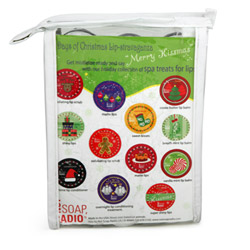 Summary:
The balms, glosses, scrubs and conditioners in the 12 Days of Christmas Lip Set are a wonderful fun thing for anyone that is very into lip balms and things of the like.
Pros:
A fun gift that is actually useful.
Cons:
Have to reapply a lot.
Best use:
I may not actually celebrate Christmas, but I do enjoy some of the holiday stuff that does come up this time of the year. The 12 Days of Christmas Lip Set is a wonderful little thing for anyone who likes lip gloss and balms. The set has sugar lip exfoliater, matte lip balm, lip breath mint, shiny lip balm and lip conditioners.
Texture / Consistency / Thickness / Viscosity:

All of the lip balms, glosses and conditioners are very thick in their little jars. It's very solid in there.

The scrub is very coarse like a very good sugar scrub and has that soft oiled feel to it too.

Ingredients:

-

Color:

Multi-color

Taste / Aroma:

They all smell wonderful. There is 12 in the set and each one has its own scent to it. I wish there was a list in the set of what each one actually is, because sometimes I really can't tell what it's supposed to be, even if I love it.

Performance:

The scrubs work great and leave the lips feeling very smooth, and you don't have to add any balm after that. The glosses and balms are very moisturizing, but they don't stay on the lips that long and you have to keep adding them. The conditioners last longer than the balms and glosses.

The set includes:

Exfoliating lip scrub
matte lips
sweet kisses lip balm
cocoa butter lip balm
breath mint lip balm
shiny lips
vanilla mint balm
super shiny lips
overnight lip conditioner
and daytime lip conditioner

Packaging: