Shunga Erotic Art Divine oral pleasure gloss - Lip gloss from Shunga Erotic Art

Product Details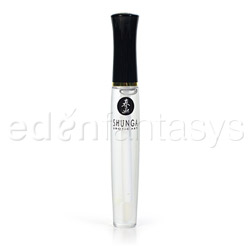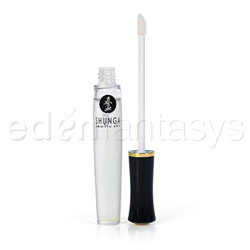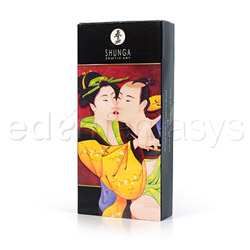 Summary:
Expensive as just a lip gloss, yes. I just love the strong tingle that this gloss gives me. It smells great, tastes great and it's long lasting. This would make a great gift or just as something to try out for fun!
Pros:
Long lasting, strong tingle, cooling
Cons:
Tingle may be too strong for some
Best use:
This lip gloss is an oral pleasure lip gloss, designed to enhance sensation with oral sex. I did not use it as such and I will be reviewing it just as a gloss and comparing it to the other glosses on Eden Fantasys. You only need a small amount of this gloss for maximum shine, 1-2 swipes of gloss and you're good to go!
Texture / Consistency / Thickness / Viscosity:

Shunga's lip gloss isn't very thick but it isn't runny either. When applied, I had no problem with it dripping off of my lips like some thinner glosses can. It also isn't sticky at all and after you've been wearing it for a while, it thins out and doesn't appear as glossy. This gloss didn't dry out my lips. I didn't need to reapply often (about once every half hour), but that'll vary depending on what you're doing while wearing this!

Ingredients:

Hydrogenated Polyisobutene and Ethylene/Propylene/Styrene Copolymer and Butylene/Ethylene/Styrene Copolymer, Menthyl Lactate, Glycerine, Flavor (Aroma), Sucralose, Polyglyceryl Stearate, Vanillin Butyl Ether (Vanillyl Butyl Ether)

Color:

Translucent

Taste / Aroma:

The one that EdenFantasys has available is unscented with no specified flavor. The one I've got is the strawberries and champagne gloss and it smells lightly of strawberries. It tastes of strawberries too, it's a really pleasant taste with no bad after taste. I admit, when I wear this gloss I have trouble not licking my lips constantly because it tastes delicious. When I taste this gloss the texture is slick and not at all waxy which is something I've encountered with other lip glosses. That was a huge plus for me, it does tingle on the tongue but it isn't an overpowering feeling and would probably feel amazing during oral. The tingle is light and in no way does it numb the areas that it comes in contact with.

Flavor:

Unflavored

Fragrance:

Unscented

Performance:

This held up pretty good for a gloss. I reapplied it approximately once every half hour. I was wearing it while drinking coffee so I'm sure when you're using it for it's intended purpose, you'll need to apply it more. The sensation I felt after applying it was initially quite strong so start with 2 swipes of gloss and add more later. The sensation this had on my lips can best be compared to the feeling that you would get from a plumping lip gloss although this has no lip plumping action. Now that I'm used to wearing it as an everyday gloss, it feels like a light tingle. The first time I used this gloss it was much stronger although not uncomfortable because I have used some pretty strong plumping lip glosses. I'd recommend swiping this gloss across your top lip once and your bottom lip once and gradually get used to the feeling. For someone new to this type of gloss it can feel overwhelming and the best way to describe it is that it has a bit of a pins and needles feeling to it and may make your lips feel too warm. Start with a small amount and go from there.

Packaging:

I find Shunga's packaging to always be simple yet attractive. I wish that I had held onto it to take my own photos but I pretty much ripped it open because strawberries and champagne sounded amazing. The lip gloss is in a clear plastic tube with a black cap and the simple discreet Shunga name on the front. It has a sponge tip applicator and the gloss comes sealed in a cardboard box with ingredients printed on the back.

Ingredients:
Hydrogenated Polyisobutene and Ethylene/Propylene/Styrene Copolymer and Butylene/Ethylene/Styrene Copolymer, Menthyl Lactate, Glycerine, Flavor (Aroma), Sucralose, Polyglyceryl Stearate, Vanillin Butyl Ether (Vanillyl Butyl Ether)

Volume:

0.33 fl oz.

Weight:

0.1 lb

Special Features:

As a gloss I thought that maybe the tingling sensation would possibly act as a lip plumper...it didn't. A few seconds after applying it, it felt like tiny little pins were poking my lips, not a stinging feeling and not painful but similar to a strong tingle. It subsided and it was replaced with a nice strong cooling feeling. The pin prickly tingle was very similar to other lip plumping glosses that I've tried before. Over time I've become used to this feeling and now I don't mind it at all and actually find it quite nice.

Personal comments:

A bit expensive to use as just a lip gloss, I can't wait to read more reviews on how this performs as an oral gloss. I've reviewed Kama Sutra's EroStick Mint lip gloss and it doesn't compare to Shunga's lip gloss. Just based on the different sensations that it gave my lips: Kama Sutra was lightly cooling with nowhere near as much glossiness in appearance. This gloss compares to the glossiness of the Booty Parlor's Kissaholic lip gloss but the sensation felt is much stronger. Shunga's gloss is much higher in shine and packs a punch in the sensations department with an intense tingle.

Experience:

The tingling sensation was more intense than any gloss that EdenFantasys carries that I've tried. While the others focused mainly on cooling sensations, this one has that and intense tingling. It doesn't plump your lips, which is not it's purpose anyways! Once you get used to the strong tingle, this gloss feels great on your lips (and I'm sure elsewhere too!) Since the sensation is so strong, start with one layer of gloss and build up if you feel that that's necessary. Don't use this on chapped or dry lips, I think it's pretty safe to say it would burn!

Other

Safety features:

No Phthalates / No Sulfates / No Triclosan / Parabens free