Not Soap Radio Double dipped lip balm - Lip balm from Not Soap Radio

Double dipped lip balm videos
Product Details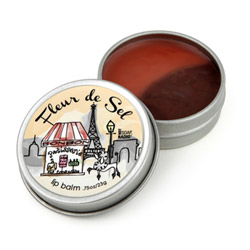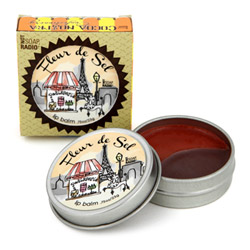 Summary:
If you're looking for something to make your lips taste like high end candy, then look no further: Double Dip is for you. Spread on the candy and start kissing that special someone! They'll thank you for the sweet treat!
Pros:
Tastes great, two flavors in one!
Cons:
Does not heal chapped lips.
Best use:
Tired of the same old cherry flavored lip balm? Then try Double Dipped Lip Balm. Yes it says Fleur de Sel but it is not a sea salt flavored lip balm, it's a candy flavored lip balm. Spread on your lips to ease chapped lips, keep them from getting chapped, or to make your kisses a little more delicious.

Ingredients include: Ricinus Communis (Castor) Seed Oil, Cetearyl, Alcohol, Lauryl Laurate, Olea Europaea (Olive) Fruit Oil, Hydrogenated Castor Oil, Beeswax, Copernicia Cerifera (Camauba) Wax, Hydrogenated Soybean Oil, Euphorbia Cerifera (Candelilla) Wax, Theobroma cacao (Cocoa) Extract, Flavor, and Mica.

If you are sensitive to any of the above ingredients please do not use.
Texture / Consistency / Thickness / Viscosity:

This lip balm is thick and hard to get out of the tin. Simply rub your finger over it for a few seconds to warm the balm and you will end up with enough. It feels silky on the lips and stays exactly where you put it. It's non greasy as far as balms go.

Ingredients:

Ricinus Communis (Castor) Seed Oil, Cetearyl, Alcohol, Lauryl Laurate, Olea Europaea (Olive) Fruit Oil, Hydrogenated Castor Oil, Beeswax, Copernicia Cerifera (Camauba) Wax, Hydrogenated Soybean Oil, Euphorbia Cerifera (Candelilla) Wax, Theobroma cacao (Cocoa) Extract, Flavor, Mica

Color:

Multi-color

Taste / Aroma:

So what are the flavors? Chocolate and salted caramel. Use one at a time or mix. They're delicious either way. However, you will taste it more on your lips than on your tongue. It's a subtle taste. The aroma, though, is just like that of a fine candy store.

Performance:

Used to heal chapped lips this balm falls short. It simply is not strong enough. Used to prevent chapped lips, this balm is fair. Lips may chap with use but it is better than nothing. Used as a kiss enhancer this balm rocks! You'll always want to wear it for making out.

Packaging:

The balm arrives in a .75 oz tin can with a pretty little drawing of Paris on the front. So romantic. The back contains suggestions for use including wearing it under lip gloss and of course as a kiss enhancer! It's made to make kisses ever so sweet not heal lips. Then there is a list of ingredients.

This balm is a little large to carry in your purse however it would be easy to throw in a bag.

Volume:

0.75 fl.oz.

Weight:

0.1 lb

Experience:

I have worn this lip gloss for a few days now and it sort of keeps chapped lips away. I could go back to my old lip balm but I really don't want to. The taste is just too intriguing and I feel oh so kissable when I have it on. Plus my boyfriend loves it!

Other

Safety features:

No Phthalates / No Sulfates / No Triclosan / Parabens free

Special features: