Not Soap Radio Matte lip balm - Lip balm from Not Soap Radio

Product Details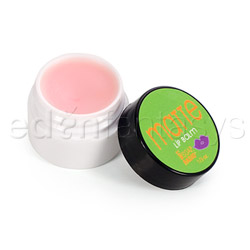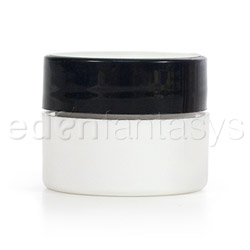 Summary:
I really liked this lip balm. It's smooth and moisturizing on lips. It goes on clear with a matte finish. I love putting it on over sticky, colored lip glosses, since it kind of takes away the sticky feeling on my lips, while not changing the look of the gloss at all. This jar would make a great gift, even though the pot isn't terribly exciting looking.
Pros:
Flavor, smooth, moisturizing, makes a good gift.
Cons:
Pot is plain looking.
Best use:
Not Soap Radio's matte lip balm works pretty well as a lip balm. It's smooth, nicely flavored, and does have a nice matte finish. It's also almost completely made out of natural ingredients, which I love to see in beauty products.

As a lip balm, this does last a fairly decent amount of time. I did have to reapply after kissing my fiance a few times, but not any more than I would with normal lip balm. Regardless of the color of the balm, this goes on clear.

This balm would make a great gift for just about anyone. The jar is plain white and does not have anything about sex toys on it. I could see giving this as a gift to my little cousin, who loves lip balms.
Texture / Consistency / Thickness / Viscosity:

The feel of this lip gloss, both on my finger and on my lips, is a little greasy. This is made up of a lot of oils, though, so the greasiness is understandable. I do like the nice, smooth feel of this once it's on my lips. It spreads easily over lips, both from rubbing it on with a fingertip and by rubbing lips together.

In the jar, this balm feels much like others. It's firm yet easy to run a finger over the surface to get some balm. It doesn't have any give, so there's no worry of fingers sinking into the pot when trying to get some balm out.

After a while of being on lips, this will start to absorb into them. It leaves my lips softer and moisturized, but it does leave some grains on top of them. When first applying, I actually like the grains, because the more I rub the lip balm in, it makes my lips tingle a little. When it starts to dry out, I apply more or I switch to a less grainy lip balm, depending on my mood.

Ingredients:

Amygdalus Dulcis (Almond) Oil, Cocos Nucifera (Coconut) Oil, Beeswax, Persea Gratissima (Avacado Oil), Mangifera Indica (Mango) Seed Butter, Theobroma Cacao (Cocoa) Seed Butter, Flavor, Tocopheryl (Vitamin E)

Color:

Clear

Taste / Aroma:

The jar I received does not match the red one currently up on the product page. I have a purple balm. It has a fragrance/flavor of grape candy. The scent is somewhat strong, especially for a lip balm, and easy to smell once applied. It does have a slightly weird scent to it, kind of like fermenting grapes or something. The flavor is sweet and tastes like a lot of grape candies I have tried. It's a pretty light flavor.

As the lip balm sits on my lips, the flavor fades pretty quickly. The scent does stay around a lot longer. I applied some before going to bed, and I could still smell it on my lips when I woke up the next morning.

Performance:

The amount of time this balm lasts depends really on how dry my lips are. When I haven't buffed them and they're pretty dry feeling, this absorbs very quickly. If my lips are already smooth and moist, it lasts at least 2-3 hours.

When I wash this off my fingers, it comes off pretty easily. I just use hand soap and warm water. I also make sure to apply this lip balm with freshly washed hands so that my pot of lip balm is as germ-free as possible. I recommend to use q-tips to apply this if you share it with anyone. If you use it alone, wash your hands before each time you apply the balm.

I like the flavor and feel of this balm. It's so smooth and sweet tasting. It doesn't feel sticky when I press my lips together, which is something a lot of lip balms do, at least to me.

I don't particularly care for the pot, both in design and in the fact that it's a pot. The pot is pretty plain and unexciting looking. Applying lip balm with a finger can also be a bit inconveniencing, especially compared to a stick lip balm.

Packaging:

Matte lip balm comes packaged in a simple white plastic pot with a screw on lid. The lid has a cheap green sticker with "matte lip balm" on it. It also displays Not Soap Radio's logo and a set of purple lips. The pot contains .33 ounces of balm. It's 1 inch tall and measures 1 1/2 inches in diameter. This is an average size for lip balm pots. It's a bit smaller than a Carmex pot. It's very lightweight and should easily fit into a purse. It may not fit comfortably into a pocket, especially if you are wearing tighter pants.

On the bottom of the jar is another sticker with the ingredients list:

Amygdalus Dulcis (Almond) Oil, Cocos Nucifera (Coconut) Oil, Beeswax, Persea Gratissima (Avacado Oil), Mangifera Indica (Mango) Seed Butter, Theobroma Cacao (Cocoa) Seed Butter, Flavor, Tocopheryl (Vitamin E)

As you can see, a majority of the ingredients are completely natural. A lot of them are oils or butters, which is why this feels a little greasy. It does have beeswax in it to give it a thicker and harder consistency, as well as to keep it on lips longer.

I think the pot looks fine to give as a gift, even though it is a little plain and cheap looking.

Volume:

0.33 fl oz.

Weight:

0.8 oz

Personal comments:

I decided to upload some pictures so you can see what the grape flavor looks like. The balm itself is brown with a bit of purple in it. I don't currently have any batteries for our better working camera, and this one made the balm look completely brown. It's confusing since everything else in the picture is the right color.





As I said before, I'd personally prefer the option to have a lip balm stick. It's just easier to use.

Other

Safety features:

No Phthalates / No Sulfates / No Triclosan / Parabens free