Not Soap Radio Shiny lip balm - Lip balm from Not Soap Radio

Product Details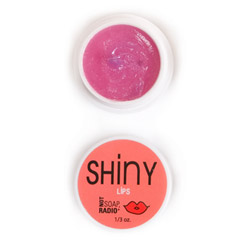 Summary:
Shiny Lip Balm by Not Soap, Radio gives the lips a shiny finish and adds some moisture and a very sheer wash of colour that should work with any skin tone. It has a subtle flavour and scent that is pleasant and shouldn't bother anyone. It is a good product, but doesn't have any special features or ingredients, and doesn't moisturize particularly well.
Pros:
Does create shine, sheer colour is versatile, pleasant scent/flavour, affordable.
Cons:
Greasy texture, not as long-lasting and moisturizing as some lip other balms.
Best use:
Shiny Lip Balm is intended to moisturize the lips while creating a shiny finish, which will mainly appeal to female users. The small jar can easily be tossed into a purse, or even carried in a pocket to be reapplied throughout the day. It has a light, pleasant scent, which shouldn't bother anyone but the most sensitive.

The ingredient list is very short: Petrolatum, Cottonseed oil, Flavor.

I find it a bit odd that no colour is listed on the ingredient list, since the product obviously contains it.

Unlike several of Not Soap, Radio's other lip balms, Shiny Lip Balm doesn't contain any natural plant extracts. This may be a negative to some people, but could be a positive to those who have plant allergies.
Texture / Consistency / Thickness / Viscosity:

If you've ever used regular old Vaseline petroleum jelly on your lips, you'll have a good idea of what Shiny Lip Balm feels like. The addition of the cottonseed oil makes this lip balm a tad thinner and lighter in feel than petroleum jelly, but it still has the same thick, greasy, slightly goopy texture. It's easy to scoop a dollop of the soft balm out of the jar with your finger. The balm does a good job of coating the lips, but it absorbs into the skin quickly when compared to a balm that has more of a waxy initial feel. It leaves the lips feeling very moisturized as soon as it absorbs, but doesn't keep a protective coating on the lips so that they stay moisturized throughout the day.



Ingredients:

Petrolatum, Cottonseed oil, Flavor

Color:

Clear

Taste / Aroma:

My jar of Shiny Lip Balm smells and tastes like a lemon jelly bean. It is sweet, with just a hint of lemon, and no tartness. The scent and flavour are both quite subtle. According to the Not Soap, Radio website, flavours can vary from batch to batch, and they alternate between citrus, fruit, and candy flavours.

Performance:

True to its name, Shiny Lip balm goes on to the lips with a shiny, glossy surface. It does not have any shimmer or sparkles. It is a pinky-purple colour in the container. When applied to lips, it won't darken them or really add any colour, but it may slightly change the undertone of your natural lip colour. I found it made my lips appear slightly more pink and less peach then they are naturally, but the effect wasn't very noticeable.

The balm applies thickly, but with wear it seems to sort of melt into the lips and disappear. It makes them feel very soft and moisturized at first, but doesn't create a protective coating like waxier balms do. My lips are quite dry, and I feel the need to reapply within an hour of putting it on.


Swatched on my arm - adds shine, but barely any colour.

Packaging:

The lip balm is packaged in a 1/3 oz. jar with a screw off cap. The package is fairly small, at about 1 1/2" wide and 1" tall. It won't take up much room in a purse. It will fit into my jeans pocket, but it is a bit bulky for that. The packaging is simple and cute, with the name of the product and a pair of puckered lips printed onto a pink sticker stuck to the top of the lid. The back has another sticker with the ingredient list and the company's website address.



Volume:

0.33 fl oz.

Weight:

0.8 oz

Personal comments:

This lip balm is okay, but not as good as the balm I usually use. It feels pretty heavy and greasy, which makes it seem like it should be really moisturizing, but it's just not enough to keep my dry lips hydrated.

Other

Safety features:

No Phthalates / No Sulfates / No Triclosan / Parabens free