Shunga Erotic Art Garden of edo organic collection - Massage kit from Shunga Erotic Art

Product Details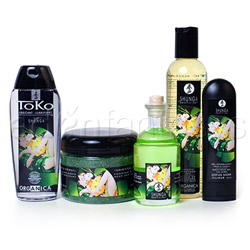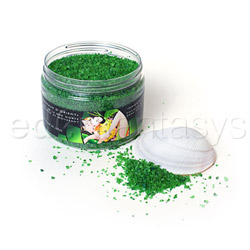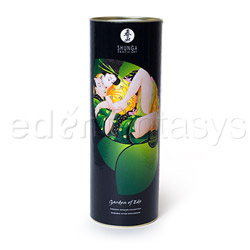 Summary:
This is a beautifully packaged set with some great products and some products that left me/us wanting more. The Shunga Garden of edo organic collection is a success it terms of sparking and encouraging romantic endeavors.
Pros:
Beautifully packaged, the unisex scent is very light and non offensive, bath salt is amazing!
Cons:
Sensitizing gel made me feel numb and desensitized.
Best use:
This Shunga kit offers five products that cover a wide variety of uses. This kit is great for couples to explore their romantic side. This would be wonderful for a weekend getaway or reserved as a travel kit. All five products come neatly packed in a long, heavy duty cardboard, cylinder. All five products fit neatly back in the cylinder when not in use, or as needed for travel. This is an all in one, lovers' getaway in a cylinder. From lubricant to a hot bath with a seductive scent, Shunga Garden of Edo has you covered.
Texture / Consistency / Thickness / Viscosity:

Let's start with the massage oil. The tall, thin, bottle holds a full 8oz and has an exotic green tea scent. The scent is very light, fresh, and subtle. I can't imagine it being too much for anyone. As the oil is massaged into the skin the scent dissipates as well. The oil is thin but rich and does leave an oily residue that requires a shower to feel clean afterward.

Toko Lube has a slick feel and is fairly long lasting. If used externally, this lube can become sticky to the touch. If too much air gets introduced, re-application is required. This is a thin lubricant and dispenses quickly.

Intimate Kisses aphrodisiac oil is a warming intimate oil close to the consistency of breakfast syrup, but it has a slip like oil. The oily texture dissipates and turns into a slightly tacky consistency in a short amount of time.

The sensitizing gel has the feeling of lube and stays slick for a good amount of time. Eventually this becomes sticky.

Oriental Crystals is a wonderful bath salt that foams slightly, transforming the bath into a luxurious, silky, green dream. The crystals also color the water and turn it a light apple green. Made of scented salt from the Dead Sea.

Ingredients:

Bath Salt: Dead Sea Salt (Sodium Chloride), Sodium Lauryl Sulfate, Sodium Docecybenzene Sulfonate, Glycerin, Fragrance, FD&C Blue #1 (CI 19140), FD&C Yellow #5 (CI 42090) Massage oil: Cold Pressed Sunflower Oil (Helianthus Annuus Seed Oil), Rapeseed Oil (Brasica Campastria Seed Oil), Grape Seed Oil (Vitis Vinifera Seed oil), Sesame Oil (Sesamum Indicum Oil), Avacado OIl (Persea Grratissima Oil), Natural Vitamin E (Tocopherol), Flavor (Aroma) Toko lubricant: Water (Aqua), Glycerin, Propanediol, Hydroxyethyl Cellulose, NA4 EDTA Intimate Kisses Oil: Glycerin, Propanediol, Flavor (Aroma) Sodium Saccharine, FD&C Blue #1 (CI 19140) FD&C Yellow #5 (CI 42090) Sensitizing Gel: Water (Aqua), Glycerin, Proanediol, L-Arginine, HCI, Hydroxyethyl Cellulose, Natural Damiana Extract (Tumera Aprodisiaca Extract), Menthyl Lactate, Natural Vitamin E (Tocopherol), Flavor (Aroma)

Taste / Aroma:

Shunga offers a soft, subtle, scent of exotic green tea in this massage oil. The scent is rather unisex and not offensive to the senses. I almost think it smells like green apple - subtle green apple. The scent dissipates quickly when being used.

Toko Organic Lubricant comes in a 5.5 fluid once size. This is a certified organic, water based lubricant. Made of organic vegetable glycerin and a natural corn by-product this lube does have a sweet taste to it. There is no odor to the lube. This lube dispenses through a flip top and it flows quickly so care should be taken.

The Aphrodisiac oil is scented and flavored with exotic green tea. The scent is reminiscent of green apple. The flavor however, is like a glycerin sweet lube with saccharin in it. There was no discernible flavor, just glycerin and saccharin.

Sensitizing Gel for Lovers has a stronger scent. It's still green tea, just stronger. The gel tastes much like the Aphrodisiac oil.

Last but not least, we have the "Oriental Crystals". The aroma is soft and feminine, beautiful. The scent is technically Lotus. I don't believe I've ever smelled Lotus, so I can't tell you if they nailed it. I can tell you this is a fresh, light, green, sent. I found it relaxing.

Flavor:

Unflavored

Fragrance:

Green tea / Lotus flower

Performance:

Shunga massage oil feels a bit heavier to me than others I've tried. While it's not thick, it's rich and a little does go a long way. I applied this twice to do a back massage. After massage, the oil did leave behind a bit of oil residue, somewhat sticky, not horrible. I did feel like I had to shower to feel clean. The top of the bottle is a pop top and dispenses oil at a rate of your choosing. It does flow freely so caution is advised.

Toko Lubricant performs fairly well. We did have to re-apply halfway through our time spent together. This lube can dry out and become sticky if exposed to air for any length of time. I would say it most resembles Astroglide to give you a comparison. I found nothing physically aggravating in the lube. Those that have sensitivities to glycerin should choose another option.

Intimate Kisses proved to be anti-climactic to say the least. The warming quality was very subtle, hardly noticeable. Rubbing the oil resulted in a tacky texture to the skin. This oil does wash off easily with soap and water.

The Sensitizing Gel backfired! It is intended to be used on the clitoris and the head of the penis to intensify sensitivity. Shortly after application, my clit became cold as if menthol was applied. Following the cold, I felt numb and my sensitivity seemed to be decreased. Upon reading the ingredients, I found L-Arginine. Contact with L-Arginine has been known to cause Herpes to flare.

The Shunga "Oriental Crystals" Dead Sea bath soak is a soothing, softly scented relief after a long day. The water will turn light green and caress your skin in softness provided by the Dead Sea salt. The foaming is minimal, the scent fresh and green. Softness lingers after the bath and the skin feels smooth. This was a very relaxing product. The scent is feminine but doesn't strongly scent the skin, making it gender friendly. One tip, run water directly over the crystals to dissolve.

The set includes:

Erotic massage oil (8 fl.oz)
Toko Organica Lubricant (5.5 fl.oz)
Intimate Kisses aphrodisiac oil (3.5 fl.oz.)
Lotus Noir Sensitizing gel (2 fl.oz)
Oriental Crystals foaming & scented dead sea salt (14 fl.oz)

Packaging:

Volume:

14 fl.oz. / 2 fl.oz. / 3.5 fl.oz. / 5.5 fl.oz. / 8 fl.oz.

Weight:

3 lb

Personal comments:

My individual ratings are as follows:

Based on a 1-5 scale, five being the highest score.

Massage oil= 3+
Lubricant= 4
Aphrodisiac Oil= 2
Sensitizing Gel= 0
Bath Salt= 5