Intimate Organics Aromatherapy massage oil - Oil from Intimate Organics

Product Details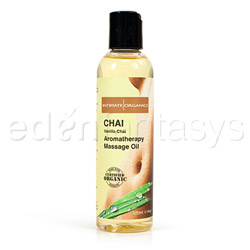 Summary:
This pure and natural massage oil is a great choice for couples or to use on your own. It's made with high quality ingredients, has a wonderful light scent to it, is easy to clean up, and works great for a nice, deep massage. It's a little pricey for the quantity you receive, but it's worth every penny. If you're looking for a more natural option that works well, even for people with sensitive skin, then this is the massage oil for you!
Pros:
Made with organic ingredients, great consistency and texture, cleans easily, light feeling.
Cons:
A little pricey for 4oz.
Texture / Consistency / Thickness / Viscosity:

This oil feels neither sticky or tacky; it helps your hands slide over your partner's body with ease! The silky smooth texture is very light and absorbs into the skin well, leaving no need to shower after being rubbed down by this wonderful oil! It does have a slightly greasy feeling on your hands, but that can easily be eliminated by washing with soap and warm water after giving your massage.

The consistency is very thin, similar to a regular water-based lubricant, and it runs quickly once it's poured onto the skin. After starting to rub in the oil, it stays in place very well and lasts for a considerable amount of time. Depending on the length of the massage the oil may need to be reapplied, but keep in mind that a little goes a long way. Please also keep in mind that no one's skin is the same and some might absorb the oil quicker than others.

Ingredients:

Prunus Amygdalus Dulcis (sweet Almond) Oil, Helianthus Annuus (Sunflower) Seed Oil, Cocos Nucifera (Coconut Oil), Parfum, Tocopheryl Acetate, Certified Organic Helianthus Annuus (Sunflower) Seed Oil, Certified Organic Lycium Barbarum (Goji Berry) Fruit Extract (and) Certified Organic Cymbopogon Schoenanthus (Lemon Grass) Leaf/Steam Extract (and) Certified Organic Aloe Barbadensis (Aloe) Leaf Extract.

Taste / Aroma:

This Aromatherapy Massage Oil comes in three wonderful scents; Black Pepper & Pink Grapefruit, Peony Blush, and Vanilla & Chai.

The Vanilla & Chai has an incredibly soft spicy smell to it. It almost gives you the impression that a warm vanilla chai tea is waiting for you once you're finished with your massage, and might make you think of the Christmas season as well. It's a very soothing scent that instantly helps you to relax and allows you to breathe deeply and let go of whatever has been weighing on your mind.

The smell is obvious, yet light, and is gender neutral. It's subtle enough that you can pick up on it while using it, but isn't so strong that it's bothersome. The wonderful smell lingers for a few hours, but it's only noticeable if you're putting your nose right up against the person's skin.

This isn't designed to be used as an oral enhancer; however, the natural ingredients leave little room for concern should some be transferred onto your lips during your lovemaking. The taste is very pure and simple and doesn't give off any chemical or foul taste.

Performance:

This organic massage oil feels light and smooth, and covers your body in a luxurious coat of pure silk! This long lasting oil takes intimate massage to a whole new level, with not only its wonderful scent but its purely natural ingredients.

Showering after a massage isn't necessary thanks to the way it absorbs so nicely into the skin, but it does wash off very easily should you feel the need to. Wiping the oil from hands isn't quite enough, so you may find you need to wash with soap and water if you were the one performing the massage.

Packaging:

This oil comes in a clear 4oz bottle, with a black push top cap that can easily be opened with one hand. Once opened, a little squeeze is all that's necessary to get the desired amount. There's no concern about the oil leaking, whether or not the cap is open. Holding the bottle upside down with the cap open didn't result in the oil leaking, since squeezing the bottle is necessary for the oil to come out.

The label on the bottle looks very tasteful, though the front does show a nude woman's midriff and a small area of one breast. Below her navel are two leaves with dew on them. The company name is displayed at the top with the scent and what the bottle contains beneath it. It also proudly boasts that it's made from certified organic extracts. On the other side it shows the full list of natural ingredients, that it's made in Canada, and gives the Intimate Organics website. The opposite side gives a small amount of information about the oil in several different languages.

It's not the most discreet looking package, thanks to the image on the front and the fact that 'Intimate' is a part of the company name, but it does look rather unassuming when placed with other bathroom necessities.

This bottle is travel friendly and tucks nicely into a smaller toiletry bag along with your other essentials, but you would need to put the oil into a different container if you plan on traveling by air, since it's an ounce over the TSA's limitations for flying. Always make sure this oil is in a separate baggie in case it does happen to leak during your travels.

Since the packaging is so tasteful, this would make a great item to add to a gift basket for a newly married couple, an anniversary gift, or for a good friend; though giving it away by itself would also be fine.

Volume:

4 fl.oz.

Weight:

0.5 lb

Experience:

After working long hours and doing some fairly physical work, this was a must for helping to sooth my husband's aching muscles. The tension in his back and shoulders was obvious before we started, but he was much more relaxed and comfortable after I gave him the massage.

Not only was it helpful in making my husband feel comfortable, but the aromatic scent helped to calm me and made it so I thoroughly enjoyed taking the time to use it on him. Neither of us had to shower after, which was a huge plus since we were both very relaxed and ready for bed.

I look forward to using this massage oil often on my husband, because it was a pleasant experience for us both.