Shunga Erotic Art Shunga aphrodisiac oil - Oil from Shunga Erotic Art

Shunga aphrodisiac oil videos
Product Details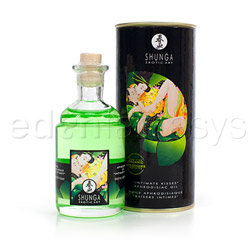 Summary:
Intimate Kisses Exotic Green Tea oil adds a noticeable amount of warmth and an unusual flavor to your lover's skin. It can be used as an all-over massage oil, but doesn't soak into the skin well.
Pros:
Smells good, long lasting, and nice packaging.
Cons:
Doesn't soak into the skin well and the cork is difficult to remove.
Best use:
Shunga's Intimate Kisses Exotic Green Tea Aphrodisiac oil can be applied anywhere on the body where lovers want a little extra heat and flavor during foreplay. Because it's a glycerin-based product, rather than a true oil, there is no need to worry about it clogging pores or being difficult to remove; although, women who are prone to UTI's or yeast infection may want to avoid using it in the genital area.

The "aphrodisiac" effect doesn't come from some unheard of chemical component, but rather from the way the oil's warming capability makes the skin feel more sensitive. In fact, the ingredient list is short and simple, containing only Organic glycerin, Organic Propanedial (aka Propylene glycol), Flavor, Sodium saccharine, FD&C Blue #1, FD&C Yellow #5.
Texture / Consistency / Thickness / Viscosity:

Intimate Kisses does feel like thin oil and pours easily from the bottle. It will run if you hold your palm vertical after pouring even a small dollop in it, and can bead up on the skin and feel slightly sticky if you use too much, so go easy with it. Depending on how much you use, it can feel like a light silky friction reducer or as slick as a decent water-based sex lube.

Ingredients:

Glycerin, Propanediol, Flavor (Aroma), Sodium Saccharine, FD(C Blue #1 (CI 19140), FD&C Yellow #5 (CI 42090)

Taste / Aroma:

This Exotic Green Tea oil has a green apple scent that's very pleasant and not the least bit overwhelming. Oddly enough, though it does have a hint of the herbal green tea taste, this too is mixed with a tinge of green apple flavor, which makes an unusual combination that may or may not be to everyone's liking. The flavor dissipates quickly in the mouth and leaves no odd aftertaste whatsoever.

Performance:

The high glycerin and propylene glycol content of this oil provides a distinct warming sensation to the skin it's applied on and, to a lesser extent, to the tongue that licks it off. The warm feeling briefly increases when you blow on the area.

Intimate Kisses is not really meant to be an all-over body massage oil, but works well enough in that capacity with one minor caveat: it doesn't soak into the skin easily. That does make it nice for long sensual massages, but may make you feel the urge to wash off afterward. Water alone dissolves it fairly quickly though, so if a quick shower or a lot of licking isn't on the menu, just use a warm wet cloth to wipe down the skin.

Again, a little goes a long way and lasts a long time, so you needn't be too generous with it even for full massages. Start with about a dime-sized drop, either drizzled directly on the area or rubbed into the massager's hands, and go from there.

Packaging:

Intimate Kisses oil comes in a gift-giving worthy black cardboard canister with a metal cap at each end. Inside is a thick glass apothecary bottle of oil sealed with a plastic wrapper over a plastic cork. The wrapper is disposable, but the cork fits VERY tightly and is a bit difficult to remove. It does do a very good job at preventing leaks though.

Both the canister and bottle have a small piece of Shunga erotic art on the labels, which are rather tasteful. Also included is a pamphlet with a brief history of Shunga art on it, along with summaries of their other products' attributes.

Volume:

3.5 fl.oz.

Weight:

0.6 lb

Experience:

Alan says:
Aside from the taste, I thought it was pretty great. We've tried a similar oil from the Kama Sutra company. I like how this stuff heats up and lasts longer. It would be better if it soaked in afterward, but it's not a problem to wipe it off. Something else I wanted to mention is that we poured a bit of this on a white cotton pillowcase to see if it stained and it didn't. There was a light green mark there when it dried, but one trip through the washing machine with no pre-treatments removed it.

Michele says:
I love the scent and the pretty packaging, but I do not like the feel this oil on my skin. It doesn't bother my hands, but anywhere else feels like it's just too *there*, like old-school tanning oil. The warming effect is a little beyond what I consider pleasant. Maybe I have overly sensitive skin or something, because Alan sang its praises from the first time I used it on him. The one thing I did find it nice for was giving him a hand job. One application lasted longer than he did and he seemed to like the warming effect. I'm sure we'll keep a bottle around for him, but I'll stick with my own favorites.