Bella Il Fiore Whipped body creme - Lotion from Bella Il Fiore

Product Details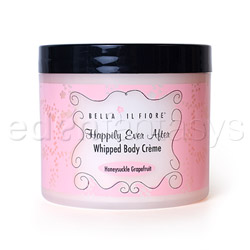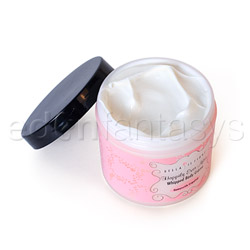 Summary:
Although the price of this whipped body cream by Bella Fiore may put you off at first, its texture and smell both outlast the competition. The jar is also much larger than your average cream or lotion container. If you can afford it and want to treat yourself, you can't go wrong with this product.
Pros:
Sweet and sophisticated scent, thick, creamy, works immediately, lots of product
Best use:
This whipped body creme is thick and sensuous. It's great for use after a shower or bath and ideal for any place on the body that you want to moisturize a little bit or more stubborn dry spots, too. Consider this for use on elbows or feet in dry winter months. You can also incorporate the cream into intimate time with your partner.
Texture / Consistency / Thickness / Viscosity:

This cream is whipped, so it has a light and fluffy texture despite its thickness. It stays in place and doesn't drip during use. It feels sensuous when you use it and effectively rubs into your skin without feeling greasy. Your skin will feel smoother and more moist almost immediately, even after the first use.

Some of the contributing ingredients include: chamomile extract, aloe, Vitamin E, green tea extract, apricot oil, panax ginseng extract, cornflower extract olive oil, and grape seed oil. The list of natural extracts and oils does include silicone and other chemicals, however.

Ingredients:

Aloe Vera Gel, Glyceryl Stearate, PEG-100 Stearate, Apricot Kernel Oil, Butylene Glycol, Stearyl Alcohol, Cetearyl Alcohol, Polysorbate-60, Stearic Acid, Olive Oil, Grapeseed Oil, Caprylic/Capric Triglyceride, Squalane, Rice Bran Oil, Extracts of Chamomile, Ginseng, Green Tea, Cornflower, Calendula, Tocopheryl Acetate (Vitamin E), Retinyl Palmitate (Vitamin A), Allantoin, Dimethicone, Phenoxyethanol, Carbomer, Methylparaben, Propylparaben, Butylparaben, Ethylparaben, Tetrasodium EDTA, Triethanolamine, Fragrance.

Color:

Clear

Taste / Aroma:

The scent of this lotion would be its selling point, if it weren't already a terrific product. The aromas of almond and coconut mix in a perfect balance that is sophisticated and sweet. It's not necessarily fruity so this body cream doesn't come off as tropical, necessarily. The almond is nutty and soft, rather than the cherry-like almond scent products sometimes have.

This delicious scent is noticeable and stayed with me after washing hands several times and doing chores but it's not overpowering, either. It's light but consistent. It seems to smell a little truer to the description during use than in the container itself.

Performance:

Bella Fiore's Whipped body creme performs amazingly. Your skin will be noticeable smoother and softer after just one application, even after washing your hands. The cream absorbs into the skin, rather than some lotions that simply moved around on top of it. The scent will stay with you, but is never overpowering. You may find it difficult to stop smelling and caressing yourself after using this body cream.

Safety features:

L-Arginine free / Paraben free

Special features:

Packaging:

This whipped body cream comes in a big tub, I mean big! It's a full 12 ounces and much larger than most creams or lotions available on the market. This makes it heavy and a bit too bulky for travel or use on the run. If you want to travel with the lotion, you might consider purchasing a travel-sized container.

I would suggest tapping the bottom of the jar on a surface when first opening it. Although the jar does have a piece of cardboard under the twist-on cover, it can still be a bit messy when you first open it.

The plastic jar has a feminine design featuring scrollwork and diagonal lines. It is slightly reminiscent of French styles. Because this isn't a sex toy company, it's definitely PG and safe to give as a gift or keep out in the open. When gifting, a black, white or pink bow would top off the elegant packaging without being wasteful.

Volume:

12 fl.oz.

Weight:

1 lb

Special Features:

The packaging claims that this cream is both paraben-free. However, the list of ingredients on the site includes Methylparaben, Propylparaben, Butylparaben, and Ethylparaben. However, the tub itself does not have the ingredient list. The tub does list ethylhexyglycerin, so consumers who want to avoid glycerin may want to steer clear of this.

The company does not test their products on animals.

Experience:

I was ridiculously surprised by just how soft my skin felt after one use. I loved the scent that proved to be noticeable, sophisticated, and lasting without overwhelming me. The softness and smell lasted through multiple hand washings, dishes, laundry, cooking, and dusting. It's a fantastic cream that is leaps and bounds above others that I have used, even some that are more expensive.

I also love love love the whipped texture. It feels so sensual and luxurious.