Sportsheets Beginner's waterproof harness and dildo set - Harness and dildo set from Sportsheets

Beginner's waterproof harness and dildo set videos
Product Details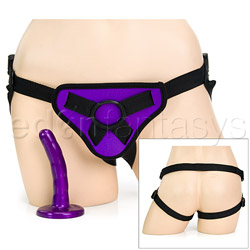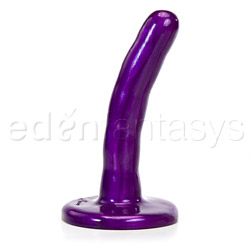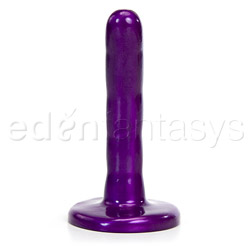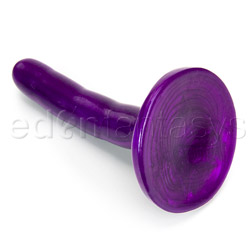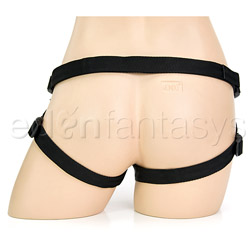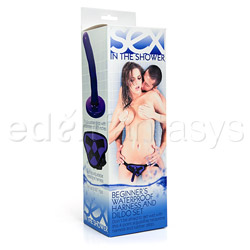 Summary:
This basic and comfortable fabric harness is made of nylon webbing on the straps, and neoprene on the front piece. It comes with a "beginner's" smallish rubber/jelly dildo, and seems custom-made for people wanting to try anal in the shower. It fits hips up to 60 inches, so most people, large or small, should be able to wear it.
Pros:
Neoprene pads your pubic bone, comfortable, very adjustable for wide variety of sizes.
Cons:
Only works with included O-ring, rubber dildo smells strongly, not fully water-proof.
Material:

The dildo is made of "rubber" but feels and smells like it's closer to a rubber jelly, none of which are very body-safe material. You should probably put a condom on this before using it, and definitely before sharing it. It emits a rather strong chemical odor and has tiny imperfections on its surface.

The neoprene pad on the harness is very comfortable against the body of the wearer, and will dry quickly. The fabric straps are also very comfortable. Unfortunately, the nylon webbing straps are not water-resistant and absorb a great deal of water. It will all air dry overnight, in a warm dry environment.

Material:

Neoprene

/

Rubber

Material safety

Design / Craftsmanship:

It's a simple and basic design, with one strap around the waist and one around each upper thigh. The straps are completely adjustable and fit a wide range of bodies, including large ones. They'll also fit smaller bodies well, and can be easily trimmed once you find the right fit. The neoprene front pad does make this harness more water-friendly than other fabric harnesses, but not by a whole lot.

This is a simply-made harness, not an heirloom. It looks made to last long enough, but not for life.

Size / Fit:

This is definitely a great harness in terms of size. It can be adjusted to fit somebody with a tiny waist, but also fits my large body very well. It fits up to 60" hips/waist.

Even though the strap that goes around your waist or hips is very generously sized, the thigh straps seem less so. If you have especially full thighs you should measure around your upper thigh, following the area indicated in the photo, and make sure it's not more than 30 inches.

Maximum hip size:

60"

Maximum waist size:

One size fits the most

Dildo holder diameter:

1 1/2"

Weight:

0.5 lb

Performance:

The main drawback with this harness in my eyes, is that the O-ring is not exchangeable. It's fairly easy to install and remove the smallish dildo it comes with, and it will fit most dildos up to 1.25 or 1.5 inches, but it's certainly not going to accommodate a 2-inch cock. On the plus side, the straps do move to accommodate dildos with wide bases.

Otherwise, it performs well. It's easy to adjust, comfortable to wear, and stays put while you thrust. I really like the slight cushion that the neoprene provides - no more soreness from thrusting!

Care and Maintenance:

You could wash this on the gentle cycle or by hand. Drying it in the dryer would probably be too damaging.

Packaging:

It comes in a simple box adorned with naughty color photos of a hetero couple in the shower. No instructions came with this product, but there was an informative insert included that described a whole line of "sex in the shower" products. Some of these products are really quite inventive: a dual shower-head, vibrating sponges, locking suction handles, handcuffs, and foot rests.

Other

Closure:

Cinch

Texture:

Smooth

Harness compatibility:

O-ring compatible

Length:

5 1/4"

Insertable length:

4 3/4"

Circumference:

2 3/4"

Diameter:

7/8"