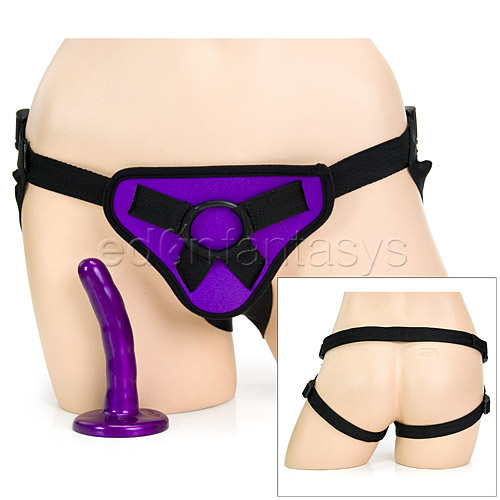 Beginner's waterproof harness and dildo set
Harness and dildo set discontinued
by Sportsheets
Harness Review (Catchy Title, eh?)
This is a great beginner's harness. It's easy to use, easy to adjust, and comfortable to wear. I would give it 3.5 stars, just because I loathe the dildo that much; but I'm going to give it 4 because of the fact that you can remove the neoprene pad and get clitoral stimulation or use a double-ended dildo with it.
Published:
Pros
Machine washable, Easily adjustable, Fits wide range of bodies.
The harness I have here today is from Sportsheets. It's designed as a beginner's harness and, more specifically, it's designed for use in the shower. Of course, that's not the only place you have to use it! This would work in any scenario that you can imagine the need of a harness. It comes with, what I would call, a pegging dildo. It's small and thin and would be ideal for anal play, but more on that later.
The harness is primarily neoprene with nylon straps. The O-ring is either rubber or silicone, I'm not entirely sure. The great thing about these materials is that you can wash them and it doesn't require you to be fluid bound to your partner to use it. However, the dildo is made of rubber. This is NOT a sterilizable material and I would recommend either replacing it with silicone or using a finger cot or a small condom to cover the slender dildo. It also stinks; as in you can smell the rubber on your fingers after holding it for just a few seconds. It is compatible with either silicone or water-based lubricants.
The material of the harness is comfortable against my skin, even on a freshly shaved mound, and is not irritating at all. If you tighten the nylon straps too tightly the edges can chafe a little, but it's not terribly uncomfortable.
This harness is a double strap-style harness. This means that the harness straps around your waist and then around each of your thighs individually. The stitching for the binding on the neoprene part is pretty well-stitched. It has four slits cut into it for the harness straps that are not bound. Neoprene shouldn't fray, so this should not be a problem. The stitching on the straps seems pretty secure and the edges are treated to prevent fraying. The straps are looped around the O-ring and stitched to keep them attached. The O-ring will hold harness-compatible dildos up to 1.5 inches in diameter. If you wanted to use a double-ended dildo, you could simply remove the straps from the neoprene and use the harness like that. This would also work well if you wanted to have the base of the dildo against your clit for stimulation; or if you have a dildo that fits a bullet.
The straps are fully adjustable around your thighs and around your hips. It states that it will fit up to 60" hips, but I would guess longer. Personally, my hips are within 10-15 inches of that measurement and I've got well over 2 feet of extra straps around my hips. There is also plenty of strap hanging on the thighs. "One size fits most" definitely includes most of the BBWs (or BBMs?) out there!
This was pretty comfortable to wear. I wore it one afternoon for about an hour and really felt that it was pretty comfortable. The pegging dildo is pretty small and worked better for us without the harness. I purchased the
Mistress
to use with it, but we never got a chance to try it out in the harness. I really liked my experience with wearing a harness, but it hasn't gotten as much use as I would have liked. Hopefully I'll get to use it more again.
Follow-up commentary
8 months after original review
As I mentioned in the review, the rubber dildo was trashed; but this harness still gets used whenever we're too messy for me to want to break out the leather harness. Since it's washable, I never have to worry about it getting too dirty. I can just throw it in the washing machine or give it a scrub in the sink.
This product was provided free of charge to the reviewer. This review is in compliance with the FTC guidelines.
Thank you for viewing
Beginner's waterproof harness and dildo set
– harness and dildo set discontinued review page!