Beginner's waterproof harness and dildo set by Sportsheets - reviews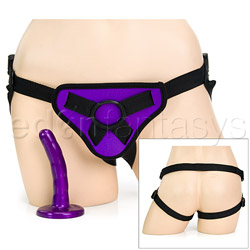 Beginner's waterproof harness and dildo set
Harness and dildo set by Sportsheets
Please, let me know via email when the new review on this product is available.
Beginner's waterproof harness and dildo set reviews
I am very reluctantly giving this product 4 stars. I love Sportsheets, and I love this harness, but including such an awful dildo was a terrible call. This would be a 5 star product without the dildo, even at a higher price. I cannot, however, give this product the best rating because I know that some people will be tempted to order it only because they see it as an all-in-one dildo and harness combo that is ready to use out of the box.

This is a great beginner's harness. It's easy to use, easy to adjust, and comfortable to wear. I would give it 3.5 stars, just because I loathe the dildo that much; but I'm going to give it 4 because of the fact that you can remove the neoprene pad and get clitoral stimulation or use a double-ended dildo with it.
This basic and comfortable fabric harness is made of nylon webbing on the straps, and neoprene on the front piece. It comes with a "beginner's" smallish rubber/jelly dildo, and seems custom-made for people wanting to try anal in the shower. It fits hips up to 60 inches, so most people, large or small, should be able to wear it.