Doc Johnson Black rose whipping willow - Whip from Doc Johnson

Black rose whipping willow videos
Product Details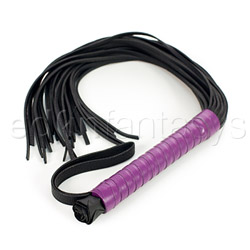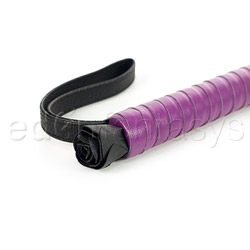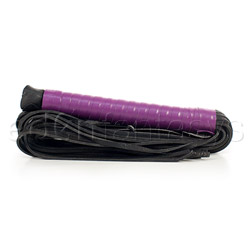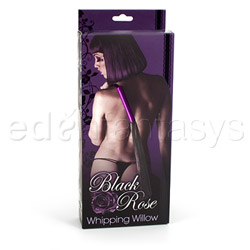 Summary:
Shower your partner with a beautiful Black Rose BDSM set. These items are matched, classy and functional; sure to please and pamper. The Whipping Willow is a very well made, functional and satisfying whip that can deliver a variety of thudding stings. Get a satisfying swoosh as it arcs through the air to land with a solid thud and slap.....
Pros:
Decorative.
Well made.
Wide range of sensations.
Cons:
Fake leather handle.
Strands could eventually separate.
Handle feels light.
Best use:
The Whipping Willow is a nice, decorative whip that is made for use during BDSM play. The sensations will vary, depending on if you deliver a light or hard swat. This was my first experience with whip play and I have to admit that my husband and I never did get enough courage to go farther than a light medium hard swing. I did give my leg a hard swat prior to writing this review. The sting was a bit deeper, more of a burning tingle that lasted for a couple of minutes. The red marks disappeared within five minutes.

This whip seems to be very well designed and is pretty sturdy feeling. The handle feels a bit light compared to the ones at the tack store. I know this will work for beginner to intermediate users and am sure even advanced users would find this whip a nice accompaniment in their collection as a teaser.

The Whipping Willow works great to discourage stray dogs when you are walking around the neighborhood. Swing it in an arch and hit your pant leg with the strands. They should go running away in the opposite direction as soon as the swish starts.
Design / Craftsmanship / Size / Material / Features:

The handle is wood and is wrapped with faux leather. The faux leather handle wrap is an elegant, soft plum color and accents the Black Rose detail and black whip strands. There is a black 5 1/4" wrist loop that attaches under the black leather hand-wrapped rose. The handle is 1" diameter and is approx. 8" long.

The whip strands are black leather and are finished on one side and suede on the other. These have the same look as the over long fringe on fancy, black, leather jackets worn for dressy occasions. They are 1/4" wide, 1 1/16" thick and vary from 16"-16 1/4" long.

The leather whip strands will last a long time with properly care. The wrist strap might break after a while and the handle wrap could stretch or come unraveled. Care needs to be taken with the man made leather accents.

Material:

Leather

/

Silk

Material safety

Color:

Black / Purple

Length:

25"

Width:

1 1/8"

Weight:

1 lb

Performance:

The wrist band helps secure the whip to your wrist, that way neither you nor your partner need to worry about unintentional injuries from a flying whip handle. The whip strands make a heavy whooshing sound when whipping through the air, and the thud and slap of the leather against the skin was well defined and had a solid crack.

The strands are pleasantly flexible and move freely. The freedom of movement allows for a strong and sturdy sound while completing the arch. The strands do separate when hitting the flesh and will impart a sting that varies from light to medium high. The skin will tingle and sting for few minutes after each whack. These did not leave welts and the red markings were gone after about five minutes.

I have started to walk in the evenings and carry this whip with me to discourage stray dogs from coning too close to me and my puppies. I have not had to actually use it, thank goodness, but the swishing noise really gets them going in the opposite direction.

Care and Maintenance:

I use a mild saddle soap and conditioner on the leather whip strands. The handle gets wiped down with a clean cloth that has a slight amount of leather conditioner. I wipe the excess off with a dry, soft rag. I have a lot of leather jackets and boots, so leather cleaner and conditioner is something I always have on hand. You may pick some up anywhere that has tack for horses or sell leather clothing.

Do not get the leather wet, it dries and stiffens, causing rot and cracking to the leather. Store this whip on a nail or small hanger away from humidity, sunlight and direct heat. Condition this about once per month to keep the strands supple and soft.

Personal comments:

There are 26 whip strands. These flow out at the bottom of the handle and go around the outer perimeter of the handle base. The strands are treated leather on one side and suede on the other. Each strand is layered with two pieces of leather that have the suede sides facing each other.

Give the gift of a Black Rose set to your special partner. The purple and black matching components and the black rose leather accent makes this a very desirable, sexy and feminine set. Remember to grab two boxes of the wrist/ankle restraint. There is only one restraint per box.

Other

Texture:

Smooth

Special Features:

Safety features:

Phthalates free