Kinklab Adjustable spreader bar - Spreader from Kinklab

Adjustable spreader bar videos
Product Details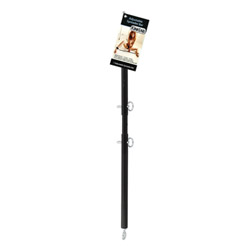 Summary:
A fantastic bit of kit for anyone into restraint play with spreading. Well made, durable, adjustable, versatile - one is fun, two opens more options, and adding one or two more after that even further expands your options, not to mention being easier than keeping a half-dozen different sized bars. Also, with creativity and boldness, can be hung on wall as modern art.
Pros:
Adjustable, versatile, limited only by your creativity, well made, the list goes on.
Cons:
Price point makes buying more than one quite challenging, difficult to explain if openly displayed
Best use:
This spreader bar is actually quite nice and seems fairly durable given its construction. Its design lends itself to a wide variety of uses, from ankle or thigh spreader to (admittedly wide) wrist spreader, and possibly even to use as a posture device (collar to hands). Given the 1" positions on either side of the bar for adjustment, it really gives quite a bit of room for different uses.
Design / Craftsmanship / Material / Size / Fit:

Material:

Metal

Material safety

Length:

25"

Weight:

1 lb

Performance:

This is probably the most damaging part of the credibility of this review - I haven't had an opportunity to use it yet. I purchased this as a spreader bar for photography and have yet to have a chance to use it for such, nor for play. Oddly, it's somewhat difficult to find models who are willing to be cuffed to a spreader...who would have thought?

I can't say that I've seen one broken out at a play party, either, so real-world application is hard to assess. I look forward to the day when I can use it (in any of the mentioned environments), but for now all of my experience has been theoretical.

Care and Maintenance:

Wipe down with a wash cloth or with a cavicide wipe and dry - for the former, with a towel; for the latter, air-dry. Done!

Packaging:

Basic glossy cardboard packaging with pictures of a model (Justine Joli, I think?) in a few poses. Not exactly discreet and probably not suited for travel as the bar itself collapses to 18" long and is about 1" around. It's easier to pack and travel with as-is. I wouldn't recommend carry-on luggage for probably obvious reasons, and if put in checked luggage, I'd suggest tagging one of the pins or the end loops with a basic description of what it is in case your bag is searched (18" long metal rod with pins going through X-Ray? It's probably going to get searched). Fortunately, I've heard that simply putting "Marital aid" on labels for toys (in general) is sufficient enough for most baggage inspectors.

Personal comments:

This product's versatile design lends itself to creativity. One is sufficient as a single-action spreading bar. Two and you can spread multiple points (well, that's rather obvious, I suppose). Or get creative - use a belt and cuffs to use as a leg immobilizer and add a third to maintain spread. Like so many things in life (Legos, Voltron, orgies), the more you add, the more potential fun!

Other

Safety features:

Food-grade material / Latex free / Non-porous / Phthalates free