Spread Those Legs!
If you need a little help keeping your legs open, this might be the toy you're looking for! It adjusts from 25" all the way to 37". You just attach ankle cuffs to the end and have a great time with it.
Published:
Pros:
Easy to use, Adjustable, Multiple ways to use it
Cons:
Can be loud, Ends don't clip onto cuffs
This bar is used to help spread your legs wide. You simply attach ankle cuffs or rope to the loops at the ends of the bar, and you're left unable to close your legs anymore. I know I have a habit of slamming my legs closed when I'm about to climax, so I decided to try this out. It opens up to 37" with the smallest size being 25".
It is adjustable, so you just pull out the little rings in the middle, and move the bar over to the next size. Each size is 2" from the next size. Another bonus is that you can use the rings in the middle that are supposed to be for adjusting size to kind of lock wrist cuffs onto. I saw someone suggest in another review that you may also be able to somehow pin the bar onto a wall, and use it while standing as wrist restraint.
The only thing I really would have liked differently is if the loops on the end had the ability to connect straight to ankle cuffs. It wasn't a huge problem though, because I just bought a thing of ribbon and use it to tie the cuffs to the bar.
Remember though, to always be careful when participating in bondage. Don't leave your partner alone, and make sure you can always undo the knots that you've tied before you use them on your partner.
Cuff tied to the bar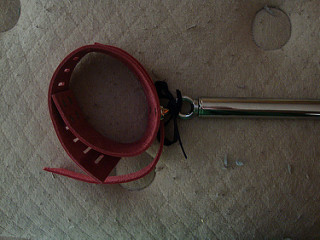 I was very happy with the spreader bar! I was a little worried that it was just going to be uncomfortable, especially since I'm so short. I'm only 5'3", and I was able to use this fully spread out for quite a while. If you don't mind having your legs spread out, and being unable to move them around, this is great. If you have problems with either of those things, then this isn't the right product for you.

The only thing was trying to figure out how to work around it. My husband and I hadn't used anything like this before, so it was a little weird at first. Eventually though we were able to figure it all out. The best position for us was me on my back with my legs up, and him using the bar to hold onto while he went to town!

There are a lot of options with this though, and I can't wait to figure out even more.
Metal toys can be boiled or be bleached (10% solution), are dishwasher safe (top shelf), or can be washed with soap and water. Unfortunately, even in it's smallest size, this probably isn't going to fit in a dishwasher. You may be able to pull all the bars apart and do it that way, but your best bet is to clean it off with the bleach/water solution. It really shouldn't get that dirty though because it's not really for internal use or anything.

To store it, we just keep it under the bed, or in my toy box with all my other random things. It's very easy to store and take care of.
Follow-up commentary
3 months after original review
I still love this bar. I can't use it as much as I'd like because of all the metal clanking, but once I get my own place this is going to be used a lot more often. I actually used it to get a clog out of a vacuum cleaner hose the other day as well, so it's multi-functional.
This product was provided at a discounted price in exchange for an unbiased review. This review is in compliance with the FTC guidelines.

Thank you for viewing
Adjustable spreader bar
– cuffs review page!