Who needs modesty anyway?
What can't you do with this bar? You can spread arms and legs with it, but I've found a much cooler use for mine. I couldn't be more pleased with it. The bar is quite sturdy and has a wonderfully shiny look to it. The eyelets at either end are high quality and everything about the bar is pretty much perfect. I've contemplated grabbing a couple more of these so I can use a few at the same time. Everyone needs an amazing spreader bar! Hooray!
Published:
Pros:
Sturdy, sexy chrome finish, adjustable, versatile.
Cons:
I don't think there are any.
Got a sub on your hands who refuses to cooperate and still becomes quite shy or modest during a scene? Throw this spreader bar (okay, don't actually throw it, but you get what I mean) at them and they'll have no choice but to comply! Kinky win!
The spreader bar does just what you think it does. It spreads things! It may not spread butter on your toast, but it will certainly spread arms or legs so you can butter someone else's. All you need is a pair of cuffs with D-rings and you're good to go. Any good kinkster has quite a few pairs running around (Aslan, I hope). To attach the cuffs you'll need some kind of securing device, so make sure you grab a couple of those, too. Again, pure essentials of any well stocked kinkster tool box.
Because of the adjustable size, this spreader bar should work for just about anyone out there who scoffs at modesty and wants to put everything out there. It's not considered to be a piece of "beginner" gear, but hey, if you're into it, go for it. The only skill level you need here is curiosity.
I did some rather awesome "off label" stuff with mine which you can see here: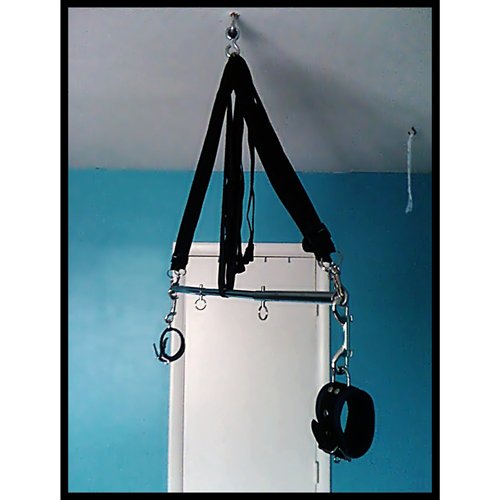 Performance? Exceptional. It would be pretty hard to get a spreader bar wrong, but Kinklab does everything in just the right way.

Some may see this as a slight downfall of the bar, but the outside pieces are very slightly larger than the inside one which creates a small gap between the two. This doesn't impact function at all, and it's actually something I enjoy because it makes a slight rattly noise when someone struggles in it. Cute.

As mentioned before, the pins must be pulled out to adjust the bar. They're in there pretty good but pop right out with a little coaxing. Once out, slide the bar to your desired length making sure that the holes are lined up and push the pin back through. One small difficulty (very small, actually) was making sure the holes are perfectly lined up. I tend to half-ass things a lot of times and I was too excited to really pay attention so sometimes my holes would be a little off center because the bars were twisted. No big deal, really.

To use this you will need a pair of cuffs with a D-ring attached to them. There are many styles out there that suit all skill levels. Beginners can stick to velcro cuffs, while pros may be more inclined to use sturdier leather cuffs. To attach the cuffs you're going to need some sort of connector. There are quite a few options out there. I use a double-sided snap hook for mine because it's quick, easy, and works very well to secure cuffs to each other or other pieces of equipment. Carabiners are another great option for this, as they're super easy to get on and off. Another option is small locks. This takes the scary factor up just a litte.

At first I wondered about how sturdy the eyelets were because there was a weld point between them and the bar itself. For what I wanted to use it for it was important to make sure it these were pretty sturdy. (Again, my off-label use. Not the intended one.) I strung my bar up on a ceiling hook, put some cuffs on either end, and gradually put more and more of my weight on it till all of my 100 pound self was supported by it. Surprisingly, no signs of any weakening. Quality!
How I made my little multipurpose rig is quite simple. I had installed a porch swing hook in my bedroom because I have future plans to get a swing, and wanted to be able to do something like this, too. While thinking of something to use to attach the bar to the ceiling until I got some rope I remembered I had my under the bed restraint kit kicking around. I folded it in half so that I had the two center strap rings together, threw those rings over the hook, slid the bar through the loop at the bottom, and then attached the hooks from the restraint straps to the ends of the bar. It's wonderful because everything about it is adjustable! Shorter or longer bar, as well as height. I was quite impressed with my kinky craftiness.
This product was provided at a discounted price in exchange for an unbiased review. This review is in compliance with the FTC guidelines.

Thank you for viewing
Adjustable spreader bar
– ankle cuffs review page!