Doc Johnson Black rose rosie restraints - Restraints from Doc Johnson

Black rose rosie restraints videos
Product Details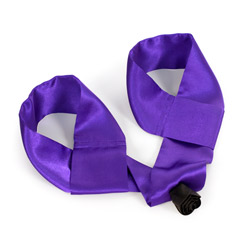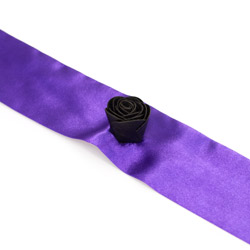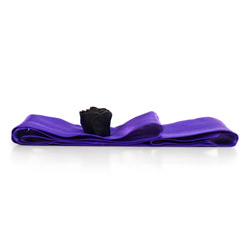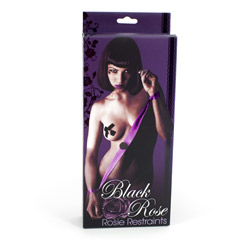 Summary:
Bind her to you with this sensual, luxurious silk restraint. Good for wrists and ankles, you better get two for a matching set - you are going to want them! While there is only one restraint per box, a set of two will make a wonderful gift for that woman in your life. These are beautiful, feminine, and very classy looking. The silk is luxurious and non-abrasive on the skin; she will thank you in ways you only dreamed of......
Pros:
Sensual silk material, beautiful royal purple, soft and functional.
Cons:
No directions, hand wash, one restraint per box.
Best use:
The Black Rose restraints are made as ankle or wrist restraints. I would suggest getting two boxes so you can have a matching pair of these beautiful and classy restraints. These are very feminine and seem to work reasonably well. This is my first try at restraining, so maybe I just don't know all the tricks to getting loose.

I would suggest these to any couple who likes comfortable, yet useful, wrist and ankle restraints. The soft silk is very sensual and gentle against your skin and does not leave any marks behind.
Design / Craftsmanship / Material / Size / Fit:

The restraints measure 34" long and are 2 1/4" wide. The small pockets at the end, used to loop the material through to make the restraint loops, are 2 3/4" long. This method of restraint is flesh friendly and makes these restraints able to fit any size wrist or ankle.

The cloth is a sensually soft, royal purple and the black rose is wrapped leather. These are very pretty and feminine. I love the class and tasteful design. This seems to be very well made: the seams are sturdy and the black rose is sewn into the first layer of silk.

The silk is soft and non-abrasive against your skin. There is some light sliding, and there were no red marks, chaffing, or bruises around my wrists after wearing these for about an hour. I recommend these as a gift for that special person: she will love the classy and beautiful look.

Material:

Silk

Color:

Black / Purple

Length:

34"

Width:

2 1/4"

Weight:

0.2 lb

Performance:

This restraint worked very well. It did not loosen up like I thought it might and I was unable to get free when wiggling. I tried to get loose for about 15 minutes and was not successful.

I found that I loved the design so much, I wanted to incorporate it into my lingerie. I used this as a sexy belt with the rose centered in front; the back was secured with a safety pin. This makes it dual purpose and very travel worthy. Head out for a hot date, and surprise them with your restraint!

Care and Maintenance:

The material is silk and the decorative black rose is wrapped leather. Hand wash in cool water and let this air dry. If there are wrinkles, you may iron this with a towel between the material and iron. Set the iron on lower temperatures and monitor the cloth carefully. Try not to get the rose wet; I tied a plastic baggie over it to keep it dry.

Roll the restraints up and store it in a dresser. You may also keep it in the original packaging if you have the added room.

Packaging:

The box is very beautiful, however not discreet. There is a picture on the front of a woman with taped nipples wearing the restraints. If they would have left off the pictures of the woman, the box would have been elegant and gorgeous.

There were no directions, so a newbie like me had to experiment for a bit to figure out how to make the loops. Luckily, I was able to get them in about 3 minutes.

Other

Texture:

Silky

Fits up to:

Any size