Elegant Restraints
These Rosie Restraints are perfect for a soft sensuous bondage experience. They are attrative in a bright purple with a black rose sewn in the middle. Bondage has never been so elegant or easy. They work on wrists or ankles. However there is only one in a box so you may want to pick up two. They are designed for light playful bondage.
Published:
Pros:
Silky smooth
Easy to Use
Escapable
Light Bondage
Cons:
Only one in a box
Not for heavy bondage play
The Rosie Restraints are wonderful for fast and fun light bondage play. Slip them on and pull 'em tight. The restraints are not an extreme bondage tool. It is easy to escape from them. You just have to loosen the looped end a bit. They are however silky and sexy and a fun way to add flirty bondage to your playtime. The restraints are nonintimidating and would be a good introduction into light play. Hardcore bondage enthusiasts might not have much use for this. Light bondage players or beginners are likely to enjoy them.
My husband and I enjoy messing around with light bondage in the bedroom. We are not into extreme play at all. Most of our equipment is easy to escape from. The Rosie Restraints fits easily into our bondage style. I love the way these look and feel. He can restrain me anytime he wants with these. I love it.
Right out of the package, the restraint is in one long piece. Each end has a pocket with open slits. The tie is pulled through the pockets to create the looped restraints. Once it is looped, it can be stored that way. You don't have to reloop it every time you use it.
To use put wrists or ankles into the loops and pull tight. The material is soft and silky. It does not chafe or cut off circulation. I have another bondage restraint made out of rope that cinches the same way. The rope tends to cut circulation. With any movment the rope cuts into skin. This silky material does not do this. It feels soft and sensuous and harbors no circulation danger. It is always safe to use. It feels almost too luxurious for a bondage scenario. It is very easy to use on wrists. I am a plus size gal and worried that it wouldn't fit around my medium size ankles. Not to worry, it fits nicely. In order to use both wrists and ankles simultaneoulsy you will need two of these. The restraints only come one in a box. I ordered two so that I would have extra versatility.
The ties are two inches wide. When they are on my wrists, they are close to 17 inches apart. In order to be fully restrained it needs to wrapped or hooked to something perhaps a headboard or bed post. We usually put it under a small Liberator shape. It holds well enough that I can't get out unless I really need to. As stated above it is escapeable, but we can use it in ways that restrain quite well.
The purple is a very bright hue. It's a bright purple fit for royalty. I like to match or contrast it with pretty lingerie. It also looks great on completely bare skin. The Rosie Restraints have a small black rose in the middle of the restraint. The rose is securely attached and adds a touch of elegance.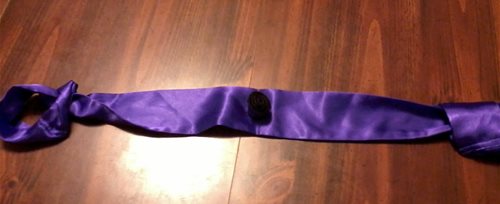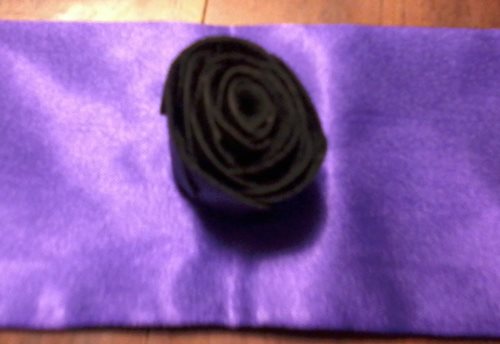 Experience
The Rosie Restraints are part of the Black Rose Line from Doc Johnson. The set makes a versatile addition to any light bondage collection. I own five of the pieces- Rosie Restraints, Silky Surrender, Whipping Willow, Forbidden Flower Mouth Bit, and Budding Binder.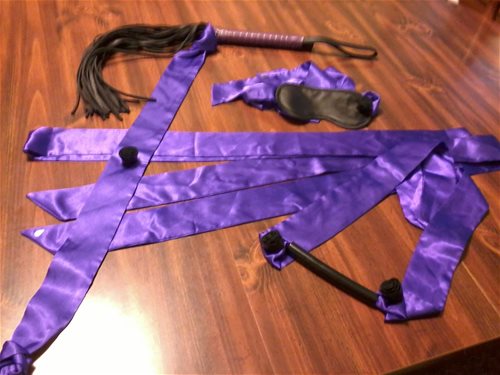 This content is the opinion of the submitting contributor and is not endorsed by EdenFantasys.com

Thank you for viewing
Black rose rosie restraints
– cuffs review page!