Rosie Restraints
Soft, sensual and incredibly beautiful these cuffs are perfect for players who want something that works for restraint but doesn't have the harsh edges of leather and steel. The faux leather rose adds a touch of feminine whimsy. This restraint will fit small and large ankles and wrists. It will fit them with luxury and style, all for a pretty reasonable price!
Published:
Pros:
Soft, luxurious, and sensual.
Won't crush while in use.
Can be washed.
Cons:
Could possibly snag on rough nails.
When you think silky and sensual you really should think Black Rose Rosie Restraints by Doc Johnson. These restraints are large enough to fit around large and small wrists and ankles. They will not cause rope burn or leave marks of any kind and struggle only makes them slide sensuously over the skin. They are fairly easy to escape if there should be an emergency or if you are into solo bondage but they will keep a playmate restrained beautifully if the silk is twined through the spindles of a headboard.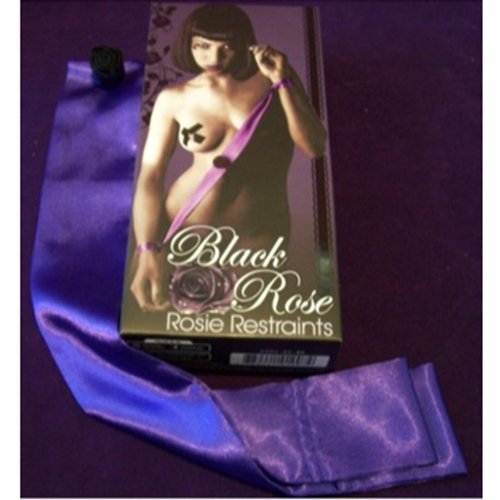 As you can see the restraint is one piece of silk that has double turned and stitched edges that are securely finished. This isn't a piece that is going to fall apart with moderate use, and it will hold up to even rough play.
The silky material measures nearly 35 inches in total length and the ends of the sash are folded over and securely stitched down. There is a double row of stitching at the fold and the sash is fed back through the loop to create the cuff. In the center of the sash is a faux leather rose securely stitched to the top layer of the sash.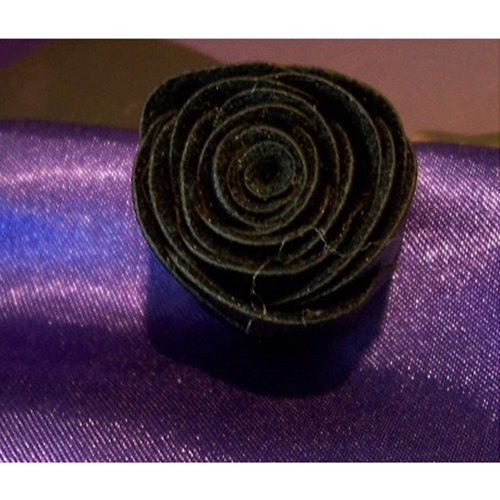 This rose keeps the "cuffs" equal sized and adds some pretty detail to the set. My wrists are about 6.25 inches around so there's about 17.50 inches of fabric between my wrists when I am bound. My ankles are about 10.50 inches around so the available material between my ankles is much shorter but manageable. This is the best set of cuffs for people who either want something soft and feminine or who have larger sized wrists/ankles. This set would also be great for sissification!
We found that threading the sash through the spindles of our headboard kept me immobile and it was surprisingly difficult for me to wriggle around let alone get out of the ties. What I liked about the ties was that struggling didn't leave me with the cuff twisted painfully around my wrists and the circulation was never cut off to my hands. Once I relaxed and stopped struggling the ties loosened up enough that they were silky and soft against my skin.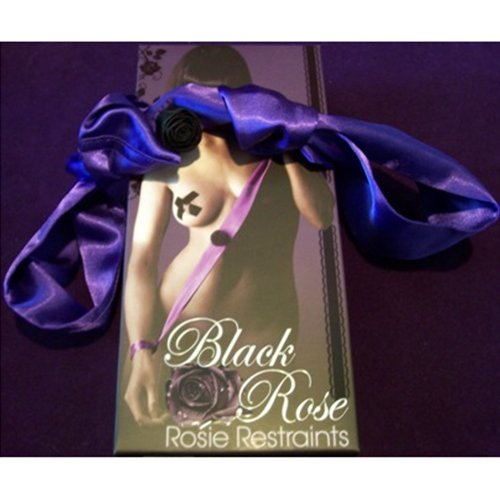 Don't they just look beautiful? They are as soft as they look and just feel luxurious. Far more than I expected given the price point.
I was a bit nervous because silk can be rather delicate and can catch on rough skin, but on my set I found the silk to be exactly the opposite of what I was expecting from finished silk. It can be pulled but my nails are, more often than not, ragged and I didn't have any issues with then snagging on the fabric and causing damage.
Caring for the ties is very easy but you can't just throw them in the washer and dryer, unfortunately. I found hand washing in lukewarm water with just a touch of lingerie soap was sufficient. I didn't wring the water out but sort of stroked the fabric through my hands and then allowed it to drip dry. It dried very quickly and I used an iron set on "silk" to press out the very few wrinkles that might have set in. if your iron doesn't have such a setting you could use a small towel between the silk and iron.
I haven't noticed the silk crushing or looking mangled after use like some slide through cuffs can. I have several sets of cuffs that are much more expensive than this set and I prefer this one over even my beloved leather cuffs. They just feel amazing, look sensual, and offer the scared novice an escape if things become too much. I found them to be excellent for teaching a new playmate how to relax and escape...try it some time, it's harder than it sounds!
These are extremely travel friendly since they can be folded up to a very small item and hidden just about anywhere in your lingerie. If found you can pass it off as a sleep mask!
Follow-up commentary
9 months after original review
For a simple restraint that hold up well to torturous abuse I can't recommend a nicer looking set of cuffs. These don't cause rope burn on the wrists or ankles and they remove super easily. The more you struggle the tighter they get but never so tight that you lose feeling.

These are not meant to be used as hanging restraints but for everything else they are tops.
This product was provided at a discounted price in exchange for an unbiased review. This review is in compliance with the FTC guidelines.

Thank you for viewing
Black rose rosie restraints
– cuffs review page!