Fifty Shades of Grey The pinch - Nipple clamps

Product Details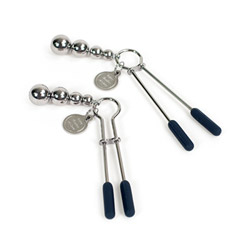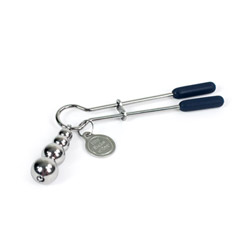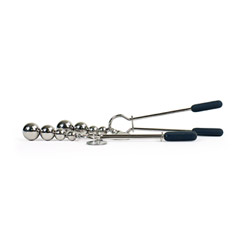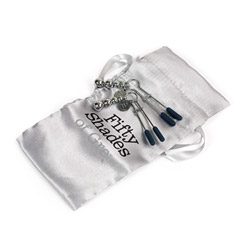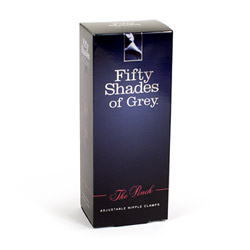 Summary:
These nipple clamps are actually very pretty and serviceable even though my boobs aren't as pretty as they once were. They are easy to use, care for and they really deliver quite a pleasant, and adjustable, pinch.
Pros:
Hygienic materials
Gorgeous
Work very well
Cons:
They bear the 50 shades of grey logo!
Best use:
These lovely little dangling nipple clips are best used for, well...pinching the nipples! If you have a proud set of "girls" and you like to adorn them with pretty baubles then these are just about perfect. You don't need any special skill to use the things and they are fully explained in the little pamphlet that comes with them.

These little babies will provide quite a beautiful adornment and a sizeable pinch if you want them too. They are much more gentle and customizable than the clover leaf clamps I generally prefer. Then again I really like pain so these are mild even on the highest setting for me.

I don't like pinching things on my clit but for purposes of this review I tried it. It worked ok but wasn't to my liking. It did look kinda cool though. It could work for scrotal clamping or even penis skin if you are truly into pain.
Material / Texture:

These are not, as I had initially feared, cheap clamps. The metal is highly glossy, sturdy and seamless. They aren't going to be easily bent and they don't irritate my skin like cheap nickel does. I would venture to say these are coated at the very least and might even be stainless steel.

The nibs that rest on the end of the metal arms are clearly silicone and should last a good long time unlike the other sets of nipple jewelry I have tried. They do not pop off and I haven't been able to pull them off. So far so good! they are smooth and offer a bit of drag that helps them stay put.

The metal balls on the end of the clip have a good sort of weight to them, letting you know they are attached but not making you want to cry out a safeword. Really they just make you really, really aware of your nipples. This is a pleasant sensation! They are beads attached to a thick metal chain and are very pretty.

There is also a metal disc that has Fifty Shades of Grey stamped on it...I suppose nothing is perfect, eh?

Material:

Metal

/

Silicone

Material safety

Safety features:

Food-grade material / Hypo-allergenic / Latex free / Non-porous / Phthalates free

Shape / Design / Size / Fit:

These have a really great design and I am quite impressed! I expected a cheap little gimmick to sell a line of toys but what I got was a well thought out set of nipple clips. The design isn't new or innovative but the materials used makes the design ingenious.

The clamps are activated with a sturdy little metal piece that slides effortlessly along the metal arms. No struggling and breaking fingernails to move this piece. The arms are wide enough when opened fully to grasp a good bit of flesh so that you won't be pinching with too much uncomfortable force the sensitive nipple tissue, scrotal tissue or hell even an earlobe if you are so inclined!

The silicone nibs on the ends of the arms prevent slipping and add a measure of comfort as well. These will only slide off when you want them too. The weights on the end of the clip merely give enough weight that your focus is on the clips and what they are doing to your nerves. The sensation is quite pleasant to downright sexily irritating, if that makes sense! Yes, it can be painful but it can also just be a decoration.

I can't see any reason that this wouldn't fit any and all shapes and sizes of nipples. They are highly adjustable. My breasts have nursed three children so they aren't the proud pair they used to be way back when but I will admit that I felt really sexy wearing this set of clips.

Color:

Grey / Silver

Length:

3 1/4"

Weight:

1.5 oz

Functions / Performance / Controls:

These clamps are highly stimulating. They appeal to the visual senses as well as the nerves. They are as easy to remove as they are to attach so you won't be left fighting to get the darn things on or off as has happened with other clamps I have tried. These shouldn't rust either and they do stay put very well.

Care and Maintenance:

A quick rinse and patting dry with a towel should be all you need to keep these shining and clean. Simple hot water and soap if bodily fluids should get on them is all you need. You could also use a commercial toy wipe or a sprayable toy cleaner if you prefer.

There is a lovely little grey pouch included with the clips that is perfect for storing them. You could also re-attach them to the cardboard triangle and slip them back into the box they arrive in. It's really up to you.