Pinch Me I Must be Dreaming - Finally the Search is Over
These are simply amazing. I resisted buying anything SOG but they were so pretty I couldn't say no. I am glad bought these and cannot recommend them highly enough. Even those who do not normally enjoy tweezer style clamps, will find these very enjoyable. The beads sparkle and bounce as you move about during playtime, tugging and adding more pressure. The clamps are very durable and will last a long time. Unisex styling will work for anyone. Will fit most nipples comfortably.
Published:
Pros:
Great quality
Beads add weight and movement
Adjustable
Cons:
May not work for very sensitive nipples
Storage bag not well made.
Can I give these six stars? If I could, I would. I have been on a quest for the best nipple clamps. I can say after an extensive comparison study of all the major styles, I have found what I was looking for in these clamps. No one is as surprised as me that these clamps are as wonderful as they are.
SOG, was not a selling point for me. In fact, I almost did not buy these because of their association with the fad. I am always hesitant to purchase items that are associated with the flavor of the moment. The items tend to be cheaply made, beginner items, that you are ready to toss by the time the fad is over. These clamps are the exception and will remain a favorite in your toy box for years to come. They can be used by beginners but those who are experienced in nipple play will really enjoy these. I encourage you to overlook their heritage and judge them on their own merits.
The quality is top notch. I have several nipple clamps and have reviewed most of them here on EF. They have all been of good quality but these are the best. The craftsmanship is excellent. The metal is not too light or to heavy. The grips on the ends are secured very well. The clamping mechanism will keep your clamps where you put them. It is no fun to be in the middle of a play session and have the clasp loosen causing one of your clamps to fall off. There are no worries with these as they stay where you put them.
The weight is good for me. A beginner or someone with very sensitive nipples might find them a bit too heavy. Those who enjoy a bit of weight will really enjoy these. When you are moving around the beads will move as well. This adds a tugging sensation as they move to and fro. The silver also adds a nice reflection and sparkle to your nipples as you bounce around.
The clamps will adjust from fully closed to about 3/4". This will work for most nipple sizes.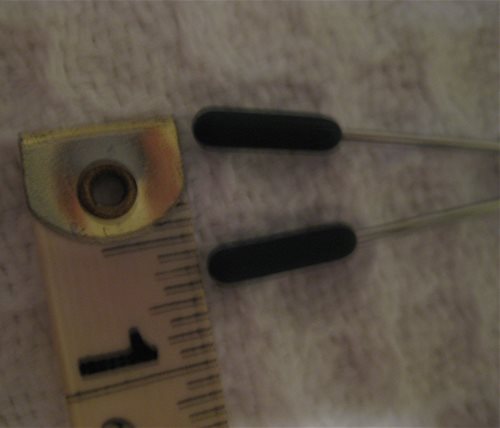 The total length of the clamps with the silver balls is 3 1/4". The silver beads are 1" and the clamp is 2 1/4".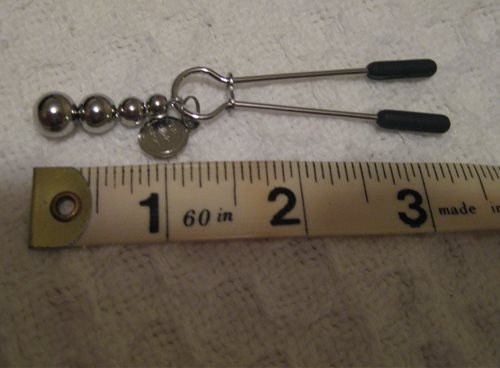 The box is somewhat discreet as it has Shades of Grey, The Pinch on the front. There are no pictures of naked people on the box which is a big plus for me.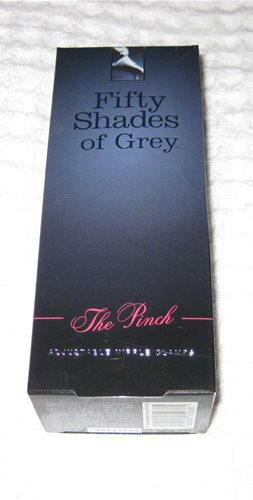 A drawing of the clamps is on the back.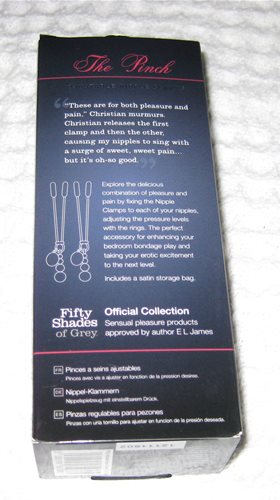 When you open the box you will find a triangular triangle piece of cardboard. The clamps are attached to two of the three sides.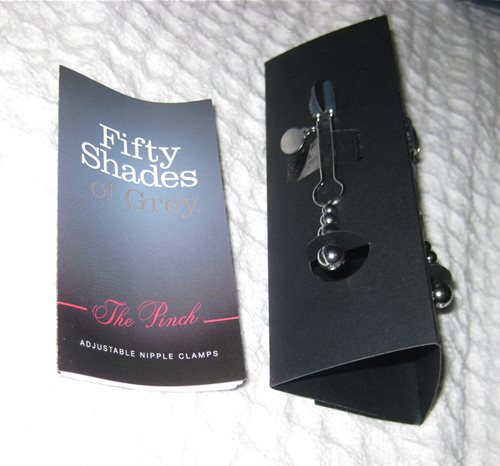 There is a 3" x 6" silver carry bag included with the clamps. This is the only part of this package that is less than wonderful. Mine was not well sewn together and was coming apart at the top seam. There is a ribbon through the top that allows you to draw it closed and tie it off. The bag is quite large in comparison to the clamps. The clamps clink together when placed in the bag. I would suggest wrapping the clamps before putting them into the bag. This is a nice bag that can alternately be used for a small toy.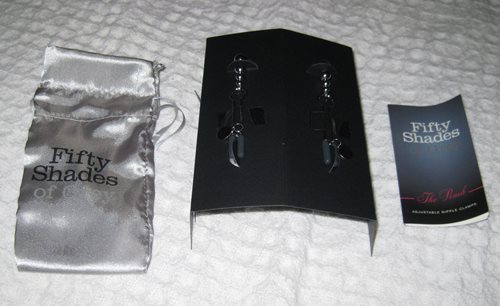 Also included is a small instruction pamphlet. The pamphlet tells you how to use the clamps. Instructions are provided in 4 different languages.
Experience
These are by far the best nipple clamps I own. I am not a huge fan of tweezer style clamps, however these are a definite exception. They are very well made. Because they are adjustable, these clamps will work well for those with different sensitivity levels.

The Silver beads do add a bit of weight. When they move there will be an added tugging sensation. If you have very sensitive nipples, you will want to be aware of this. The beads are not removable. You can attach a chain to these clamps if desired. I actually prefer the clamps without a chain. You can get the beads twirling around, if you are so inclined.

The style of the tweezer ends allows for a tighter clamping sensation. The other tweezer clamps I have are curved so they do not have the ability to clamp as tightly. I really like that these are adjustable. During the month the sensitivity of your nipples can change. Having adjustable clamps gives you the ability to use them on any given day.

These are easy to travel with as there is no long chain to worry about. Just wrap them up and drop them in your bag.

I like that these can be used by either partner and are definitely unisex. They work well for larger nipples as well as smaller ones. This is due in part because there is no bend/curve to the tips, so they can be tightened to fit even the smallest of nipples.
This content is the opinion of the submitting contributor and is not endorsed by EdenFantasys.com

Thank you for viewing
Fifty Shades of Grey The pinch
– tweezer clamps review page!