Kama Sutra Cupid's collection - Sensual kit from Kama Sutra

Product Details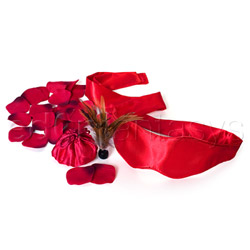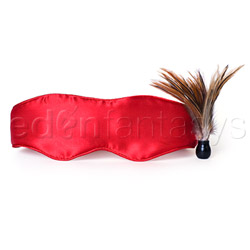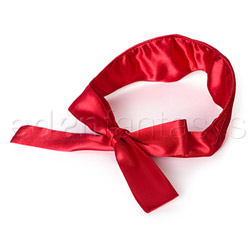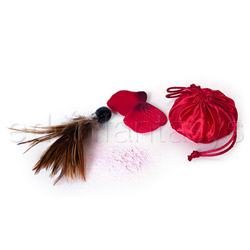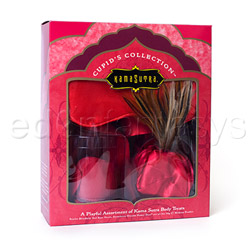 Summary:
The Cupid's Collection is a great teaser for the the strawberry honey dust by kama sutra. The blindfold, though not very sturdy, works pretty well and is likely to fit many sized heads. Also, the rose petals are a nice touch, perfumed and reusable. Overall, this kit is simple, cute and would make a great gift for yourself, your lover, or a loved one open to sensual products.
Cons:
Small quantity of dust, blindfold not very sturdy.
Best use:
The Cupid's Collection is a very cute kit that can provide any couple with a little sweetness. Both men and women can enjoy this. Whether one is gay, bi, straight, or whatever one identifies themselves, this is suitable for all types of relationships. It makes a really sweet gift without being too sexual. It is romantic and would probably be well accepted by most people at Christmas or any other special occasion.

This kit is best used for a planned evening, but could also be used for a spontaneous fling. As long as you have it near, you are probably going to use at least one of the products that comes with the kit. The all around theme to this product is romanticism, so it might not suite all situations. The items could be used for light BDSM, a relaxing bath, and also for reducing sweat...so it is very versatile.

There is no information on the box relating to the ingredients in the strawberry honey dust, so I am unsure about whether it may be an issue for certain people with allergies.
Texture / Consistency / Thickness / Viscosity:

Blind Fold: The red blindfold feels very satiny, probably made of polyester. It is silky smooth, but if you have dry hands it sort of catches onto the fabric. Each strap is roughly 20 inches long and the piece of fabric that covers the eyes is about 13 inches long.

The piece that covers the eyes has a thin layer of foam/spongy fabric within it in order to make it more comfortable. The blindfold's shape is pretty standard, resembling most blindfolds. Its width is smaller where the nose is. There are two dips to prevent the wearer to see if they look down. It is not a high quality blindfold, it is simple and basic.

Rose Petals: There are 32 rose petals and these are similar to all artificial petals or flowers you may find on the market. They are pretty robust as they keep there shape. They are made of a blend of fabrics, which probably includes polyester amongst other things. The petals are not very smooth and are somewhat "veiny" with some sort of texture that was added to the petal's fabric.

The petals are all red, sort of diamond shaped, and with one tip that has a black gradient to give it a more realistic appearance, as though it was really plucked from a rose. The rose petals are contained within a cylindrical plastic tube that easily opens and closes.

Strawberry Honey Dust and Feather Duster:

The duster is made of feathers that are beige, black, and brown. There are a few longer feathers and the wooden base of the duster has some nice fuzzy down. The duster is very soft and delicate. It is a little small and could be awkward for people with larger hands/fingers to hold onto it very well. The feathers seem to be glued into the base.

The strawberry dust is a very fine and can be quite volatile. It sort of resembles icing sugar or baking powder but it has a slight pink tinge to it. It feels very smooth when applied to the skin, it makes skin feel velvety. I recommend putting the dust into a tin box, as it can be annoying having to fit the feather tickler into the tiny plastic bag the dust is stored in.

Ingredients:

Modified Corn Starch, Glucose, Zea Mays (Corn) Starch, Honey, Silica, Honey Extract, Sodium Saccharine, Fragrance, Sodium Benzoate, Amyl Cinnamal, Benzyl Alcohol, Eugenol, Hydroxy Citronellol, Benzyl Salicylate, Geraniol, Linalool, Citronellol, Benzyl Benzoate.

Color:

Red

Taste / Aroma:

Rose Petals: These have a very wonderful smell, it is sort of floral and sweet and kind of reminds me of baby powder but it is quite different from baby powder. The aroma is light, but very fragrant. It is strong enough to be smelled and enjoyed. It doesn't smell "perfumey" or overpowering. In my opinion, it smells nothing like a rose but does smell like a flower, it has a very nice fragrance.

Strawberry Honey Dust: To my nose, the dust has a faint smell that is a mix between play-doh and the artificial strawberry smell. The smell can only be detected if I put my nose up close to the bag of dust. On the skin it only smells strawberry-like.

It tastes mostly of strawberry, not so much like honey. It is sweet and light. I have not detected any odd after taste. It just makes licking skin very fun.

Performance:

Blind-fold: The blindfold in this kit is very basic; but, since it has straps rather than an elastic, it can be adjusted to many head sizes, unlike elastic band blindfolds. It keeps light out pretty well, does prevent one from seeing what is happening around them, thus creating a lot of excitement due to the wearers inability to anticipate their partners next move. You must be careful when tying it to avoid getting strands of hair in the knot as it can ruin the mood if you hurt your partners head.

If, for whatever reason, you get the blindfold dirty, you could wash it by hand and let it air dry on a flat surface, so that the blindfold doesn't hold any weird shapes if you hang it dry, etc.

Rose Petals: The rose petals can be spread out on a bed in order to create a certain ambiance. They can be used again and again, as you can easily pick them up and store them, which is impossible to do with real rose petals. You can also put them in your bath water, if you are planning to have a bath "a deux" with a bottle of champagne and many other goodies.

Strawberry Honey Dust and Feather Duster: The strawberry honey dust can be used for a variety of things. It can be used for enhancing intimacy through the experience it brings. It makes skin smooth, keeps it dry, taste good, reduce chaffing in the bikini area after you shave, and it can be used on muffins...just kidding. Our preferred method of use with the dust is to create greater intimacy. It really increases our closeness and it can really spark up desire for the sensual exploration of your partners body.

The duster easily attracts the dust and spreads the dust onto the skin very nicely. The dust makes skin feel so silky and velvety smooth. The dust can sort of absorb moisture from the skin, keeping you dry. However, there is such a little amount of dust that I prefer using "baby powder" to keep my humid parts dry.

It will not leave your skin feeling sticky; however, if your partner applies it and starts licking it off you, you might want to shower to get all the saliva off and whatever dust was left behind.

The set includes:

Scarlet Blindfold
Strawberry Dreams Honey Dust with feather duster
Lightly scent Rose Petals

Packaging:

Volume:

2 fl.oz.

Weight:

0.5 lb

Experience:

I really love the rose petals. I love that I can use them again and again. I put a few petals in my bath water and the bathroom smelled just a bit of the perfume of the petals. It was almost non-existent; however, if I would have put more petals into the water the fragrance would probably have been more powerful.

The petals did not leach red and they retained their shape, but they lost a lot of their smell. The petals did seem more pliable or flexible after having soaked in water.

I love the combination of items - they are versatile. There isn't much honey dust powder, we have used about 1/3 of what we received. I think that it is a great starter kit to build a greater connection and deeper intimacy within a relationship. Since having tried the dust and enjoying it so much, I am probably going to invest in getting a bigger quantity.

My partner really loves the taste. He has a sweet tooth and the products seem to compliment each other very well. Although my partner hasn't been all that interested in the blindfold or rose petals, he was still able to appreciate them a bit. He is more likely to pull out the duster and dust then anything else if he wants a bit of romantic time.

My guy hasn't been very healthy physically, he has been healing; this kit has been able to connect us in our times when penetration or sexual intercourse was not possible. It has kept our passion going even though things have been quite "unsexual" in bed.

I am giving the kit 3 stars due to the quality of the blindfold and dust provided. You can easily select a great blindfold amongst what is available on EF and a larger quantity of dust for the same price and the dust was what we enjoyed the most. So, in our opinion, it is a great introductory kit to Kama Sutra products, but either the price could be reduced or the quality/quantity could be improved/increased.

Other