Hardwood dildos Handcrafted wooden dildo #197 - G-spot dildo from Hardwood dildos

Handcrafted wooden dildo #197 videos
Product Details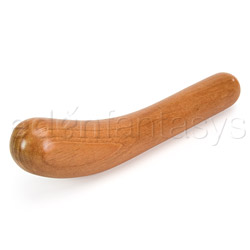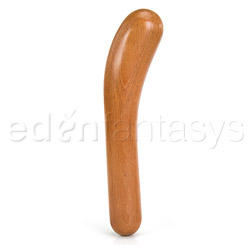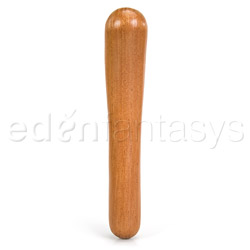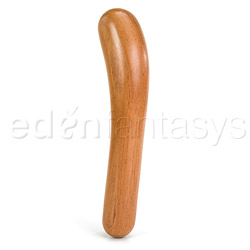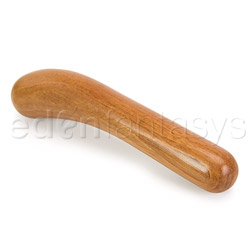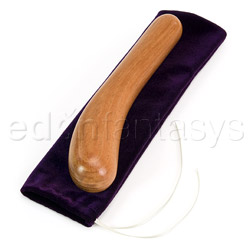 Summary:
The #197 dildo embodies all the beautiful aspects of wood. Its simple shape, smooth body, and unyielding material make it suitable for a variety of uses from g-spot massage, to thrusting, to simply exploring what feels best for you. With proper care, wood should retain its structural integrity for awhile. Its a beautiful toy and lovely to use.
Pros:
Simple, elegant, both ends are very functional, included storage pouch.
Cons:
Not water friendly, cannot be entirely sanitized for sharing purposes.
Best use:
The simple, understated elegance and beauty of wood is definitely attractive. That in addition to this dildo's smooth texture and simple design make it a dildo that begs to be played with. The straight piece works well for vaginal thrusting, especially as the larger base has a curve that makes it easy to hold and manipulate.

The larger base also means you could very carefully use the straight end for light anal penetration, but please take caution as the lack of a truly flared base makes this toy not completely safe for anal play.

Wood does not yield in any way, so caution should be taken with this toy. If you do use it with a partner, make sure that you give your partner good cues and that you go slow as to not hurt yourself at all.
Material / Texture:

Wood is a beautiful material. This particular design has a very light smell, most likely due to the 5 layers of food safe coating that is used to seal it. It is entirely smooth, without a single flaw in the design. The grain is easily seen through the clear seal and it glides effortlessly in and out with a small amount of lubricant. Wood is much lighter than its non-yielding counterparts, steel and glass, so those who prefer lengthy solo sessions will appreciate the ease of use.

Material:

Wood

Material safety

Texture:

Smooth

Safety features:

Food-grade material / Latex free / Phthalates free

Design / Shape / Size:

The design and shape of this dildo is very simple. With two ends, one can use this dildo multiple ways.

The straighter end works well for thrusting- it's 3.75" circumference makes it small enough that it is not intimidating yet large enough that it is clearly felt. When thrusting, the curved end makes a very nice handle.

The other end of the dildo has a gentle curve to it and is larger, measuring in at 5" in circumference. The larger head on this does a good job of providing diffuse g-spot stimulation and the length of the toy makes it easy to handle to get the proper angle.
It's pretty obvious this toy has sexual intentions, but as it is small and easily portable, traveling with it tucked in some other items should not be a problem, though carrying it around in a small purse would not be recommended.

Length:

8 1/2"

Insertable length:

7"

Circumference:

3 3/4" / 5"

Diameter:

1 1/2" / 1 1/8"

Weight:

0.3 lb

Performance:

This toy's main attraction is the fact it is a light weight material that does not yield. Sometimes toys can be exquisite for their simplicity, and that is definitely the case here. Its smooth body means that little if any lubricant need to be used and the lightweight nature of wood means it is an easy toy to handle.

Care and Maintenance:

Wood requires a bit more care than glass or steel, as it can absorb liquids. This particular wood dildo has been coated multiple times in a food safe finish, so using it personally as a vaginal only toy would not require condoms. If you plan on sharing it or using it anally, a new condom should be put on for every use.

To wash this toy, use a simple antibacterial soap or toy cleaner and a soft damp cloth to clean. Do not submerge this in water, as wood can be damaged this way. Store it in the included pouch to assure that any harder materials do not bang into it and cause unwanted dents or knicks in the material.

Care and cleaning:

Bleachable