SSA Glass Rainbow bliss - Dildo from SSA Glass

Product Details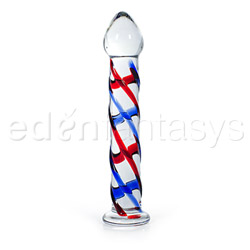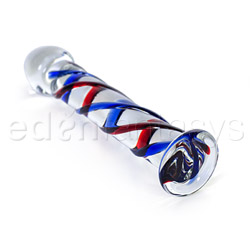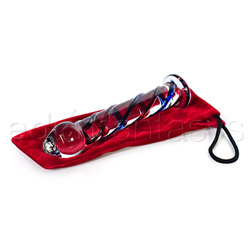 Summary:
This pretty little toy makes a great first glass dildo to welcome someone into the world of glass delights. Simple and not gigantic, this piece is lovely and is non-intimidating. While experienced users and collectors may find it plain and uncomplicated, the Rainbow Bliss doesn't have the steep learning curve of many of the more daring shapes, making it a good first. With a padded bag pretty enough to gift in, let the Rainbow Bliss pamper you and teach you to love glass.
Pros:
Borosilicate glass, simple, beginner friendly, easy to clean and sterilize, great bag.
Material / Texture:

The Rainbow Bliss is made of Pyrex glass, a highly shatter-resistant form of glass. As such, it is very slick and hard, requiring very little lubricant. It is very smooth and easy to clean. Because of the hardness of this material, even the slightest texture is prominent and unyielding; this is mild enough that even most sensitive users should be fine, but if you cannot tolerate textures on your toys, look elsewhere for a smooth toy.

Material:

Borosilicate glass

Material safety

Texture:

Ribbed / Smooth

Safety features:

Food-grade material / Hypo-allergenic / Latex free / Non-porous / Phthalates free

Design / Shape / Size:

The Rainbow Bliss is on the smaller side, as dildos go. The listed diameter of 1.38" refers to the widest point in the head. While this can be a challenge to get past for those not used to larger toys, the shaft itself is only 1" wide. The large size difference between head and shaft lets this dildo get at the g-spot a bit when rocked around inside, though it will never be a primarily g-spot toy. The head is quite pointy for a phallic toy - between that and the hardness of the material, be very careful not to bruise yourself while thrusting away. That point can jab unpleasantly in all sorts of bad places.

The design of colored swirls on clear glass is quite pretty. There were some flaws in the glass, but these were all cosmetic and did not hinder use or pose a safety threat. Mostly they were small discolorations to the swirls and a few tiny bubbles deep within the glass. While its size makes it easy to hide, it looks like a glass penis; no one is going to believe that this is abstract sculpture if you leave it on your desk. While it's a good size for travel, as it is glass I would not recommend it.

Length:

7"

Insertable length:

6 1/2"

Circumference:

4 1/2"

Diameter:

1 3/8"

Weight:

11 oz

Performance:

The Rainbow Bliss performed well for a basic glass toy. Aside from the swirls, it has no bells and whistles - but then, glass rarely needs such embellishments. As long as you're careful not to bruise the orifice you're playing with, it works nicely thrusted, rocked, twisted, shaken, or stirred. While the swirls are barely noticeable deep inside, they are quite nice massaging the vaginal opening. It holds lubricant well, no matter what kind you use. The handle base was easy to hold and maneuver, even if it was on the smaller side. The main flaw with this toy is how pointy the head is, because poking the cervix generally isn't pleasant, and might be enough to scare a new user off of glass toys entirely.

Care and Maintenance:

Because it is made of borosilicate glass, this toy is easy to care for. It is compatible with any lube you have on hand. It can easily be washed after use with wipes, toy cleaner sprays, or soap and water. If you need to sterilize, wipe it down with a 10% bleach solution. I would recommend against boiling it - thermal shock is one of the few things that can destroy your toy, so if it cools too rapidly it could crack. If you decide to boil, let it cool gradually; do not run it under cool water or place it on a cold surface to cool, place it on a towel to cool, making sure that it can't roll off and fall. Before every use, check for cracks or chips in your toy. These will make it very unsafe to use, and no one wants a lacerated vagina or ass.

Care and cleaning:

Bleachable / Boilable / Dishwasher safe

Packaging:

The storage bag that came with the Rainbow Bliss was definitely something to write home about. A lovely bag with black suede outside and bright pink satin inside, it is just padded enough to protect the toy without being ridiculously bulky. The drawstring cords are nice and sturdy, and the bag actually stays closed after cinching, without needing to tie the cords. The whole thing is just lovely and makes a great long-term storage solution. It would also be great for gift giving, because it comes off as very sumptuous.