SSA Glass Ribbed twister - Dildo from SSA Glass

Product Details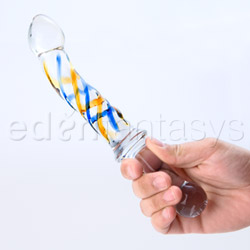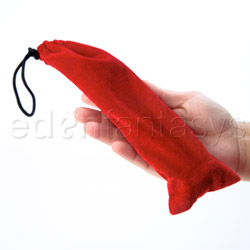 Summary:
This is a beautifully designed glass dildo. The bulbous head and curved shaft target the g-spot, while gentle colored swirls down the shaft add some texture. The handle makes this easy to hold on to and control in more comfortable positions than a shorter toy. Truly a pleasure to use.
Pros:
Made of Pyrex glass, curved for g-spot stimulation, beautiful design, easy to hold handle.
Cons:
Can twist away from the g-spot during use.
Material / Texture:

This dildo is made of Pyrex glass, which is nonporous and phthalates free. The entire toy is seamless, and the glass makes this toy feel larger than its dimensions since it has no flexibility or give. While the head and handle are smooth, raised swirls run down the length of the shaft adding a light texture that can be felt during penetration. The texture is not extreme and will be enjoyed by those who like smoother toys and less texture than ribbed designs.

Material:

Borosilicate glass

Material safety

Texture:

Ribbed / Smooth

Safety features:

Food-grade material / Hypo-allergenic / Latex free / Non-porous / Phthalates free

Design / Shape / Size:

The Ribbed Twister is beautifully designed. This dildo is 9 1/4" long overall with an insertable length of about 5 1/4". The bulbous head is 1 1/2" long and about 1 1/2" in diameter, with a blunt, tapered tip for easier insertion.

The shaft is about 3 3/4" long with a slender 1" diameter, although it seems thicker due to the material and the light blue and yellow swirls which grace its length. It is gently curved for g-spot stimulation.

The bottom of the shaft sits on a 1 1/2" wide base, with a 3 1/4" handle below. The handle has a ball on the end to help your hand hold on and keep control.


Color:

Multi-color

Length:

9 1/4"

Insertable length:

5 1/4"

Circumference:

4 1/4"

Diameter:

1 3/8"

Weight:

9.7 oz

Performance:

The Ribbed Twister works well as a g-spot toy. The curvature of the shaft allows the head to target the g-spot, and the handle makes it easier to control and thrust the toy than other g-spot toys with the same head and shaft length. Even if your hands get slippery with lube, the handle is still easy to hold on to with the ball at the end. The handle also makes it more comfortable to use this toy for self-stimulation since your hands and arms can be in a more relaxed position. It does have a tendency to spin out of position during thrusting and may need to be repositioned to hit the g-spot.

This toy also works well for partner play. The handle will give your partner more control and make it easier for them to hold and thrust the toy.


Care and Maintenance:

Since the Ribbed Twister is made of Pyrex glass it is shatter resistant, but should always be checked for any cracks or chips before use. It is easy to clean by washing with warm water and antibacterial soap and dried with a soft towel. Toy cleaner may also be used. The Ribbed Twister can also be boiled or run through the dishwasher if desired. It should be stored in the provided drawstring storage bag to protect it when not in use.

This toy can be used with water-based, silicone, or oil lubricants, and only a small amount is necessary to make the Ribbed Twister slick for use.


Care and cleaning:

Boilable / Dishwasher safe / Microwave safe

Experience:

This is one of my favorite glass g-spot dildos to date. What makes it special is not the size (which is nice, especially the size of the head), nor the texture (and I do love the swirls, which are not uncomfortable), but the handle. I love that I can be in a more relaxed position on my back or reclining and easily thrust without having to contort myself. The handle is just the right length, and even when my hand gets slippery it's easy to hold on to. The only problem I had with this was getting too involved with thrusting and twisting my hand a bit, which caused the head and shaft to rotate and miss my g-spot, but it was easy enough to twist back and correct.

My husband liked using this on me as well. He found holding onto the handle was easier and made his hand less tired than trying to grasp a flat base. I just had to remind him a few times to slow down.

I also love that this toy comes with a storage pouch. The purple faux suede exterior and hot pink satin interior are pretty, and the pouch is long enough to completely hold the toy and be closed tightly with the drawstring.