SSA Glass Sweet candy cane - Dildo from SSA Glass

Product Details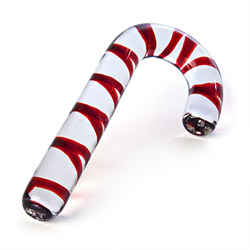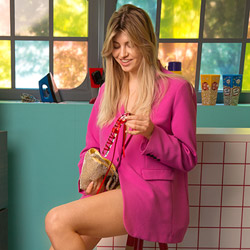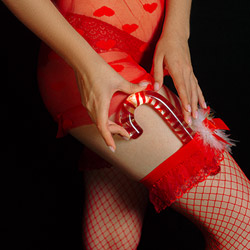 Summary:
This glass dildo is a sweet treat for anyone wanting a smooth, hard toy that comes with its own handle and storage pouch. The straight end can likely be used by anyone, but the curved end may be a tight fit for some.
Pros:
Curve is a nice handle, nonporous material, easy to clean.
Cons:
Curved end can be difficult to use.
Best use:
This holiday-themed toy is a treat anytime of the year. The Sweet Candy Cane can be used vaginally, and is safe for anal use because of its curved end. The Candy Cane is 1" in diameter along its entire length, which makes it ideal for beginners. This toy would likely not be a good match for size queens or users desiring texture. While its appearance is whimsical, the heft of the glass helps it leave a more serious and pleasurable impression.
Material / Texture:

Deep, blood red swirls wind around the Sweet Candy Cane. The clear glass makes the toy look more heavily striped than a traditional edible candy cane. At certain points along the toy, the stripes can just barely be felt with fingertips, but overall the toy is incredibly smooth. All types of lube are compatible with this toy, and you might not need much since glass provides little resistance.

Material:

Borosilicate glass

Material safety

Texture:

Smooth

Safety features:

Food-grade material / Hypo-allergenic / Latex free / Non-porous / Phthalates free

Design / Shape / Size:

While not discreet in size, the Sweet Candy Cane is not obviously a sex toy. The straight end provides about 7" of length before the curve, but the other end Sweet Candy Cane's curve can serve as a handle for easy maneuvering. Since the toy is smooth and straight, you can rotate the handle to an angle that feels comfortable to hold without changing the internal sensation. Both ends of the toy are flat, but the straight end has a bit of a taper, which aids in insertion. The end of the straight portion can provide a smaller area for g-spot stimulation if more direct pressure is desired.

Color:

Clear / Red

Length:

7 1/2"

Insertable length:

6"

Circumference:

3 1/4"

Diameter:

1"

Weight:

13 oz

Performance:

Both ends of the Sweet Candy Cane can be inserted, but the straight end is much more universal. Whether thrusting or applying more pinpoint pressure with the end, this hefty toy delivers decent force for its size. The curved end might seem to call out for a shot at g-spot stimulation, but proceed carefully. It may not fit well with some body types or anatomies, due to the sharp curve of the shaft and short length of the curved end. While shallow g-spots may be stimulated, the range of motion once the toy is situated can be quite small.

Care and Maintenance:

The Sweet Candy Cane is made of pyrex glass, which is resistant to cracking, but can still be damaged on impact. Carefully examine your toy before using it, as well as after any falls or collisions that could damage it. It's pretty easy to clean the Candy Cane since it is smooth and nonporous. Wash with soap and water, spray with toy cleaner, or use wipes for general cleaning. To disinfect, wipe with a 10% bleach solution, boil for a few minutes, or place it on the top rack for a soap-free dishwasher cycle.

Care and cleaning:

Bleachable / Boilable / Dishwasher safe

Packaging:

This glass dildo comes in a soft, pull-string bag that works well for storage. The bag is has a black faux suede exterior, a deep pink satin inner layer, and cotton padding between the layers for a bit of protection.

Personal comments:

I really thought this dildo would be great for g-spotting, but my experience with the curved end was anything but intuitive. To define my experience accurately, I'd have to use the phrase "maneuvered the toy," which only begins to imply the simultaneous awkwardness and uneasiness I felt. That's not to say that the experience wasn't enjoyable, but it was much stranger than I expected. The straight end is smooth and mostly plain, but works well for general masturbation sessions when I don't want or need something incredibly special. To me, this toy is similar to the Silk Medium; both work well for when I just want to squeeze something while I focus on other kinds of pleasure.