Whipspider rubberworks Tentacle jr - Dildo from Whipspider rubberworks

Product Details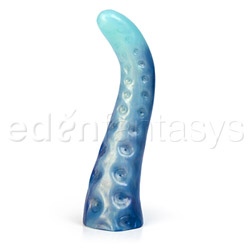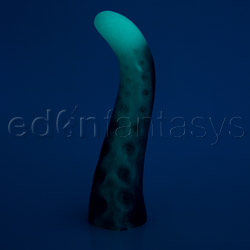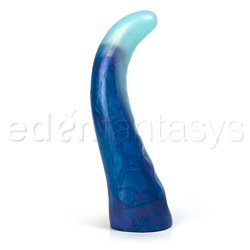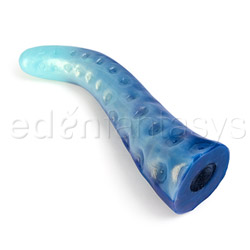 Summary:
The Tentacle Jr is another amazingly whimsical, fantastic toy from Whipspider. It's curved to tickle the g-spot, but is flexible enough that the tapered tip isn't painful or obtrusive. Likewise with the texture; it can be felt but is soft and plush, not painful. The colors swirl and whorl in a gorgeous sea of soothing, amazing tones, all of them shimmery and sparkly. Plus? It glows in the dark. An excellent toy for the fantasy lover or those who just like something that is different.
Pros:
Whimsical, plush, squishy, tapered, silicone, gorgeous.
Cons:
May be a bit too flexible for some.
Material / Texture:

Whipspider does amazing things with silicone and the Tentacle Jr lives up to their reputation.

The silicone is soft, very plush, very bendable and a little bit - but not overly - floppy. It's glossy and slick rather than matte. One side is smooth and frictionless, the other side indented with small tentacle "suckers" that, while they can be felt, are a much less obtrusive texture than the original Tentacle. It is completely odorless, non porous and body safe.

The silicone is gorgeous to look at, as well, with an amazing attention to detail. Its swirls in color change from blue to white to green to purple, every bit of it shimmery like an opal. The color combination really gives it the look of something from the sea.

As a bonus, the white/whitish green silicone on the Tentacle Jr glows in the dark. So long as it's been exposed to light it glows an eerie green when the lights are turned off. If you store it in the dark, however, it just looks like white silicone - so if glowing toys don't do it for you, you can prevent it from doing so by storing it in a dark cupboard, drawer or bag.

Material:

Silicone

Material safety

Texture:

Noduled / Smooth

Safety features:

Food-grade material / Hypo-allergenic / Latex free / Non-porous / Phthalates free

Design / Shape / Size:

The design of the Tentacle Jr is less extreme than that of the original Tentacle. It has the curved, pinpoint tip for g or p-spot stimulation but is curved less intensely, less extremely. It's also a bit smaller, has a less heavy texture and is, all around, a true Jr version.

I found that the plushness and flexibility of the silicone prevented me from getting firm pressure on my g-spot but, despite that, I could wiggle and tickle it enough, pin point it enough, that I got plenty of stimulation anyhow.

The way it tapers makes it easy to insert. It starts at a modest 3" circumference - about the size of two fingers, perhaps a bit less - and gradually tapers out to a thick, 7" circumference base. This makes the base easy to grasp and use as a substantial handle and also ensures that it's fairly anal safe. It would be quite difficult to have 7" accidentally slide up your ass but you should still use caution and limit your insertion to the first four inches of its overall 7" length.

While the Tentacle Jr doesn't look like a realistic penis and I've never seen a tentacle up close, it sure seems realistic to me, with its swirly iridescence and dimpled suckers.

Color:

Multi-color

Length:

7 1/4"

Insertable length:

6 3/4"

Circumference:

6"

Diameter:

1 3/4"

Weight:

9.7 oz

Performance:

Those who prefer very firm g-spot stimulation (or p-spot) are likely not going to dig the Tentacle Jr much. It is extremely flexible so it is best used, again, for wriggling and pinpoint tickling the spots you want to stimulate.

It does work okay for thrusting, as well, if you're not aiming for g-spot stim but for overall vaginal stimulation. The tip is soft and plush and doesn't bang the cervix painfully and the widening girth as you insert it further gives you a nice, gradual filled sensation.

It has no flare at the base so it is impossible to get it to stay put in a harness, despite how interesting that would look!

Overall, the plushness makes it comfortable to use despite the slightly pointy tip and it should give decent stimulation to just about anyone who takes the time to figure out what feels good to them.

Care and Maintenance:

Silicone is one of the most easy to care for materials there is. It does pick up lint and dust like it wants to marry them and live happily ever after, but a wash down with mild soap and water before and after use will keep it clean. It is non porous so once you rinse any bacteria off, the material doesn't continue to harbor them in cracks and crevices.

Silicone can also be boiled for a few minutes or sprayed with a mild, 10% bleach solution if you wish to sanitize it.

Do use care with lubes - this is a very soft silicone so water based only is your best bet.

Store as away from lint and dust as you can.

Care and cleaning:

Bleachable / Boilable / Dishwasher safe

Packaging:

Like all Whispider packaging, the Tentacle Jr's wrapping was minimal; a plastic bag and an informational card. Simple, no waste, no fuss.