Luxotiq Isis silicone dildo - Double ended dildo from Luxotiq

Isis silicone dildo videos
Product Details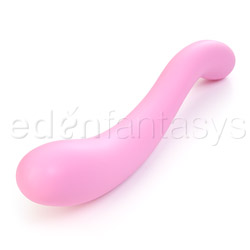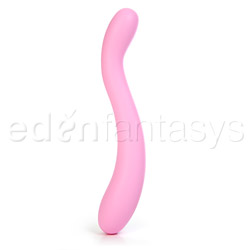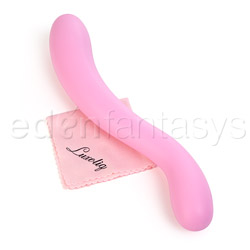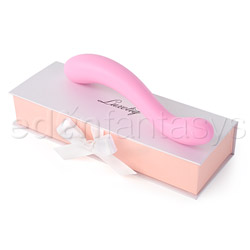 Summary:
The Isis is a fantastic G-spotting dildo for those who may be intimidated by glass or metal dildos. Isis delivers sensations every bit as intense, but still retains a little bit of give and flexibility. Decadent and very versatile, the Isis is amazing!
Pros:
Intense G-spot stimulation, great size for beginners and seasoned users, 100% silicone.
Best use:
The Isis double ended dildo is where simplicity meets function, and function she does fabulously! Isis offers double the pleasure with two different ends in two sizes to choose from. The smaller of the two has a more extreme curvature and the larger, a more subtle shape. One end is of average size and the other a little smaller making the Isis ideal for anyone looking for a silicone dildo that offers versatility. Beginners and advanced users can equally appreciate Isis. The Isis dildo is a wonderful choice for a beginner looking to find their G-spot or anyone wanting intense G-spot pleasure because Isis is a master of both.
Material / Texture:

The lovely Isis is 100% silicone, odor and taste free and very firm! There is some give of course and the silicone has some flex to it, particularly toward the smaller end. I was able to bend the smaller portion back toward itself slightly, but there is very little flexibility throughout the remainder of the dildo. No, it's not as hard as glass or steel. Just be aware there is no squish factor with this one. The texture of the silicone is smooth but not matte. A small seam runs around the top and bottom of the Isis but cannot be felt in use. The smooth silicone provides drag on the skin and as such I found I needed to use lubricant with insertion, unlike a glass or steel dildo. Because the Isis is not totally rigid, I think those beginning to search for their g-spot may find it more comfortable than glass and still enjoy the functionality and effectiveness of a firm G-spotting dildo. Being as firm as she is, Isis is still not a toy I was comfortable using with a partner. I think she's best suited as a solo dildo.

Material:

Silicone

Material safety

Texture:

Smooth

Safety features:

Food-grade material / Hypo-allergenic / Latex free / Non-porous / Phthalates free

Design / Shape / Size:

The design is a really elongated, subtle, S shape that has very fluid, rounded curves. The larger end is one and a half inches in diameter and torpedo shaped. The largest part of the torpedo shape is at the tip of the dildo and it gradually becomes smaller toward the middle. My best estimation of the smaller end is that it is one inch in diameter and it curves upward to hit the G-spot. The design is elegant, yet simple looking, but it is extremely effective for thrusting or rocking, whichever you may prefer. I love the fact that no matter what end you may be using you have an ample amount of dildo to use as a handle due to Isis coming in at a whopping nine and a half inches! While using the smaller end of the dildo, the remainder curves toward your rear end. When you use the larger end, the remainder also curves toward your rear end but it comes upward toward the ceiling leaving the user with a sort of leaver to rock up and down or to thrust with.

Color:

Pink

Length:

9 1/2"

Insertable length:

7"

Circumference:

3" / 4 3/4"

Diameter:

1 1/2" / 1"

Weight:

1 lb

Performance:

Because the curvatures of the Isis appear subtle I was worried that it may not be so functional or exciting during use, I was so wrong! The Isis is a G-spot guru! Both ends are highly arousing and highly effective. The larger end provides a nice full feeling while managing to provide strong G-spot stimulation and the small end provides even more intense g-spot stimulation. I found the small end of Isis as effective as the Pure Wand for G-spotting and unlike the Ella, the Isis will not catch on the pubic bone. Thrusting or rocking is extremely easy to do with the Isis so finding and sustaining a rhythm is a breeze. The Isis does not have a flared base but due to it's length it could feasibly be used anally, but please make sure you or a partner have a strong grip on the unused portion of the dildo.

Care and Maintenance:

Silicone toys are known to react to silicone lube causing a melting effect so avoid silicone lube with Isis. Water-based lube works just fine. Washing Isis with antibacterial soap and water is fine for general maintenance and to keep her lint free. Isis is also bleachable (10% bleach to water ratio) and is top shelf dishwasher safe (no soap). Isis can also be boiled for three to five minutes to sterilize.

Care and cleaning:

Bleachable / Boilable / Dishwasher safe

Packaging:

Isis comes packaged beautifully in a solid pink and white pearlized, heavy duty, cardboard box that is satin lined and foam cushioned. The box is meant for long term storage of your Isis and closes securely with a silky white ribbon. Inside you'll find a ultra soft drying cloth and a Luxotiq card with brief cleaning instructions.

Personal comments:

The Isis really blew me away in terms of just how effective it is as a G-spotter! Her curves are perfect! She glides over my G-spot fluidly and firmly applying just the right amount of pressure. I've never experienced that with any other silicone dildo.