Isis is a Goddess I Can Count On!
I would definitely suggest the Isis. For me, it is like a better version of the Ella. It doesn't have a hook that can get caught, which means it's better for inserting. It also has a bigger end for size queens and a better handle for holding it with.
It is a hard silicone that has a firmness in-between my realistic silicone toys and my glass and metal toys. if you want a dildo with hard silicone and firm g-spot stimulation, then this is the one for you!
Published:
Pros:
G-spot stimulation, smooth, durable, easy to clean.
Cons:
A bit heavy.
I was curious about the Luxotiq brand for a long time, as I liked the look of their products and they seemed to be good quality. So when I saw this was in stock, I jumped at the chance to order it.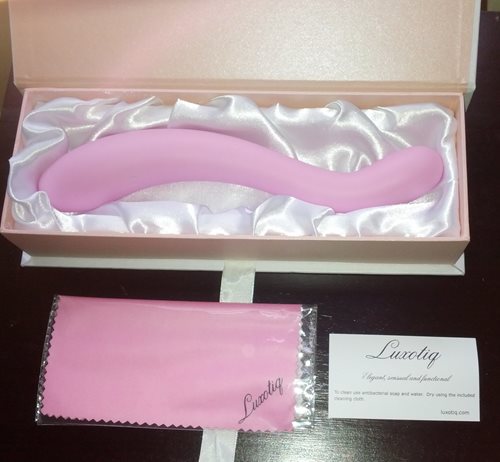 It arrived in a stiff pink and white cardboard box. Inside, there is a white silky fabric which makes for an impressive presentation. Underneath it, though (cushioning the Isis), is just a few sheets of styrofoam. It seems to cushion the toy well, but it also seems sort of cheap.
I thought the white ribbons that the box can be tied with were cute, and I like that it came with just a cleaning cloth (a thin sheet of fabric made of the same material as screen-cleaning wipes) and a business card with simple instructions: "To clean use antibacterial soap and water. Dry using the included cleaning cloth."
The measurements given by EF are-
Length: 9 1/2"
Insertable length: 7"
Circumference: 3" / 4 3/4"
Diameter: 1 1/2" / 1"
However, this is one of those toys with very different widths along it. I measured the cicumference a few times along the shaft of the Isis: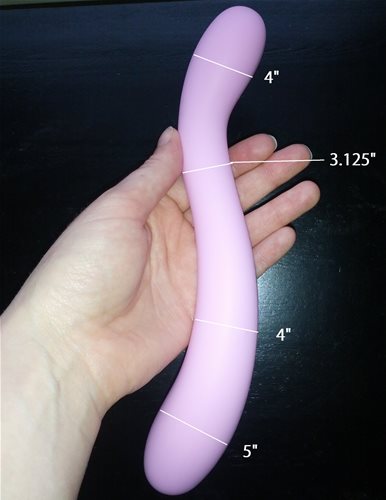 And I suppose you could insert it pretty far, but for me it was most comfortable to insert half of it.
It is a very smooth, hard silicone and it has a very faint seam. The silicone is a bit bendy at the neck, but overall it is very inflexible and firm. It's very similar to that of the Lelo Ella.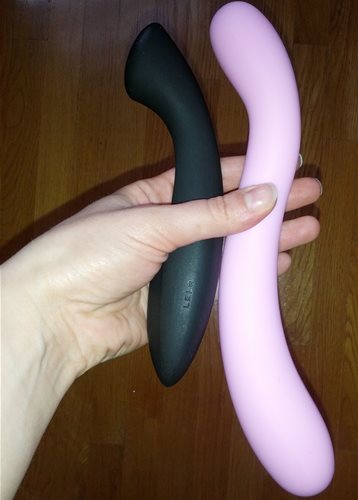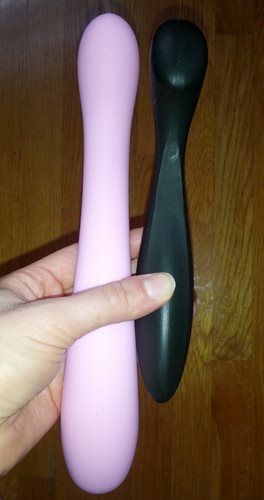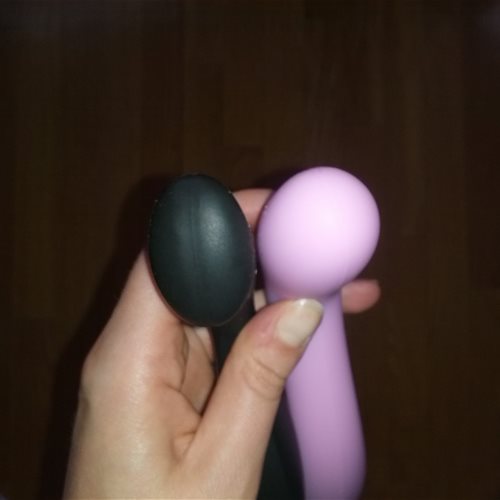 The shapes are also pretty similar, if you compare the Ella to the smaller end of the Isis. There are a few differences between them. The Ella has a distinct hook, which can get caught on your pubic bone and make it uncomfortable to insert or remove. The Isis has more of a sloped end, which makes it glide in and out easier. I think many people would prefer it for thrusting.
Also, the Ella is much shorter so I only have a small point to hold onto when it is inserted. And the Isis lives up to its double-endedness better because I can actually insert one half of it at a time, and not just the whole toy with one side facing up.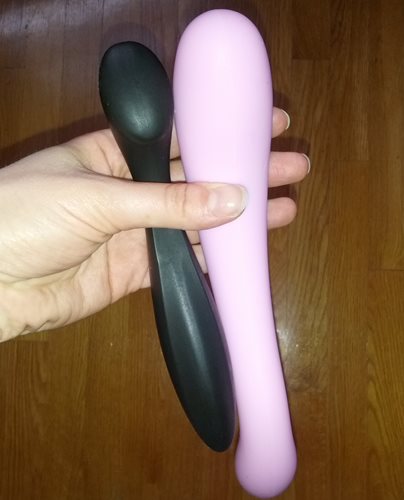 The Isis also has the option of a larger end like the Eleven or the Pure Wand, which size queens will like. It's a bit big for me though, so I use the larger end as a handle (which is semi-big and heavy).
The larger end is rounded instead of the Ella's pointed end, which I found very uncomfortable for inserting.
Also, the Ella has distinct ridges near the bottom of the toy and the Isis is completely smooth, which I like better. Maybe some people would prefer a toy with more texture though.
The silicone feels nice and soft and is very firm as I said. This allows for hard and direct stimulation of the g-spot which feels really nice but isn't quite as hard as glass or metal but harder than my realistic dildos.
The silicone attracts lint and hair, but it isn't nearly as bad about it as some of my other toys. It's also very easy to clean. I clean it with soap and water, and toy wipes or spray could also be used.
It's a little bit draggy so it works better if you use lube with it. And don't use silicone-based lube because it will damage the toy.
I think a lot of people would love this toy because it has an abstract shape that is great for g-spot stimulation but also discreet. Someone could probably guess that it is a dildo, but it isn't as obvious as realistic dildos. It's also very easy to care for (compared to my realistic dildos, which are soft and fragile). I would say that it should be kept in a case if you want to protect it from scratches, but it isn't as necessary as with other toys.
Basically, I think it would be great for travel but I wouldn't leave it out. And I think it would make a great gift.
When I got it, I noticed that the surface wasn't quite perfect. It has a couple very small and faint bumps, and there is one place on the toy where there was a small black smudge and a cluster of very small cuts (like dents you could make with your fingernail). I didn't return it because it's barely noticeable and doesn't detract from the toy very much or make it unsafe. But it's just something I noticed.
Everything else about this toy is perfect. I think that I will be using it for years to come!
Experience
Like the Ella, I preferred using this toy by twisting the handle and slowly moving it in and out of me. It feels amazing when you twist it around.

The rigid silicone isn't ideal for thrusting (it makes me sore), but I'm sure some people will like it. It would also be better for thrusting because it doesn't have a hook that gets caught like the Ella.
This product was provided at a discounted price in exchange for an unbiased review. This review is in compliance with the FTC guidelines.

Thank you for viewing
Isis silicone dildo
– double ended dildo review page!