Glassvibrations Purple mystery - Double ended dildo from Glassvibrations

Product Details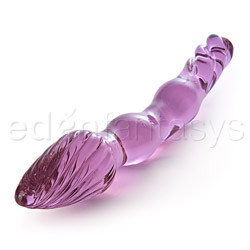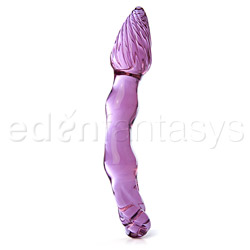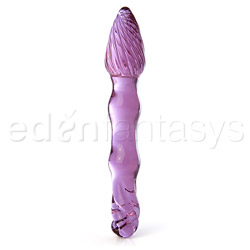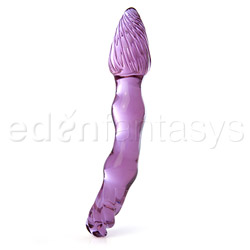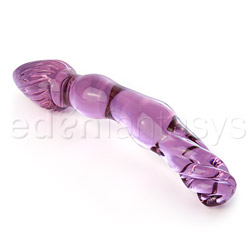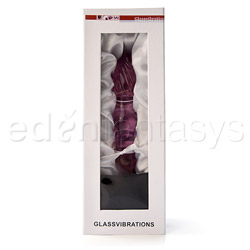 Summary:
This glass dildo is unusually heavy, offers a heavily textured large end, and a softly twisted thin end. It is long and easy to hold. It can be used for both external and internal stimulation. It is an ideal glass toy for either individual or partner play.
Pros:
A variety of textures, double ended.
Cons:
Mildly difficult to clean.
Best use:
Glass dildos are a wonderful invention. They have beauty, weight, texture, are smooth and are often double ended. They can be used for both external genital stimulation, internal stimulation and depending on the design, S-spot stimulation. This toy can be used solo or with a partner.
Material / Texture:

This little purple baby weighs in at a pound and a half. I thought that felt heavy, so I checked some of my other reviews of glass products. The Gold double headed G-spot was only a 1/2 pound. There are several others I've looked at, but they didn't have weights specified. This just FELT heavier. That was interesting all by itself. I like weight and girth.

There were no unusual smells and glass doesn't have any taste.

Material:

Tempered glass

Material safety

Texture:

Swirled

Safety features:

Food-grade material / Hypo-allergenic / Latex free / Non-porous / Phthalates free

Design / Shape / Size:

The "Purple Mystery" has a large head and gentle curve so it can be used for G-spot stimulation. The large head has fine textured lines, the smaller end has gentle twists. The overall dildo is nine inches in length allowing an individual to easily hold from any position.

Color:

Purple

Length:

9"

Insertable length:

9"

Circumference:

5"

Diameter:

1 1/2"

Weight:

1.5 lb

Performance:

Every individual that prefers glass has their own preferences when looking for a glass toy. This one will meet most if not all of them. It has both strong and subtle textures. It has a larger bulbous head and a softer narrower end. It's long enough to be easily held and has an unusual weight.

Care and Maintenance:

Glass is generally extremely easy to clean. Hot water and soap. 10% bleach solution. Most of the time you can run it through the dishwasher or gently boil it. The packaging on this particular product indicates that it should only be heated with tap water. Per discussion with an Eden Staff member, some of the companies that produce glass toys do not recommend boiling because of potential liability issues. I choose not to test this!

The fine texture on the larger end is not as easy to clean as I'd like. It does collect fluid, but nothing that a finger nail can't remove.

Packaging:

This toy wins the "Best Packaging Of the Day" award. This is truly gift ready, luxury packaging. We have a heavy box with magnetic clasp closing lid. The lid has a clear front panel. Nestled in a textured bed of satin and tied with ribbon (also secured with elastic) is the Purple Mystery. Somewhere in that box was a un-padded black felt storage bag. The box has numerous pictures of beautiful glass products. It also has "Product Instructions" in 6 languages.

The following information is included, "Kindly pay attention to the following: Please check for any cracks before use. Use only from the correct side. Do not throw the toy on the floor or misuse it with other hard objects. Never keep the glass toy with other objects, especially hard ones. Never heat in the microwave! Never cool with dry ice! Heat only using a water bath/tap! Cool only in refrigerator/freezer!

Personal comments:

I really like this dildo. I like the texture and the weight. The packaging is far superior to a lot of what I've seen - it looks like a special gift. I think it meets all the requirements for what glass should be for everyone. I certainly liked it! It's also beautiful in it's own way. It doesn't have all the elaborate coloring of some glass, but it's not clear either. It's "beautiful, affordable, and still fantastic."

I'd actually recommend this as the ultimate FIRST glass product.