Tantus Realdoe slim - Double ended dildo from Tantus

Product Details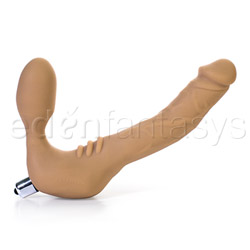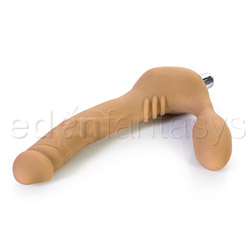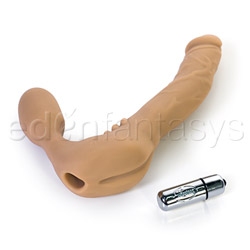 Summary:
This is a great toy for gender-bending play. It isn't too heavy, too thick, or too thin. Nor is it too long or too short. It's like the Goldilocks of pegging dildos! It can be used for girl-on-girl play, too. The neck could be just a little thicker, but strengthening the pelvic floor muscles can help with this quite a bit, as can using a harness with the toy. The bullet is strong, but doesn't add much to the stimulation overall.
Pros:
Perfect size, realistic, thin.
Cons:
Requires a harness for vigorous thrusting.
Best use:
The Realdoe slim is meant to be inserted into the vaginal canal, creating a realistic experience for both the one giving and the one receiving. It's about as close to the real thing as you can get these days. You simply slide the bulbous end into the vaginal canal and begin thrusting into the orifice of your choosing. Because this is made of 100% silicone, you can share this with other partners, or use it vaginally then anally if you choose.

This is a great dildo for female-to-male pegging because of the curve in the shaft and it being a little thinner than your average dildo. Most dildos are designed with the vaginal canal in mind, but this toy is designed for both. The shaft can be felt and squeezed during vaginal intercourse, but it is not too large to make anal pleasure difficult.

Practicing Kegel exercises for the pelvic floor muscles is recommended, because while the circumference of the bulb itself is about the right size to hold onto, the neck is a little thinner; that, coupled with the weight of the toy, can cause it to droop or slide out of a well-lubricated vagina.
Material / Texture:

As I mentioned before, this toy is made of 100% silicone and is body-safe. There is no odor to the toy at all. It is a realistic dildo with a defined head and veins on the shaft. Neither of these features are over-pronounced, but they do add to the realistic feeling of the toy. At the base of the shaft are three pronounced ridges that are about two to three millimeters apart. These provide stimulation to the clitoris while thrusting. Just underneath the ridges is a small gap that allows the pubic bone to rest against it.

The silicone is quite flexible; plush to the touch on the surface with a solid core. This allows you to bend the dildo for easier insertion, and gives extra room to play with positions due to its flexibility. It is also harness compatible. While it can be used in a traditional harness, a panty style harness works better as you won't have to worry about it sliding out of you unexpectedly.

Material:

Silicone

Material safety

Texture:

Ribbed / Veined

Safety features:

Food-grade material / Hypo-allergenic / Latex free / Non-porous / Phthalates free

Design / Shape / Size:

The design of this toy is quite pleasing. It is easy to insert and easy to penetrate with, but it does want to slip out of very slippery, wet places when the action gets intense. For this, a harness is recommended until the pelvic floor muscles are stronger.

This toy is not designed for packing. It can be done but it is quite awkward and very obvious, given the length of the shaft and how it sits against the belly when inserted. It wants to stand at attention at all times. Anyone paying even the slightest bit of attention would notice, and it would definitely attract the TSA's attention.

The look of the toy is quite realistic, and of an average size member when inserted. This would be a great toy for those beginning with anal play and pegging, or vaginal sex. This is not going to satisfy women who enjoy large girths in their toys.

Color:

Beige

Length:

9 1/2"

Insertable length:

3 1/2" / 5 1/2"

Circumference:

4 3/4"

Diameter:

1 1/4"

Harness compatibility:

O-ring compatible

Weight:

0.8 oz

Performance:

The best thing about this toy is the overall design. While the neck could be a little thicker to help keep a grasp on it, it's easy to use with a harness. When placed in a harness, this toy is by far the best replica of a penis for pegging. It stimulates the g-spot and clitoris while allowing your partner to work up to larger toys.

The vibrations from the one speed bullet travel through the silicone well, just enough to let you know that it's there, but not necessarily enough to push clits-o-steel over the edge with that alone. This is where the ridges come into play; because thrusting is a natural rocking motion, the clitoris rubs against the ridges and provides extra stimulation for orgasm.

Oral sex on the Realdoe slim is also about as realistic as you can get without it being an actual penis. The motion of a partner's mouth creates a gentle pull and tug, and the bulb rubs against the g-spot. If the base of the toy is not held, it will want to slide around and fall to the side as it is slightly top heavy.

As a female masturbating as a male, a similar sensation is produced, and there is an illusion of having a real penis between the legs. Increased speed while stroking the shaft can produce a wonderful orgasm once good rhythm is established. While there is no physical evidence of orgasm as if a male were ejaculating, the experience is still quite intense.

Control type:

Push button

Special Features:

Batteries included
Hands free
Harness compatible
Removable bullet
Texturized
Vibrating bullet included

Powered By:

3 watch batteries

Care and Maintenance:

Caring for this toy is really easy. It can be washed with a mild soap and water. It can also be boiled, thrown on the top rack of the dishwasher or sterilized with a 1:10 solution of bleach to water. If you are not sharing the toy either with another partner or between the vagina and anus, a wipe down with an Edenfantasys wipe or toy cleaner will work just as well.

It does not have a habit of picking up lint and other particles, so storage is also easy. Be sure not to store with other silicone materials or use with silicone lubes.

The bullet is not waterproof, and should never be submerged under water or left in a moist environment as the contacts and battery may corrode. Storing this toy in its original clamshell package is recommended for this toy.

Care and cleaning:

Bleachable / Boilable / Soap and water