Made us both growl!
This is a great quality dildo, but at the price, consider carefully whether it will work with the anatomy of you and your partner. We can't give this a five star rating, but it comes close. If we're ever skinny again, it may become our absolute favourite.
Published:
Pros:
Looks like a real cock
100% silicone
Excellent feedback for the wearer
Cons:
May be difficult for larger couples
Pricey
Not for size queens
The Feeldoe Slim is a strapless strap-on toy where an internal bulb goes into the vagina of the wearer, leaving them with a silicone cock they can insert into their partner. The visual is very appealing, if you like the "girl with a cock" look. Obviously my partner and I like it very much! But if your kegels aren't up to gripping the internal bulb for thrusting, you can still use it with a harness, as long as the harness has a hole in the middle to allow the dildo to pass through.

We chose this toy for the look mentioned above - I'm very fond of gender-play - and for the experience of getting feedback while pegging my husband. This seemed like the perfect toy for us, except for the lack of balls.

Sadly, it doesn't reach its full potential in pegging. We really love this toy - as the title says, it made us both growl - but it would be better if we had quite a bit more length and a little more girth. "But why didn't you choose the full-size Realdoe?" you're probably wondering. But the answer is that we've only just gotten into pegging, and we didn't know then what my husband could take. And even the full-size Realdoe would give us a length problem.

The reason is twofold. First, a strap-less strap-on has some of its length under the wearer where it comes out from the vagina, which makes it unavailable for insertion. Second, my husband and I are both overweight. Were we both skinny, I could get more length into him, but as it is, I was at most able to get 3" to 4" of length inside him when I spooned behind him.

The internal bulb is wonderful. I have a sense of where the dildo is that I don't have when I'm wearing a standard strap-on, and that's what made the sex so good.

The vibrator that comes with this toy is just a standard bullet vibe with watch batteries. If it dies or gets lost, you can replace it with any cheapie bullet - you probably have a few in your toy drawer already. I recommend putting a bit of water-based lube in the bullet hole first to make it easier to remove the bullet later. I found the vibrations strong against my vulva when I was wearing the vibrator. My husband found them weak, but pleasurable. The 'vroom' rating I gave below is from his perspective rather than mine.

Do not use silicone based lubricant with silicone toys unless you've patch tested first to make sure there isn't a reaction. Generally high-quality silicone toys and high-quality silicone lubricant won't give you any difficult, but you still want to patch test first. Cleaning the toy is simple - just pull out the bullet and wash with any toy cleaner, or soap and water. Being 100% silicone, you can sterilize it in boiling water or the dishwasher (with no detergent). Since my husband and I share toys, being able to sterilize toys after they've been used for anal play is very important to us.
Experience
Two nights ago, I put this on with the Cherry Jaguar harness by Aslan and used it on my husband. We were able to get the most length in use with us both standing, me behind him. Unfortunately, that isn't a position we could maintain for long, so we moved to the bed with us lying on our sides in spoon style, with me behind him.
He kept wishing it were longer as it just barely grazed his prostate in use and fell out a few times. Due to the drag that silicone gives, we had to reapply lube each time this happened. However, once we got a good rhythm going, it was the closest we'd come yet to feeling like I was fucking him with a real cock. I leaned over him and growled in his ear, and he growled back.
It was amazing.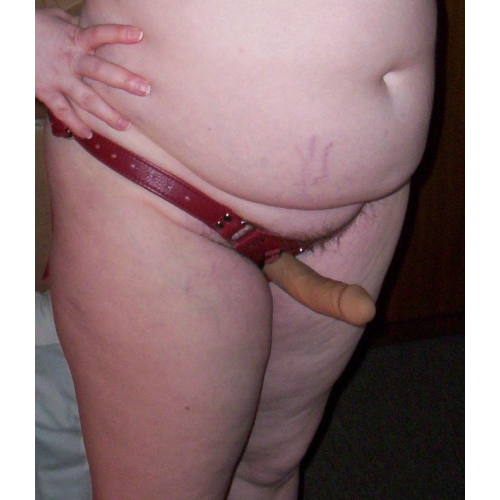 This content is the opinion of the submitting contributor and is not endorsed by EdenFantasys.com

Thank you for viewing
Realdoe slim
– double ended dildo review page!