Fun Factory Share XS - Double ended dildo from Fun Factory

Product Details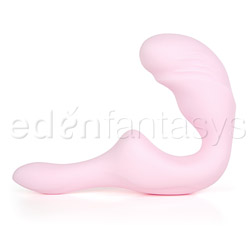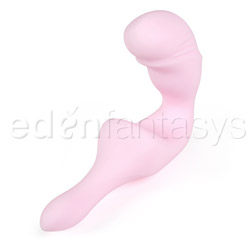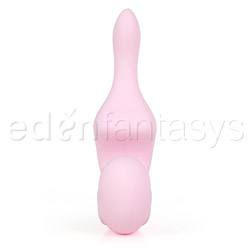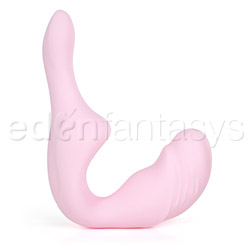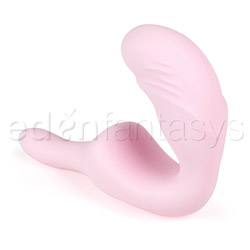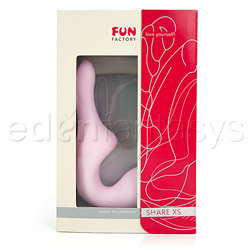 Summary:
The Share XS is a 100% silicone, hands-free double dildo. The shaft end is much slimmer than the original Fun Factory Share, and is perfect for beginners. The ribbed bulb stimulates the g-spot and stays inside the wearer even without a harness. The Share XS can be used between two people for vaginal-to-vaginal, vaginal-to-anal, and even anal-to-anal may be possible. Or, if you want to be greedy, just use that delicious g-spot bulb all by yourself.
Pros:
Good for beginners to anal, ribbed bulb makes it easier to stay in
Cons:
Shaft may be too small for some, bulb takes a little work to insert
Best use:
The bulbous end of the Share XS can be inserted into female's vagina, and the slender end can be either used as a handle in masturbation, or used as the "business end" on a male or female partner, for either vaginal or anal stimulation. Used vaginally, the thicker end provides g-spot stimulation. The thicker end can also be used anally, with the slender portion acting as a handle. Furthermore, a male partner could technically insert the bulbous end into his anus, and then attempt to double-penetrate a female partner.

Whether used solo or shared with a partner, keep in mind that the thicker end packs considerable girth and is textured. Generous use of water-based lube and some preparation will ensure a smoother, more pleasurable ride. The thin end, on the other hand, may prove lacking for veterans of anal play, and is ideal for those who wish to be eased into the joys of butt sex.
Material / Texture:

Straight out of the box, Share XS is odorless. The superior grade silicone that Fun Factory uses to make the Share is soft and velvety to the touch. Grab onto the bulb and shake it up and down, and the other end bobs. Although this double-ended dildo is flexible, it is not by any means "squishy". Squeezing either the slim shaft or the bulky bulb reveals very little give in the material. The sides of the bulb are slightly ribbed, both to provide a more intense sensation and to give the wielder of the Share a better grip. The slim end of the Share is lightly textured towards the bottom of the shaft. A very subtle seam runs around the meridian of the toy, but it is not detectable during use.

Material:

Silicone

Material safety

Texture:

Smooth

Safety features:

Food-grade material / Hypo-allergenic / Latex free / Non-porous / Phthalates free

Design / Shape / Size:

The bulbous end, designed with the female wearer in mind, is rather stout. Its shape is ideal for g-spot stimulation, but I found it challenging to slide it through the first inch or so of my vaginal canal. As mentioned before, the material has very little give, so ample preparation and water-based lube are important to making the insertion a comfortable one. Once properly inserted, the thick bulb sits comfortably inside, nestling up against the g-spot. The curve that separates the thick end from the thin one cradles the pussy, covering the clitoris, leaving the slim shaft to jut from between the legs, not unlike a little smurf penis. The shape and texture of the bulb work together very well to keep it from slipping out during playtime.

The thinner end is less filling. It is about the length and girth of a thick finger. The smaller size and soft, flexible material makes it difficult to insert into the anus. We discovered that, even when pushed in up to the hilt, my little blue penis was barely making a difference in his world. I imagine that the slim end would be better for inexperienced or curious first- timers of anal play. Because of the dramatic flare from the thin shaft to the curve that marks the base of the bulb end, there was no fear of the toy being lost up his anus, and no squeamishness over hygiene, as the giving and receiving ends were kept at reasonable distance.

The Share XS has certain aesthetic appeal to it, and does not outwardly look like a double-ended dildo. Instead, held upside-down, it more resembles a smurf pistol than a penis.

Length:

11 1/2"

Insertable length:

3 3/4"

Circumference:

5 1/2"

Diameter:

1 3/4"

Weight:

1 lb

Performance:

When I used the Share XS the first time, it was a solo exploration. Inserting the bulb took some work, and even then I had to endure some temporary pain to get it in properly. Again, generous lubrication is very helpful. Once in, however, the bulb was perfect for g-spot stimulation, and gently jacking off the slim end sent nice sensations all the way down the shaft and through the bulb. The slim end was appropriate for vaginal use as well, though it was much less filling than the bulb, in both girth and length. It was more of an appetizer than a main course.

When used with my boyfriend, the bulb was again a little painful and difficult to insert. However, that was nothing compared to the trouble we had trying to insert the slim end into his anus. After some struggling, it was finally in, and to his disappointment, he didn't feel much at all. As a disclaimer, my boyfriend is a bit of a size queen when it comes to anal play. If you like the feeling of just a finger in your ass, the slender end should be fine. During our playtime, the bulb stayed in rather well, but the shaft slipped out a few times.

Care and Maintenance:

Share XS is 100% silicone, so it is fine to toss it in a pot of boiling water, put it in the top rack of your dishwasher, or wash it with warm water and antibacterial soap. Be careful to clean around the ribbed areas to make sure no fluids are trapped. Silicone tends to be a dust magnet, so store it in its own zip lock bag or other suitable container. Silicone toys should only be used with water-based lubes, as silicone lubes can degrade the material.

Care and cleaning:

Bleachable / Boilable / Dishwasher safe