SSA Glass Swirly deuce - Double ended dildo from SSA Glass

Product Details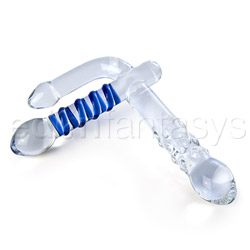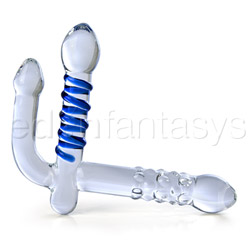 Summary:
Swirly Deuce is a triple glass dildo that can be used by multiple partners or for solo play. Its three dildos all differ in texture, one being smooth, another that is swirled, and another that has bumps. However, it sadly is difficult to use unless it fits the person's anatomy perfectly. It's also hard to store. This triple-sided dildo seems better in concept than it was in execution.
Pros:
It's made of glass and looks pretty?
Cons:
Not ideal for all people to use, uncomfortable, hard to store, more trouble than it should be.
Material / Texture:

Swirly Deuce is made of pyrex glass, which is of course not smooshy or movable. It is completely hard, and therefore unyielding. If you are not used to glass toys or have never used them before, this is NOT the place to start. It's too confusing to be a first toy. Glass has no scent or taste, and one thing that's really cool about it is that when it's used anally, it does not retain scents, so it's extremely easy to clean.

The double penetration (DP) dildo consists of one smooth dildo, one ridged/swirled dildo, and a nubbed dildo.

Material:

Pyrex glass

Material safety

Texture:

Nubbed / Ribbed / Smooth

Safety features:

Food-grade material / Hypo-allergenic / Latex free / Non-porous / Phthalates free

Design / Shape / Size:

This glass dildo consists of three protruding pieces, two close together and one more going at a 90% angle. In some places, this type of toy has been referred to as a "ray gun," which I find pretty funny and extremely well put. (If you hold the part with the two dildos in your hands like you would a gun, it certainly does look like it could pass at a Science Fiction convention.)

Each of the dildos has a pretty well defined head which, if the toy were to be used comfortably, would give great g-spot stimulation. All of the dildos are a nice size, in the small to average range, so fitting them in is not really a problem at all.

The measurements of Swirly Deuce are (and I will bullet these so that you do not become confused):
8" in length from tip of the lone dildo to side of the smallest piece.
6 3/4" in length from the tip of the swirly dildo to the little bump on its end.
Lone dildo's measurements: 5 1/4" in insertable length with a diameter of 1 1/4" at the largest point of the head and 1" along the shaft. The nubs make the first portion of its shaft the same diameter as the largest diameter of the head.
Swirly dildo's measurements: 4 3/4" of insertable length with diameters of 1 1/4" at the largest point of the head and 1" at the shaft.
Tiny smooth dildo's measurements: 3 3/4" of insertable length with a diameter of 1" at the largest point of the head and 7/8" along the shaft.

Color:

Blue / Clear

Length:

8"

Insertable length:

3" / 4" / 5"

Circumference:

4 1/4"

Diameter:

1 1/4"

Weight:

20 oz

Performance:

Sadly, the two that are close together are so close together that it makes penetration awkward. And since neither of them can be moved, it's hard to use them without feeling ripped apart or stretched in an odd way. It seems, to me, like the most pleasing way to use this would be for partner play, but it sadly cannot be used in such a way simply because it's just so uncomfortable. If the middle piece (the larger, swirly dildo) was able to be moved along the shaft, it might help with insertion a great deal.

As it is now, however, the piece that will be getting the most use is the lone nubbed dildo, since it's the only one that can be safely and comfortably used.

Care and Maintenance:

Since the toy is glass, you can clean it by boiling it for about three minutes, putting it in the top rack of the dishwasher, or wiping it down with a 10% bleach solution. Washing it with warm water and a mild hand soap is also sufficient—just make sure that whatever you use is nonirritating to the genitals.

Storing Swirly Deuce is a bit...difficult, to say the least, because of its size. It comes packaged in one of Edenfantasys' gift boxes, so you can either keep it in that or buy/make a soft padded bag for it to sit in. It does not come with any specific storage box or bag, so you will have to find a way of your own to store it in the most convenient way. Keeping it in a drawer or toy box will work, too.

Care and cleaning:

Bleachable / Boilable / Dishwasher safe

Packaging:

Swirly Deuce comes in an Edenfantasys' gift box with a lot of tissue paper wrapping. It can be used as a gift, of course, since it looks very sweet and presentable, but for storage it might be a little bit bulky. It can, thankfully, be reused for other gifts though, which is a plus! It can also be recycled. There are no instructions included with the box.