This Ray Gun Missed Its Mark.
Love double penetration? Love glass? This ray-gun dildo isn't sure to work for you, but it's worth the price to check and see! The Swirly Deuce, unlike other glass DP dildos, has its attachments in order for use by one person who likes a larger dildo vaginally and a smaller one anally. The stars didn't align to let the prongs fit my body, but the lucky ones will enjoy the smooth, spiraled, and bumpy textures, and the delight that glass double penetration probably brings.
Published:
Pros:
Great concept, correct alignment of three prongs, looks like a ray gun with scope.
Cons:
Anatomy dependent, scratchable glass, hard to store. Mysterious manufacturer.
USE
I'm a lover of glass, and I'm a lover of double penetration, so the "Ray Gun" double penetration dildos have always called to me. Each of these dildos, because of glass's inflexibility, is tailored to a very specific use. The Swirly Deuce is made for larger vaginal, smaller anal double penetration with the handle being wielded by the person being penetrated. Among the four I've gazed upon,
the
two
from Phallix have the wrong configuration for my preferences (I want a smaller anal "scope", a larger vaginal "barrel", and the handle toward my navel). They are also on the spendy side for something that may or may not fit. The other
offering
from SSA Glass is more affordable, but again looks upside-down to me. Swirly Deuce Senior was the ray gun for me, then.
If you're not lucky enough to be a perfect match for the Swirly Deuce, the design of each of the three prongs allow you to try out three different textures in one fell swoop.
MATERIAL AND TEXTURE
Unyielding borosilicate glass is one of my favorite materials for dildos and probes. It's beautiful, cleanup is easy (wash with soap and water, or sterilize by boiling or bleaching), it's compatible with any lube, it holds temperature well, and it's chip resistant. My favorite aspects of borosilicate glass are its firmness and its ability to convey wonderful textures.
The diverse prongs of the Swirly Deuce will let you have a small taste of each of three popular textures in just one toy---the scope is smooth with a small head, the barrel has a very even slightly raised swirl, and the handle (which can be used for penetration alone) is graced with raised bumps. Each of these textures feels very good---the swirls and bumps are only mildly raised, so you won't face a sensation overload. Only the lucky ones will be able to feel multiple textures at once, though.
PACKAGING AND STORAGE
The Swirly Deuce ships in a large fitted styrofoam casing inside a box. The foam in mine had cracked some, and my little ray gun had clearly jostled a bit during transit. Normally, this wouldn't matter---but the glass used by the elusive SSA (seriously. They don't even have a website) is not one of the best blends of borosilicate glass, and the coarse styrofoam has scratched the surface of the glass a bit. Luckily this only affected my dildo at the junction between the prongs and the handle, so everything I will insert is still perfectly smooth. Actually, the scratches here serve as a warning for me---now I know to store my Swirly Deuce very carefully, and avoid any scratches to the prongs. For personal storage, I wrap this first in a floursack cloth, and then in bubble wrap, and I keep it on a shelf.
Experience
SIZE AND DESIGN
The design of the Swirly Deuce is geared toward women who want the handle/grip pointing "up," the swirled larger shaft/barrel in their vagina, and the smooth smaller shaft/scope in their ass. While I suspect that includes a lot of women, this ray gun will only be useful for women who fit these exact measurements (in case the numbers are hard to read, there are 2cm between the shafts of the prongs, and 1cm between the heads of the prongs):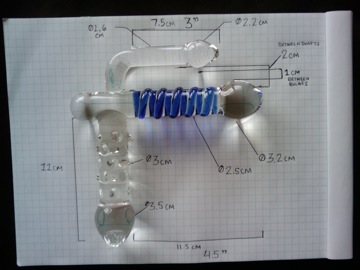 PERFORMANCE
Of course, I was not one of the lucky few. For me, the anal scope was just a tantalizingly little bit too far from the vaginal barrel. Usually for double penetration with multiple toys, or a toy and a partner, I like to settle everything into my ass before starting to work on the vagina. With the Swirly Deuce, because of the shortness of the anal prong, that was not possible. I slid the swirled barrel in, and I tried---really, really tried---to get the anal scope in. By rocking a bit, I could get the bottom of the tip in, but I couldn't get the top side in enough to be comfortable. I tried again on my knees, but I couldn't even get close in that position. I flipped back over and said "stick 'em up!" to my innards as best I could, and gave myself a clitoral orgasm. Sadly, because my ass was still stuck over the bulb of the anal scope, when my muscles contracted against the glass, it was actually pretty painful. I'm sure it would have felt fine if it had fit inside me properly, though.
I'm awfully sad that this didn't fit my body. I'll probably keep it in my collection because it looks cool, and I might some day have an occasion to use a pretty glass ray gun prop---but the Swirly Deuce has not earned a place in my armory of favorite sex toys.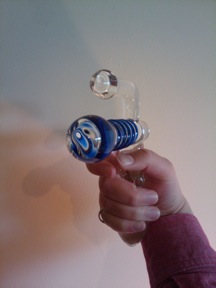 Such a shame.
Follow-up commentary
7 months after original review
Poor ol' Swirly Deuce. Or poor ol' me. This ray-gun still doesn't fit my body, my body still doesn't fit this ray gun. I tried the
Swirly Deuce Jr.
, and despite the diminutive name, the prongs were actually further away and an even more uncomfortable, impossible stretch.
So if I want glass double penetration, I've got to do it the old fashioned way, with two probes. Two I've found useful have been the
Gold Laced G
and the
Gold Swirled Probe
.
This content is the opinion of the submitting contributor and is not endorsed by EdenFantasys.com

Thank you for viewing
Swirly deuce
– double ended dildo review page!