Precious Metals Make a Precious Probe.
The fumed silver and gold in this swirled probe will dazzle your eyes whenever you let light fall on it, and it'll dazzle your body the rest of the time. The wonderful wavy double wrap is an anal delight, and feels good swirled vaginally, too.
Published:
Pros:
Dazzling silver and gold fumed designs, catches light prettily, double wrap is a great anal texture.
Cons:
Shape didn't blow my mind vaginally, but it's still very good.
The dazzling Gold Swirled Probe is a member of Phallix Glass's "Gold & Silver Fumed Inside-Outs," and as such, it's made of strong borosilicate glass. The eye-catching pink and gold coloration, which is a result of fuming silver and gold into glass wile it's being blown, is surrounded by clear glass which allows light to bounce in and play off the fumed precious metals within. One of my favorite visual features of this probe is the fact that when it's set down in bright light, it actually casts a gold glow for several centimeters on the surface around it. This glow is probably only going to be cast outward by "Gold & Silver Fumed Inside-Outs" with texture, because smooth surfaces won't give the light a point of exit—of course, that means smooth ones will be all the more dazzling inside.
The Gold Swirled Probe is a tapered wand with a double spiral wrap. When I decided to buy it, I expected that the wrapped texture would feel best for me vaginally, but that even if I didn't like it very much, the handle end looked similar enough to the
Motion
that I would enjoy thrusting with it. As it turns out, both ends of the probe are good for vaginal use, but my favorite use for this toy is anal stimulation*. Usually I don't like very much texture anally, and toys with a regular spiral are distracting rather than enhancing for my muscles. The double wrapped design is quite clever, though. Think of a glassblower adding a spiral to a probe—(s)he needs to have space between the lines so that his/her hand can move freely. With this probe, (s)he went back again and added another wrap in the spacing between the first spiral. This feels wonderful in use—there is a continuous, gentle in-out swell, and no long gaps where my sphincter (or vaginal muscles) can get bored. Here is a picture of the Gold Swirled Probe above the
Pink Swirl
to help you see the difference.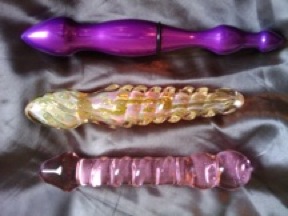 The Gold Swirled Probe has a total length of 19cm. When inserting the probe tapered end first, you have 13.5 insertable centimeters (5 1/4 in) from tip to neck. The diameter of the probe where you first insert it is 1cm, and grows over the insertable length to become about 3.5cm diameter before the dropoff to the neck. However, that's just the diameter of the probe itself: the wrap adds 1/4 inch to the probe, so at the widest you'll feel a diameter of 4cm. At its widest, the diameter of head is also 4cm. All in all, the handle/head is good for thrusting, but not as good as the Motion, so I use it as a handle more often than as a head. The texture feels very good in the vagina when slowly thrust or when swirled. Because of the taper, it is not especially successful in stimulating my g-spot. I don't really mind, though, because this probe does so many other things for me. Also, unlike some tapered wands, this one never feels so small that it feels like a finger, and never feels fragile at all.
My favorite use for this dazzling beauty is as an anal probe, where the tight double-wrap keeps my muscles on their toes during thrusting. The gradual taper feels glorious here as well. If the wrapped length of this were perhaps 3/4 inch shorter, so that I could take the probe all the way to the neck, I think it would really knock my socks off for anal thrusting—but maybe I just need more practice. I think this ant's eye view, in addition to showing off the light-catching gold and silver fuming, does a good job of showing how your body will feel the approach of the textures.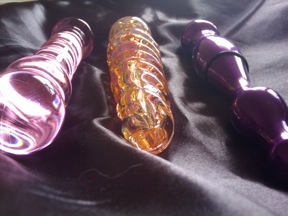 *I also want to mention, for those unfamiliar with anal play—while the Gold Swirled Probe has a significantly flared handle, it does not have a designated base. Use caution during anal use: know your limits, and keep a firm grip on the handle or ask a partner to assist you.
Experience
Phallix is one of the premiere makers of glass dildos. They pride themselves on use of one of the most durable blends of borosilicate glass (
not all borosilicate glass is created equal
, you know) and on the use of a polariscope to detect irregularities invisible to the naked eye. The borosilicate glass Phallix uses holds temperature well, is compatible with all lubricants, and is easily cleaned with antibacterial soap and water between general uses. When switching orifices or partners, it can be sterilized with a 10% bleach solution, or by boiling in a pot or in the dishwasher. They assert that any coloring is non-toxic and within FDA standards, as well.
On some Phallix dildos a little black oval with their logo is placed near the handle. I think this is for differentiation of their product in some of the less distinctive designs—but I don't really like it, and I'm glad that in the Gold & Silver Fumed Inside-Outs line they let their dazzling product speak for itself. The Gold Swirled Probe arrives in a lavender satin and lace bag which sports the Phallix logo on a tag. The bag is not padded, so invest in a padded pouch, or slip this one into a wool sock without a mate for travel. Use common sense—don't drop your probe and don't force it between temperature extremes and it should never crack. If it does crack, retire it. You'll miss it internally, but it'll still look divine. The probe and its pouch are held in an oversized clamshell which also contains a fold-out poster of January 2003's Penthouse Pet and some information about Phallix products and quality standards. This is just be my opinion, but as a straight girl—I think the probe is prettier than the poster. Nothing against Martina Warren, of course, she's a beautiful woman—but the Gold Swirled Probe is a dazzling piece of art.
Follow-up commentary
7 months after original review
This lovely probe is still a joy to behold, and a joy to hold inside me. I still prefer the swirled end anally, and that's my primary use for this probe. I think the only thing that could improve this would be if I had a storage cabinet with backlighting, so I could enjoy it during the times I'm not using it.

A commenter let me know that the usual black "Phallix" oval is actually a sticker, and that older, stand-up models have "Phallix" perhaps acid-etched into the base. Still, I'm glad this didn't have a logo to take off. The Gold and Silver Fumed Inside-Outs "Swirled Probe" lets its quality speak for itself.
This product was provided at a discounted price in exchange for an unbiased review. This review is in compliance with the FTC guidelines.

Thank you for viewing
Gold swirled probe
– glass probe review page!